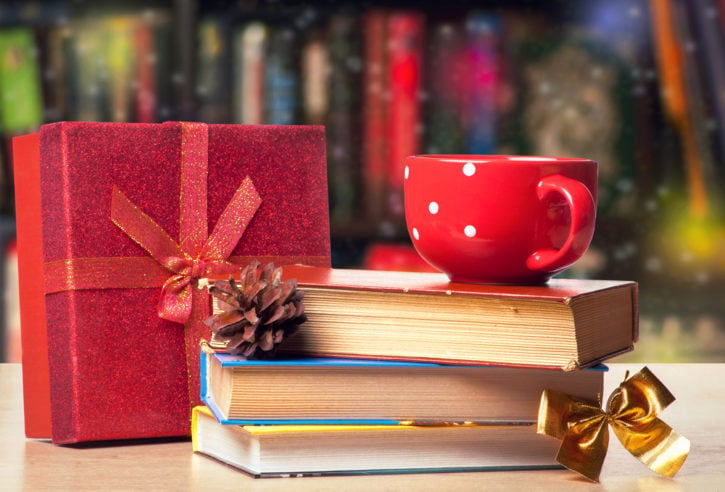 One of my favorite gifts to give for Christmas is BOOKS! As an avid reader myself, I know how special it can be to receive a book that was hand-picked just for me by someone who knows me well. And there are SO many options for good books out there, not to mention so many different genres! You can really find just the right book for everyone on your Christmas list.
The fantasy world of J. R. R. Tolkien's Middle-earth contains a rich assortment of people, cities, and creatures—as well as a deep, intertwined history that spans thousands of years. In this beautifully illustrated, leather-bound volume, best-selling author and Tolkien scholar David Day presents four decades of research and writing on the lands and inhabitants of Middle-earth.

Extraordinary? You bet. Elusive? Not quite. From Antarctica and the Amazon to Victoria Falls and the Great Wall of China, Lonely Planet reveals 101 spectacular sights and how to see them on any budget. Inspiring and practical, with expert advice on how and when to visit, where to stay and a range of itineraries, you'll discover how to visit the world's wonders in a way that suits you.

Deck the halls with boughs of jolly and the An Old-Fashioned Christmas. Chock full of holiday sentiments and joyous words, this Christmas quote book is the perfect stocking stuffer book for the season.

Time-tested principles for succeeding in life through the understanding and development of character, virtues represent the moral excellence of a person. From discipline to prudence, fortitude to faith, the warrior virtues presented in these pages are guaranteed to transform your life to one of meaning and purpose.

This comprehensive but accessible handbook is for the average coffee lover who wants to make better coffee at home. Unlike other coffee books, this one focuses exclusively on coffee—not espresso—and explores multiple pour-over, immersion, and cold-brew techniques on 10 different devices.

Since opening in 1959, The Second City has transformed the state of comedy as we know it, creating a wickedly funny culture of improvisation and training thousands of artists—who now dominate popular entertainment—in the art of improv-based theater. The Second City takes you behind the scenes of the world's leading improv theater.

You probably know Roxie and Velma, the good-time gals of the 1926 satirical play Chicago and its wildly successful musical and movie adaptations. You might not know that Roxie, Velma, and the rest of the colorful characters of the play were inspired by real prisoners held in "Murderess Row" in 1920s Chicago—or that the reporter who covered their trials for the Chicago Tribune went on to write the play Chicago. Now, more than 90 years later, the Chicago Tribune has uncovered photographs and newspaper clippings telling the story of the four women who inspired the timeless characters of Chicago.

Get ready to relearn all the crap you were taught in school and then promptly forgot. Who can keep all that information in their head anyway? Now you can!

With All the Sh*t You Should Have Learned, you'll be schooled in history, language arts, math, science, and foreign language—all the stuff you were taught at one point but now regret not remembering. From translating Roman numerals to remembering the difference between further and farther, we've got you covered. You'll brush up on the Crusades, revisit the structure of the Victorian novel, get a refresher on Chaos Theory, and much more! Maybe this time you'll remember.