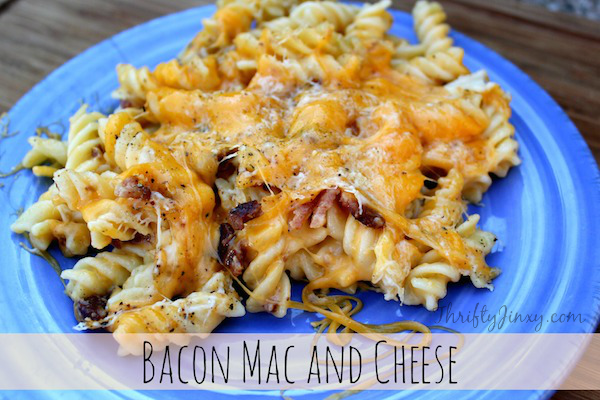 When someone mentions the phrase "comfort food" the first thing that always pops into my mind is Mac and Cheese.
It is the perfect, feel-good, fill-you-up, bring-back-childhood-memories kind of meal. But what is one thing that can kick that comfort food up a notch? BACON! Yes, bacon makes almost anything better and it definitely does that with this delicious Bacon Macaroni and Cheese Recipe.
Serve this Bacon Macaroni and Cheese Recipe all by itself as the centerpiece of your meal. You can also serve it as a side dish. It's something special to serve at a potluck dinner. You'll have lots of people asking you for the recipe! Just place it in a crockpot to keep warm during the celebration.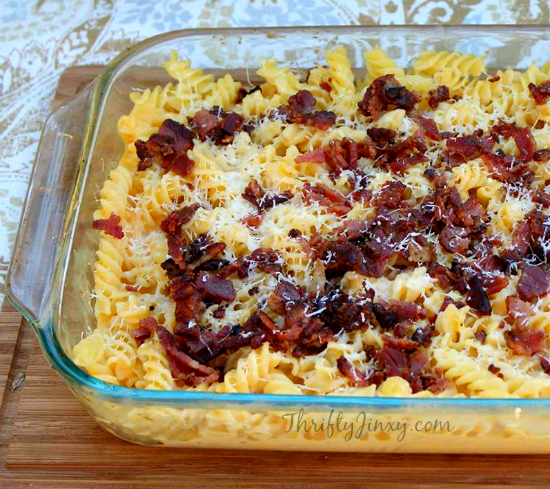 Bacon Macaroni and Cheese Recipe
Ingredients
8 ounces uncooked noodles of choice
2 cups shredded Cheddar cheese
1/2 cup grated Parmesan cheese
4 strips of bacon
2 tablespoons all-purpose flour
2 cups milk
3 TBSP butter
1 cup shredded Cheddar cheese
Salt and Pepper
How to Make Bacon Mac and Cheese:
Cook noodles according to the package directions. Drain.
In a saucepan, melt butter or margarine over medium heat. Stir in enough flour to make a roux. Add milk to roux slowly, stirring constantly. Stir in 2 cups cheddar cheese and cook over low heat until cheese is melted and the sauce thickens. Pour noodles into the sauce mixture and stir well.
Cook bacon and roughly chop.
Pour half of the macaroni mixture into a casserole dish. Sprinkle 1/2 cup cheddar cheese, 1.2 cup Parmesan cheese and half of the bacon pieces over macaroni mixture. Pour the remaining macaroni mixture and repeat.
Bake at 350 degrees F for 30 minutes. Serve.