Tomorrow night is the season premiere of Baby Daddy on ABC Family. If you're a fan of the show, you're probably already looking forward to it. If you haven't seen it yet, get ready for some laughs! There's no need to "catch up" on past episodes – you can jump right in and be entertained. BUT, if you want to know the background, Ben was an NYC bachelor living with his friend Tucker and brother Danny who finds a baby girl left on his doorstep by an ex-girlfriend. He decides to raise the baby with the help of his friends and mother – – – and much hilarity ensues!
Baby Daddy Cast Interviews
Last week I visited the set of Baby Daddy and while there had a chance to chat with the cast of the show. During these Baby Daddy cast interviews, they all proved to be just as charming and funny as their characters on the show!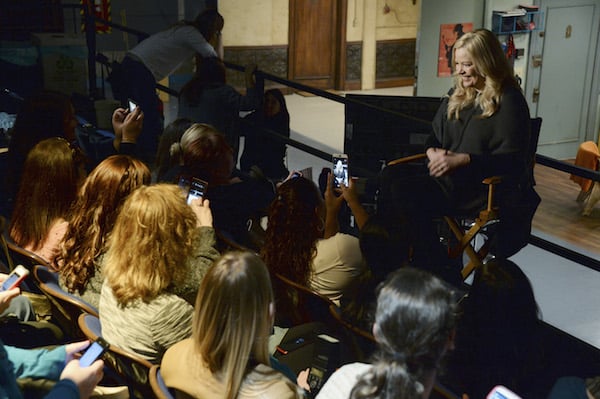 Last week I somewhat gushed about how great it was to meet Melissa Peterman, a fellow Minnesotan. Melissa received a degree in theater and worked in local theater in Minneapolis. I actually saw her way back when in Tony & Tina's Wedding. Melissa says she tends to mother the guys in the cast. She will say, "Is that what you're wearing? Do you have socks?".  She is also friends with their moms on Facebook. With Chelsea (Kane) she says she is more like an older sister or kinda fun aunt. – – I think that's the kind of aunt everyone wants to have or BE.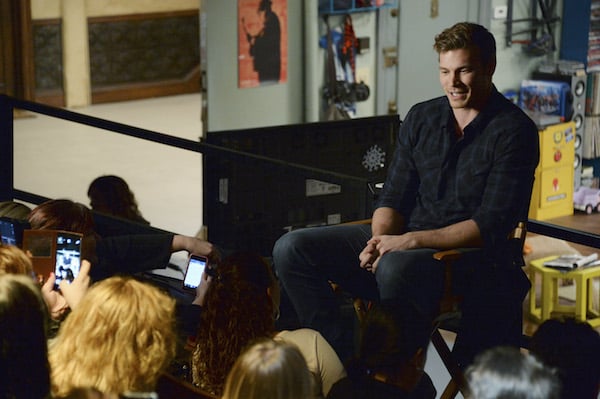 Derek Theler could be the poster boy for the phrase "He's a tall drink of water". At 6'5″ he has the tall part more than covered and YES, he's very nice to look at. He is also nice to talk to – seriously a super nice guy. This is Derek's first main role in a TV show and he is enjoying it, calling it "just pure fun". He explained, "All week we lead up to our big Friday show when we're ready, we know our lines, the audience is here and they're totally involved with it. It brings a whole different energy to the show. The laugh track is real. The fans that come here regularly are real and it's a really cool thing to be part of."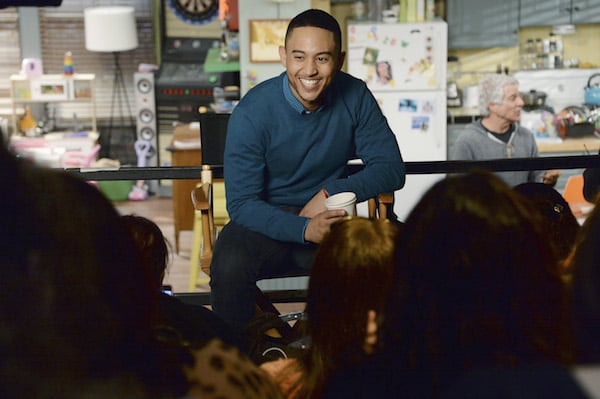 If you think Tahj Mowry's last name or looks are a little bit familiar, he just happens to be the brother of Tia and Tamera. Tahj remarked that he has the best crew and co-stars ever. The environment on set has a good energy where everyone is fun and loving and they also hang out off set. Tahj is also musically inclined! He's working on the finishing touches of his album, which he describes as a "kinda Prince-y vibe. I love Prince. I love Lenny Kravitz. So, it's sort of a mix of these two. Very funky. Kind of electronic. Very different." You can check out his single BOSSY here.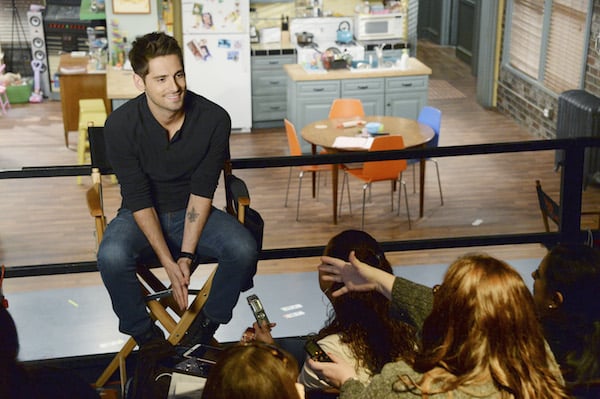 Jean-Luc Bilodeau IS the Baby Daddy, but before this role, although he already liked kids, he had never picked up an infant. But now he confirms he is really good at holding them and playing with them – although he still hasn't changed a diaper! Jean-Luc has a BIG extended family with about 40 cousins, all of whom are now having kids, and they do hand off their babies to him – but for a different reason. They all want pictures of him and their babies in the Baby Daddy pose!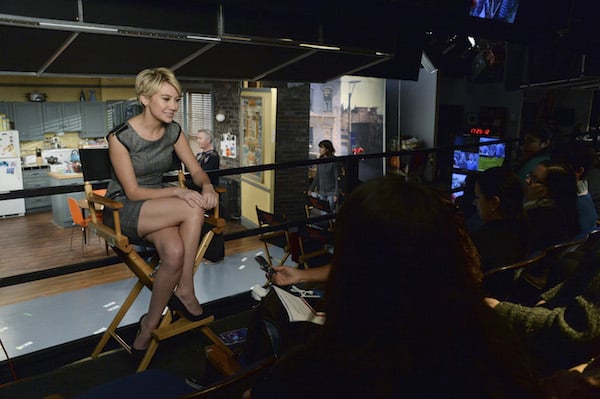 Chelsea Kane is the girl who gets to spend her days on set with these hot guys. As she said, "It doesn't suck. It's really great." Her character is also the one waffling between the brothers Ben and Danny. We asked her which one she wanted to end up with and she said, "Oh, it's so hard! I go back and forth because I love them on the show and off the show – I love these boys so much. I think the writers have done an amazing job giving them each qualities that are so lovable and yet so different. I mean, on paper it's like 'professional hockey player, 6'5″, super hot' OR 'single dad, bartender." I think Ben has really taken the reigns with being a single dad and I love that about him. I do understand why Riley is kinda torn. I think I finally have an idea this season where it's going so the viewers that have stuck with us (thank you for 70 episodes) will get a little closure at the end of the season."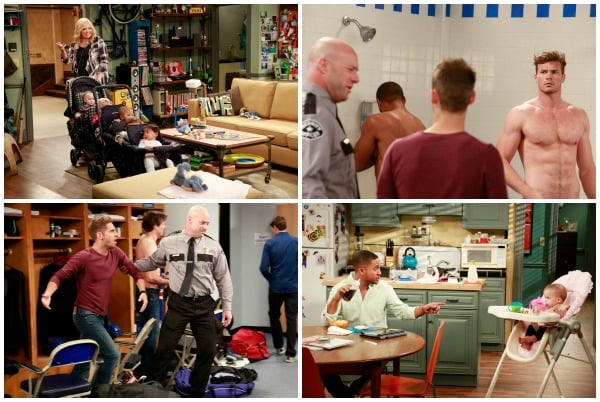 BABY DADDY returns to ABC Family on Wednesday, 1/14 at 8:30pm/7:30c.
To find out more, visit ABCFamily.com, follow @abcfBabyDaddy on Twitter and like Baby Daddy on Facebook.