I spent last week in Indiana. The reason for my visit was to attend a travel conference, but the true highlight was the exploring I was able to do afterwards.
I'll be telling you more about all of that in the near future, but I can't wait to tell you about the highlight of my trip! I had a chance to have breakfast in an Amish home in Shipshewana.
Leanna Yoder caters banquets in the lower level of her home (she can comfortably seat 84 guests!), but we had the pleasure of sitting down to a meal at her own dining room table. Leanna is awesome! She is an extremely busy lady who not only has her ML Acres banquet business, but also cans her own line of salsas and other jars of yummy products (also with the ML Acres label) that she sends off to her distributor in Chicago.
We also had an extra treat when we visited because her mother (who everyone just calls "Mom") joined us for breakfast from the comfort of her recliner. Mom reminds me a lot of my own Grandma. She has the same type of fun and teasing sense of humor.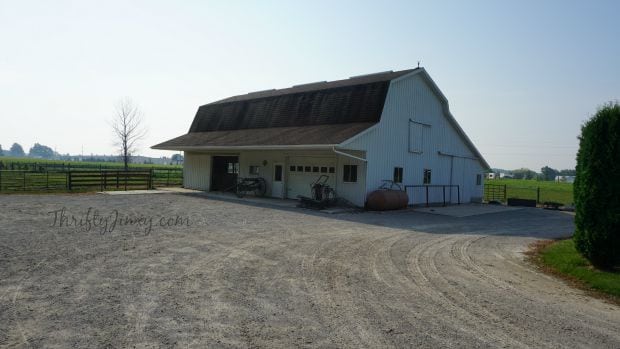 But that's enough about Mrs. Yoder – I have to talk about her food!! First up we had homemade bread with jam made by Leanna's brother and Amish peanut butter spread she made herself. That peanut butter is a real treat. She explained that she takes jarred peanut butter and adds in (if I remember correctly) butter, brown sugar, white sugar and marshmallow fluff. It's very sweet and very good. Then it was on to the main event.
I had never heard of an Amish Haystack before my visit, but I think I am now more than a little obsessed. Traditionally, a haystack is a layered meal, often served at a large fundraiser to raise money for a family in need. Those are often Haystack Dinners, which is very similar to a taco salad, but starting with crushed saltine crackers on the bottom.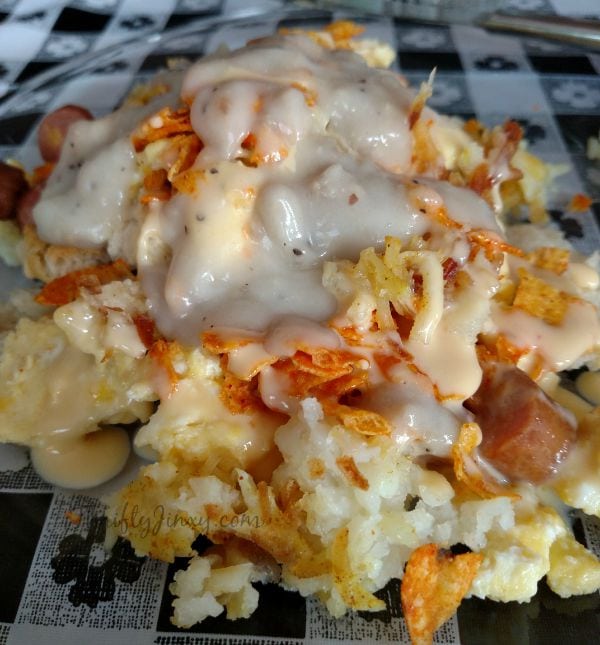 What WE had was a Haystack Breakfast. As the bowls were passed around the table, we made our delicious creations starting from bottom to top with: torn up fresh biscuits, scrambled eggs, hashbrowns, cheese sausages, crushed Doritos, cheese sauce and sausage gravy. I know to many that doesn't sound appetizing (it didn't to me), but the result was AMAZING! Seriously, it was so good that my mouth waters every time I think about it.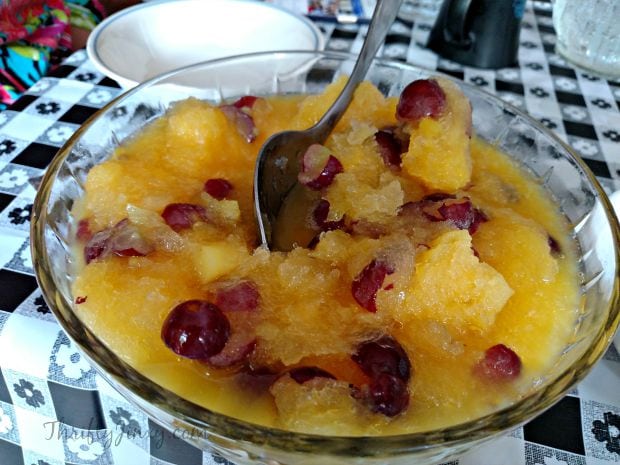 We were extremely full by the time we finished our haystacks, but that wasn't the end of the meal! Next Leanna brought out a fruit slush and homemade cinnamon rolls. She makes the fruit slush with orange juice concentrate, crushed pineapple, grapes and 7-UP. (It is almost the same recipe that my family uses to make brandy slush at the holidays.) It was cool and refreshing. And then there were the cinnamon rolls. Light, delicious and definitely a treat!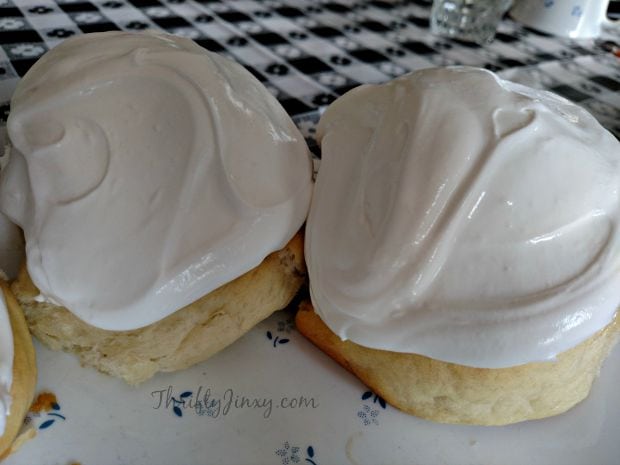 And the Amish Cinnamon Rolls were so delicious! I just love ending breakfast with a sweet treat like these.
Breakfast at Leanna's is one I will probably never forget – not only for the amazing food, but for the great experience of meeting Leanna and her mother, her gracious hospitality, her openness in answering our questions about her life, and for how much she made us feel at home.
I will definitely be traveling back to Shipshewana again to explore more of the area (there is just way to much to pack into a couple of days) and I will also be sharing some of those highlights with you in the coming weeks.