This is a Sponsored post written by me on behalf of Fresh Step and Meow Mix for SocialSpark. All opinions are 100% mine.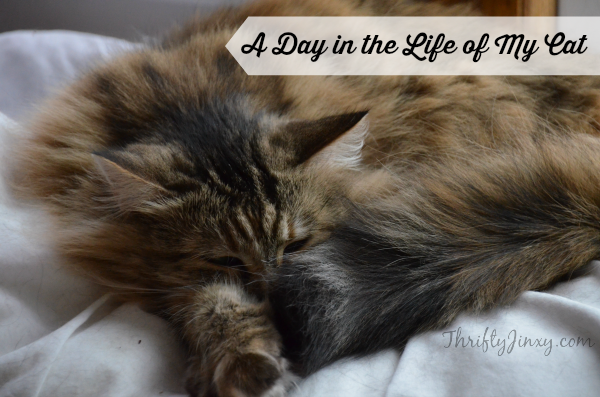 Sometimes I think it would be nice to have the life of a house cat.  No work.  No responsibilities. Someone to take care of my every need.  Doesn't sound too bad, right?  I think my cats have a very happy life, even if their daily life is basically the same routine over and over and over again.
My cats start the day by listening for my alarm.  As soon as they hear it, they are on my case until I get up.  Their favorite is walking on my chest to remind me that is time to WAKE UP.  I then usually head to the bathroom and the cats AND the dog usually decide they have to join me.  It gets pretty cramped in that little room.  Then it's off to the kitchen and time for breakfast.  Here you can see how much they enjoy Meow Mix® Tender Favorites Real Tuna & Whole Shrimp in Sauce, which combines real seafood in a savory sauce. Peanut is even licking his lips!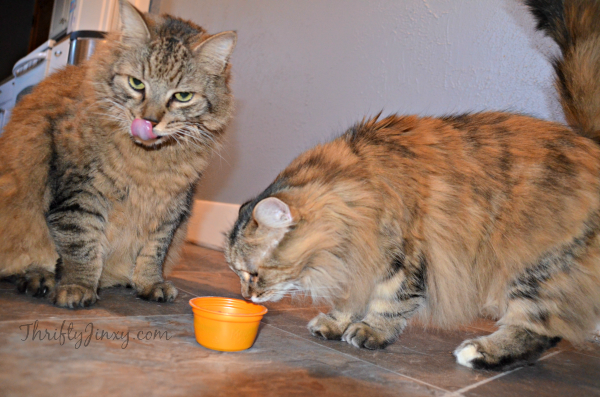 After some food, it's time for a drink of water and then a trip through the kitty door to head downstairs to use the litter box – they are so predictable!  I'm also happy that with the combination of the downstairs litter box and Fresh Step® Fast Acting litter our house stays odor-free!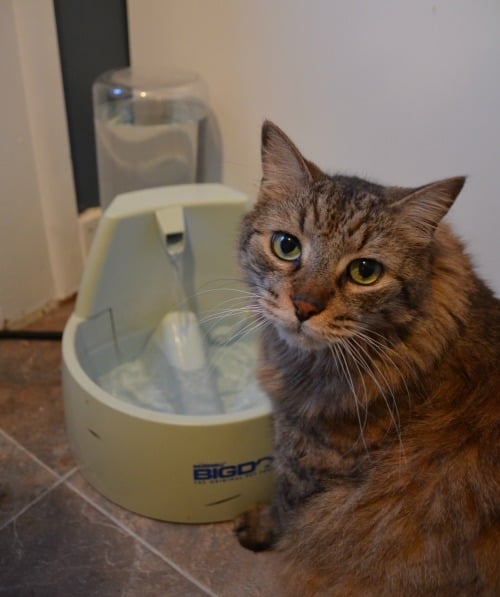 The rest of the day is then filled with most of the following activities, all in no particular order:
Sleeping
Watching birds and squirrels out the window
Sleeping
Self-cleaning
Snuggling with the dog
Antagonizing/playing with the dog
Sleeping
Sitting on my lap while I work on the computer
Standing in front of my computer monitor
Laying on my keyboard while I try to type
Sleeping
Watching TV with my hubby
Sleeping
That about sums up the daily life of my cats.  All I know is that I want to keep the daily life of my cats happy because they add so much happiness to MY life.  Find out how you can add a little happiness to YOUR cat's day with the Fresh Step and Meow Mix partnership with products available at Walmart. That have lots of info for a happier cat.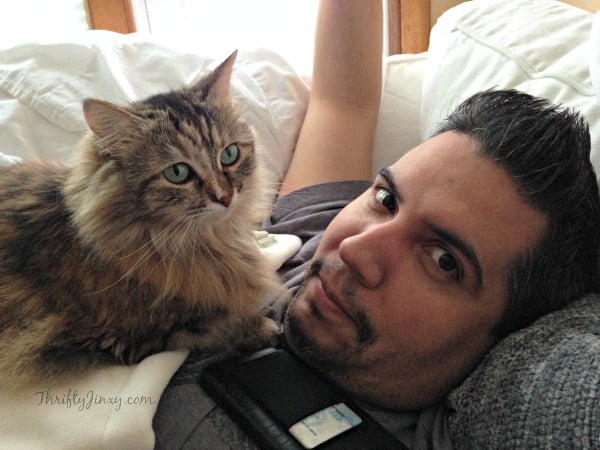 Reader Giveaway:  One lucky Thrifty Jinxy reader will win a $25 Walmart gift card courtesy of Fresh Step and Meow Mix.  To enter, just complete the entry form below by 11:59pm ET on 6/17/14.  Good luck!