#NewBreakfastRoutine #CollectiveBias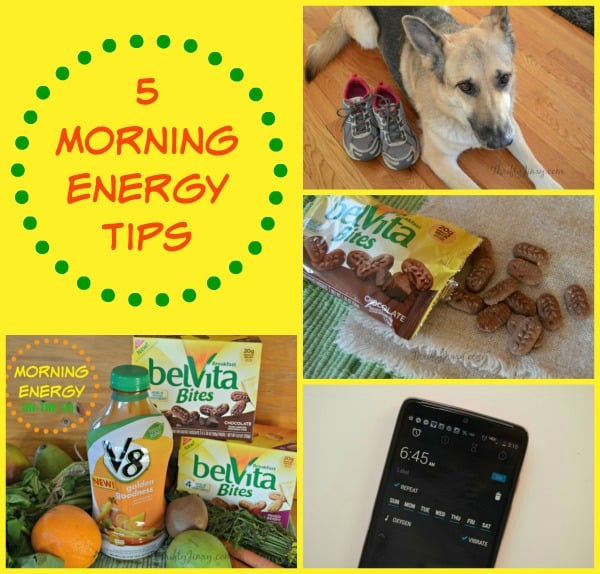 A new year gives us a new chance to refocus our energy and plan some goals to strive for throughout the next 12 months. Better health and fitness is a common goal for so many – including me! While thinking about goals is a great way to start the year, having a health-focused morning routine is a great way to start the day!
A morning routine doesn't have to be long and complicated, but there are some simple steps we can take to make sure we score some Morning WINs and start out energized to have a great day.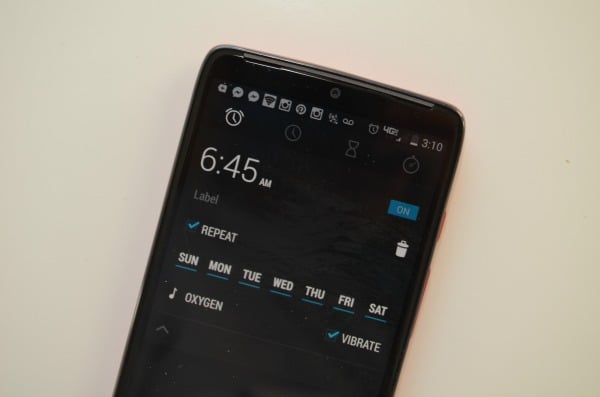 Wake Up at the Same Time Every Day
Humans by nature are creatures of habit. Our bodies function best when they are on a regular routine and a big part of that is based on our sleep patterns. Try your best to go to bed at the same time each night (early if possible!) and get up at the same time every morning. Once your body is in that routine it will be less tempting to hit that snooze alarm in the morning.
Take 5 Minutes to Focus
Taking just five minutes to focus on yourself and your day can help a lot with your mental health. Many people choose to use five minutes to meditate. Some of the most powerful and successful people swear by it. I have this on my "to learn" list, but for now I like to take that time to think about the day ahead and make mental notes of what is ahead for the day or what I want to get done.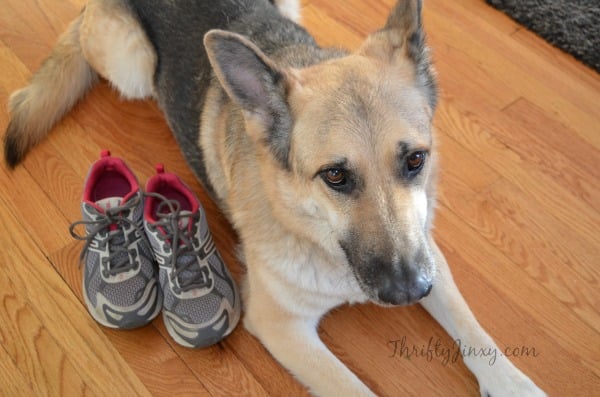 Get Moving
You can set a great trend for the day by getting yourself moving early on. For me, my morning exercise is lacing up my sneakers and heading out for a walk with my dog. The fact that he is relying on me for that exercise helps motivate me to stick to it. If you don't have a dog, you can do the same thing by teaming up with a friend or neighbor for morning exercise.
Get Prepared for the Day
If you head out to work or school each day, this is easier to achieve, basically because you HAVE to! But, if you work from home and/or are a stay-at-home parent, it's easy to just stay in your jammies all day. Get up, take a shower and get dressed in "real" clothes (or at least the yoga pants without holes) and you'll be more alert and ready to attack the world.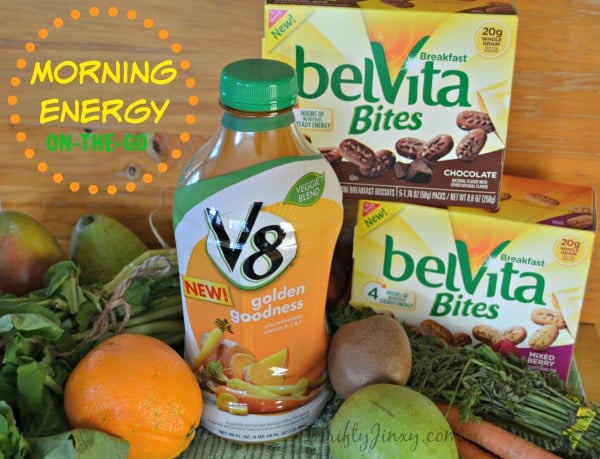 Fuel Your Body
By now we all know that skipping breakfast is one of the worst things you can do when it comes to watching your weight. It can also lead to unproductive mornings because you just don't have any fuel to keep you running. When you're short on time and need to grab breakfast in a hurry, BelVita Bites Mini Breakfast Biscuits and V8 Veggie Blends are easy to take on the run.
V8 Veggie Blends are are delicious blends of vegetables with a touch of fruit. You'll get 1 Full serving of vegetables in every 8oz glass, which is 60 calories or less & no sugar added. It's an excellent source of antioxidant vitamins A, C, & E with no artificial colors, flavors or preservatives and made with 75% vegetable & fruit juices (and 25% pure water).
I have had had BelVita Breakfast Biscuits before, but the BelVita Bites were new to me. I grabbed two different flavors: Mixed Berry and Chocolate. Let me just say that those chocolate Bites are soooo good! They taste like a yummy little dessert to me.
I picked up my BelVita Bites – Mini Breakfast Biscuits and V8 Veggie Blends at Target. Right now they have an awesome deal. Buy 3 breakfast products (including these BelVita Bites Mini Breakfast Biscuits and V8 Veggie Blends) and receive the 4th of equal or lesser value FREE as signed. (Plus if you have the Sunday newspaper coupon insert from 1/4 there are V8 and BelVita coupons in it.) Also check the Target Cartwheel app for additional savings. Now through 1/31 you save an additional 10% on BelVita. There will be new V8 offers starting on 1/25 and on 2/23.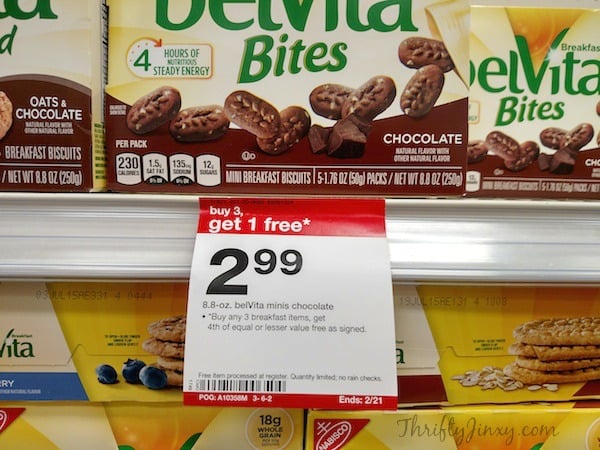 What do YOU do to start your morning strong?