2017 Super Bowl Bingo Cards

Each year as the final NFL play-off games are wrapping up, I remind my husband that it's time to make the bingo cards! Once again, due to popular demand, we are back this year with a free set of printable 2017 Super Bowl Bingo cards! You and your family and friends can have a little extra fun during the big game this year – whether you're having a big Super Bowl party or if you're just watching the game with a few of your family members or close friends on the couch. This set of printable 2017 Super Bowl Bingo Cards is sure to add a little extra excitement to the evening. Print HERE.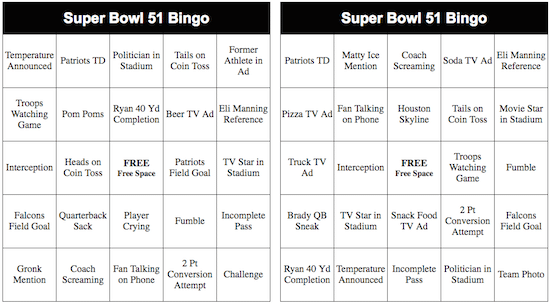 There are 16 different 2017 Super Bowl Bingo cards that you can print for FREE. As always, we tried to make them fun with plenty of squares available for both the die-hard football fans, as well as those who are at the party just to watch the commercials and eat some good food! It's a fun way to make everyone feel included and part of the action at your event. You can decide if you just want to play for fun and bragging rights or if you want to offer prizes to the winners.
Football Frenzy Dinner Plates Party Accessory 50 piece
2017 Super Bowl 51 Huge Party Pack For 18 Guests
Super Bowl – Party Photo Booth Props Kit – 20 Count
Pack of 3 Game Day Football Tablecover 54
Taste of the Stadium
Football Field Goal Post Inflatable Buffet Snack Bar Cooler – Tailgate & Home Party Supplies
Football Stadium Chip And Dip Sports Serving Set
JELL-O Super Bowl Jigglers (2 Packs of 2 – 4 Total)
NFL Superbowl LI Mylar Balloon – 17
Amscan NFL Drive Birthday Party Plastic Cups (25 Piece), Clear, 12.6 x 3.8
51
Super What? I'm Just Here For the Alcohol. Funny Football unisex shirt
&
For prizes, I like to fill a tote bag with a variety of items like cool swag I received at conferences or Target items I found on super discount. Then when the first person wins and yells "Bingo!" they get to choose a prize out of the bag. We keep the game going and as each person gets Bingo on their card they get to choose a prize from what's left in the bag. Some other ideas for prizes are restaurant gift cards, mini footballs, candy bars, dollar store items, you name it! Most people like the thrill of winning a prize no matter what it is. Print the 2016 Super Bowl Bingo Cards HERE!