When I think of Spring and Summer my mind instantly goes to pasta salads. They are perfect to bring to barbeques, pair with your dinners, and just to eat as a snack! I just love pasta salads!
I thought it would be fun to share a list of 17 different pasta salads you might want to add to your menu this summer! You will find all different kinds of pasta salads to try, including a caprese style, asparagus with lemon dressing, fiesta salad, just to name a few. These recipes will take you out of the box and beyond a classic pasta salad and leave you wanting more.
DeCecco Farfalle #93, 16 oz

Microwave Pasta Cooker – The Original Fasta Pasta – No Mess, Sticking or Waiting For Boil

Cuisipro 13-Inch Silicone Pasta Tongs

U.S. Kitchen Supply 3 Quart Stainless Steel Mesh Net Strainer Basket

Certified International Valencia Pasta Bowl Set

Update International 20 Qt Pasta Cooker Pot

17 Summer Inspired Pasta Salads

Healthier Greek Pasta Salad (Blackberry Babe): 21 Day fix approved recipe, to please your taste buds. Whole grain pasta, broccoli, tomatoes, black olives and more.
Bacon Bowtie Pasta Salad (Thrifty Jinxy): This Bacon Bowtie Pasta Salad Recipe is perfect for potlucks, BBQs, picnics or as a dinner side. It's easy to make and oh-so delicious!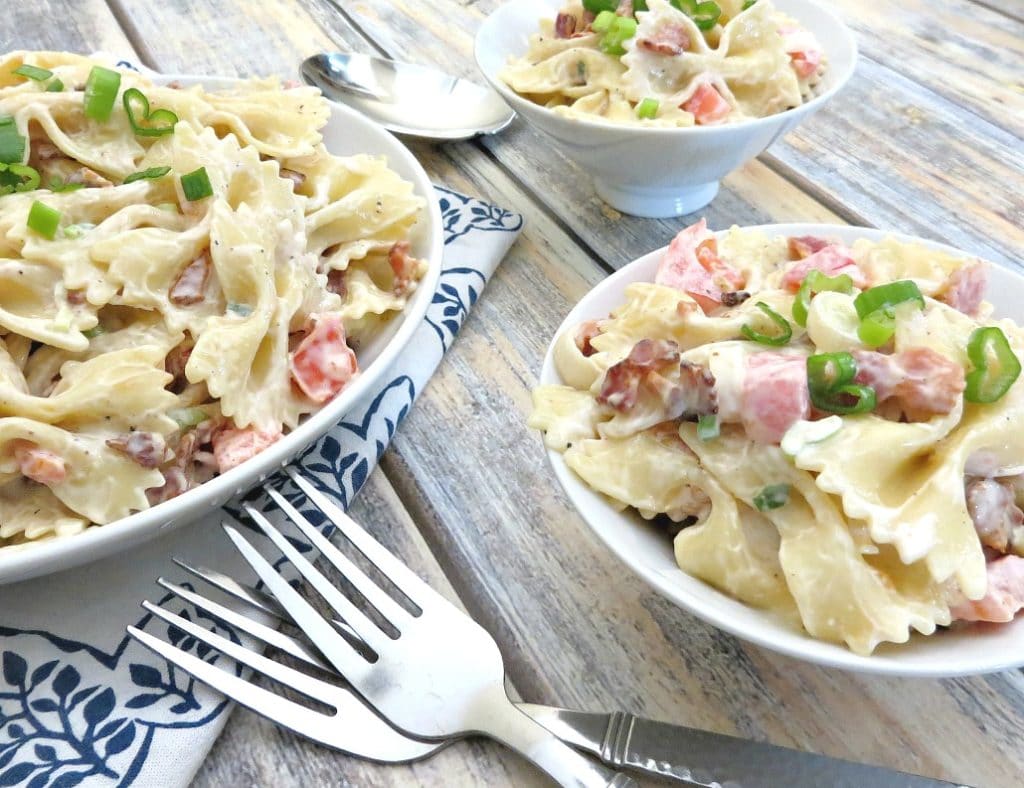 Asparagus Pasta Salad with Creamy Lemon Dressing (A Tidy Mom): A light and refreshing pasta salad, with a creamy lemon dressing perfect for any occasion. Cherry tomatoes, asparagus, greek yogurt and more.
Deviled Egg Macaroni Pasta Salad (Kicking it With Kelly): The name to this salad says it all, jam packed full of delicious deviled egg flavor! I love the twist of a deviled egg in a pasta salad.
Hawaiian Macaroni Salad (Thrifty Jinxy): This Hawaiian Macaroni Salad Recipe is just like what you'll find nestled alongside your entree in a Hawaiian plate lunch. It's slightly sweet and tangy.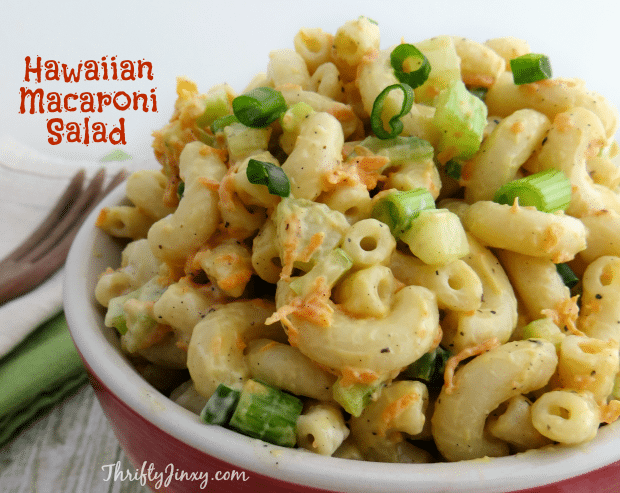 Italian Pasta Salad with Zesty Dressing (The Salty Side Dish): Italian pasta salad is one of the easiest pasta salads to make! Simply pouring on the Italian dressing makes the spices perfect and the crunch of onions, sweetness of green peppers and olives as well as the tang of spicy pepperoni, create a pulled together cold dish that is perfect all summer long.
Creamy Curried Chicken Pasta Salad (Simply Stacie): If you are a fan of curry then you will want to try out this flavor twist. Mildly spicy and very creamy for a tasty flavor combination.
Caprese Pasta Salad (Homemade Hooplah): If you are a fan of the classic caprese salad, then you will the love twist of this pasta salad. The tangy bite from the vinegar, paired with the mozzarella cheese and tomatoes, is a crowd pleaser!
Fiesta Pasta Salad (Julie Blanner): This is a Mexican pasta salad, that is jam packed full of delicious flavors. The dressing alone if a flavor combination that is a must try.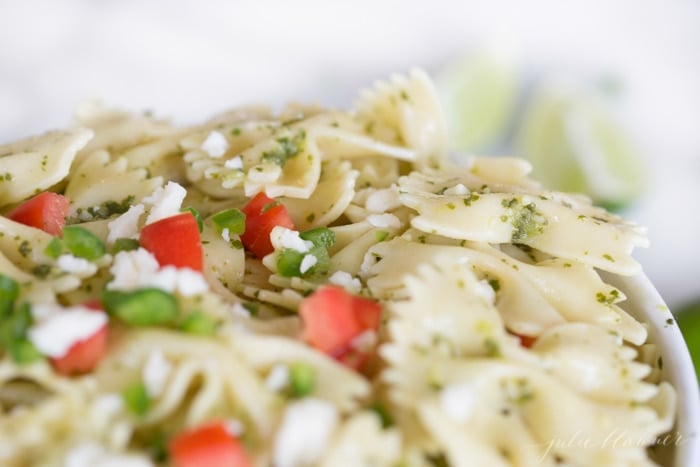 Hawaiian Style Pasta Salad (Inspiring Savings): This is a very delicious recipe and it is versatile. You can add ingredients to fit your tastebuds, whether it be pineapple, ham, peas, and so on.
Pesto Pasta Salad (The Bewitchin' Kitchen): If you are a fan of pesto, then take the plunge and try this pesto pasta salad. Sun dried tomatoes, feta, a delicious pesto sauce, you truly can't go wrong.
Smoked Sausage Pasta Salad (Homemade Hooplah): A simple but yet savory pasta salad, made with smoked sausage.
Oodles of Zoodles Pasta Salad (Kasey Trenum): The noodles in this dish are zucchini and squash noodles. It is a fun and different way to enjoy pasta, and adds a great flavor. I love oodles, they are very yummy and a nice lower carb option.
Chicken Bacon Ranch (Princess Pinky Girl): A classic flavor combination of chicken and bacon, with a ranch dressing. You will also find shredded zucchini for a delicious pop of flavor.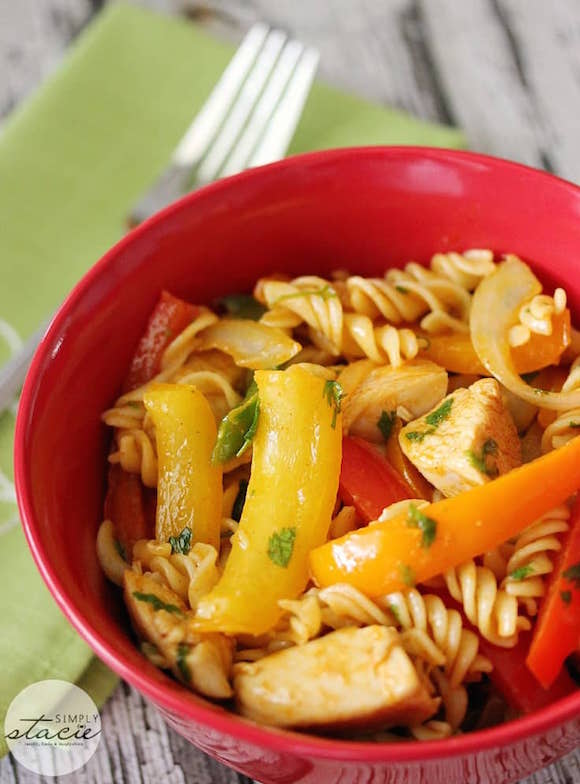 Chicken Fajita Pasta Salad (Simply Stacie): WOW, this salad is a head spinner for sure, take a chicken fajita and mix with pasta for a delicious and hearty dish!
Chicken Club Pasta Salad (4 Sons 'R' Us): Avocado, grape tomatoes, sharp cheddar cheese, and more are a part of this tasty dish!
Parmesan Pasta Salad with Broccoli (My Crazy Good Life): If you are a fan of parmesan and broccoli then you will enjoy this pasta salad. It makes a great side dish at a potluck.
Smoked Ham & Veggies Pasta Salad (Southern Plate): I am a huge fan of ham, and love the idea of using it in a pasta salad, jam packed with veggies. Tasty creamy sauce to complete this delicious dish.