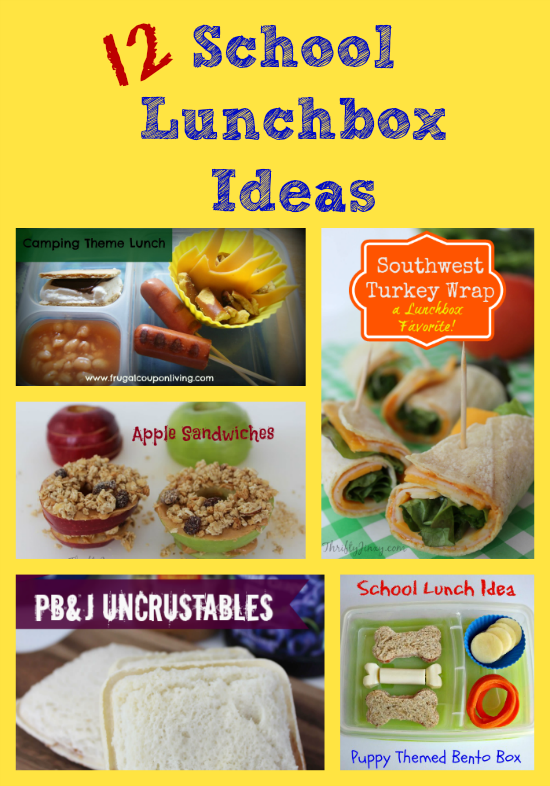 Thinking up ideas to keep lunch boxes fun, fresh and something your kids will actually eat can be a challenge. Kids are often picky and there are always the favorites and not-so-favorite food items. Making those lunches as appealing as possible is the best chance to ensure that they are eaten and will provide fuel for learning and development throughout those school day afternoons.
We have gathered a dozen ideas, both from here at ThriftyJinxy.com and from other awesome bloggers to compile this list of 12 School Lunchbox Ideas.
12 School Lunchbox Ideas
Puppy Themed Bento Box – This fun box from Two Little Cavaliers features mini sandwiches, string cheese, fruit and veggies.
Homemade Uncrustables PB&J – Our recipe to make your own Uncrustables will save you a lot of money vs. the pre-made.
Southwest Turkey Wrap – This wrap would please adults or kids and makes a filling, complete lunch.
Camping Theme Lunch – So cute! I love this original idea from Frugal Coupon Living.
Chicken Taco Bento Box Lunch – Tacos are always a hit and this bento box lunch plays on that classic theme.
Apple Sandwiches – Who says you need bread for sandwiches? These are made with apple slices.
Tortilla Pinwheel Lollipops – Turn lunch into a lollipop with this fun recipe from Home Cooking Memories.
Peanut Butter and Fruit Pizza – Clever Pink Pirate shares this unique twist on a pizza idea.
Lunchox Kabobs – Your kids can have fun creating their own kabobs with this idea from A Mitten Full of Savings.
Hardboiled Egg Chick Bento Box – These adorable chicks from Sweet Bella Roos will have your kids gobbling up their lunch.
Chicken Taco Roll-Ups – We can't have just one taco-theme in our round-up so we top it off with these roll-ups from The Tiptoe Fairy.
Which one will you try first?