Decorate your Thanksgiving table with one of these 12 beautiful Thanksgiving Centerpieces. Go rustic with a Mason Jars and burlap collection or keep things formal with candles and flowers.
Before we know it, Thanksgiving Day will be here!! What's on your menu this year? Are you the type who serves the exact same menu every year, or do you like to throw in a few new things to keep it interesting?
We have our tried and true favorite menu items here, but we do like to try a new appetizer or new dessert – – or just new anything!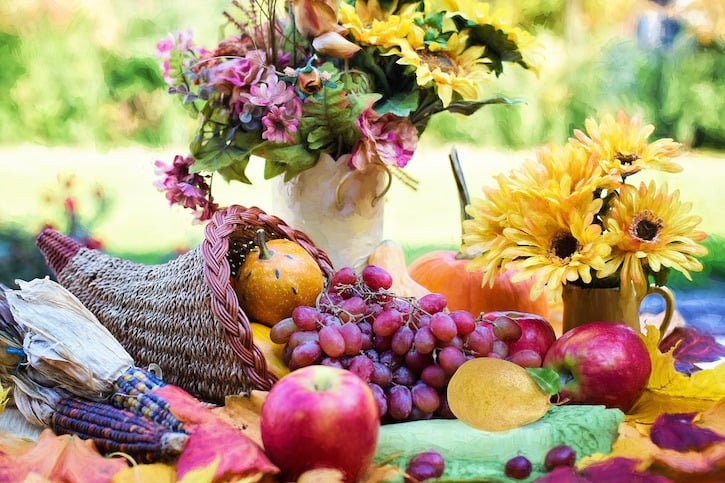 While we're busy thinking about the menu, how about what will be on the table in the middle of all that yummy food?!? A pretty Thanksgiving centerpiece can set the mood for your celebration and add a very special touch.
Whether you decide to go with a rustic look featuring Mason jars and burlap, or a more formal design with flowers, candles and some seasonal accents, there is a lot to choose from!
Fall Decor Galvanized Tray, Field of Pumpkins Silhouette

To help make things a bit easier, we have some pretty suggestions to accent your Thanksgiving table! I have to admit I have a soft spot in my heart for the tissue tail turkey centerpiece because I remember my Grandma having one way back when.
If that has fond memories for you too, but you don't want it smack dab in the middle of your meal, it also makes a fun addition an a side table or maybe on the coffee table with pre-dinner nibbles. On to the list!
12 Beautiful Thanksgiving Centerpieces
Greens and Gourds Thanksgiving Centerpiece – This elegant fall centerpiece mixes beautiful fresh and faux botanicals. It's hand assembled by artisans on a century-old, family-run farm in the Pacific Northwest.
It features a lush combination of fragrant noble fir, western red cedar, eucalyptus and pine cones, along with faux orange and white pumpkins.
Thanksgiving Mixed Centerpiece Basket – This bright and sunny floral never fades, this piece adds a festive touch to your kitchen, dining room, office, or any space that needs a little "life!"
Fall Leaves Gleam N Burst Centerpiece Party Accessory – This simple setup adds a fun flair to your Thanksgiving table. This one is smaller so might be a good fit for the kids table.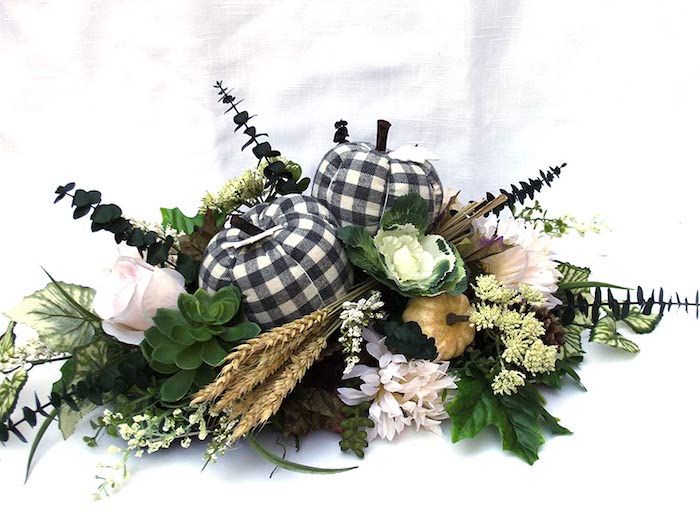 Farmhouse Fall Arrangement Centerpiece – Isn't this just beautiful and elegant? I like how the colors aren't the typical red/orange/brown but instead have a more neutral style that can work for longer. This arrangement features buffalo plaid pumpkins, premium greenery, faux pumpkins and gourds, leaves, and berries.
Color Changing Cornucopia Centerpiece – Your guests will oooh and ahhh over this centerpiece which glows with a color changing light! The festive cornucopia features heart-warming sentiments written on each fruit, reminding you of the Fruits of the Spirit during Thanksgiving. Takes 3 AAA batteries (not included).
Fall Mason Canning Jars in Wood Antique White Tray – This Thanksgiving centerpiece comes with a distressed tray with handles, plus five painted canning pint jars. You select the jar colors you want, including beautiful mustard and orange colors for fall! Add flowers to your order or pick your own and swap them out as needed.
Stand-Up Pumpkin Centerpiece – Set up your very own pumpkin patch inside! This stand-up centerpiece comes in a six-pack so you can arrange the pumpkins how you like.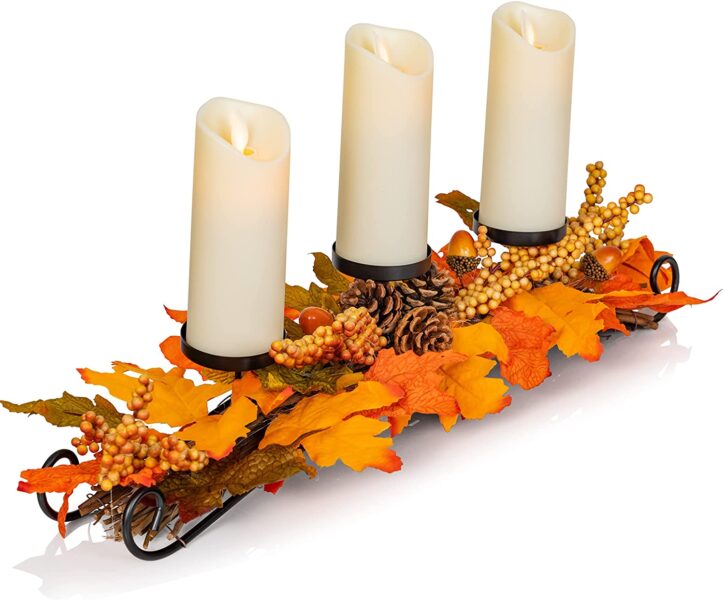 Ornativity Maple Leaves Candle Holder with Pinecones and Acorns – Dress up your table with this candle holder which is perfect for the middle of a long table. The pinecone and leaves décor is included, but you'll need to add your own candles. Swap out the decorations with others seasonally and you can use this candle holder year round!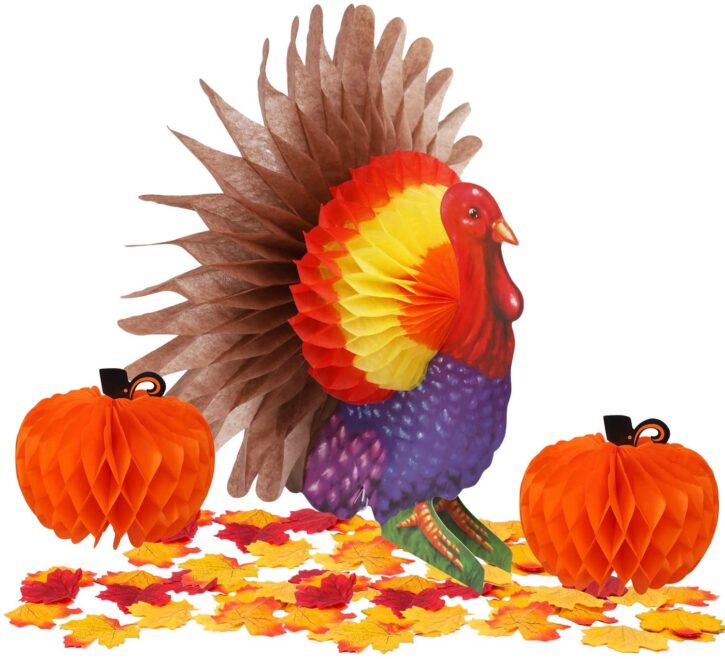 Tissue Turkey and Pumpkins with Artificial Maple Leaves – Gobble gobble! Enjoy a blast from the past with this tissue turkey and pumpkins, plus leaves that you can scatter across the table for a festive, kid-friendly table. So fun!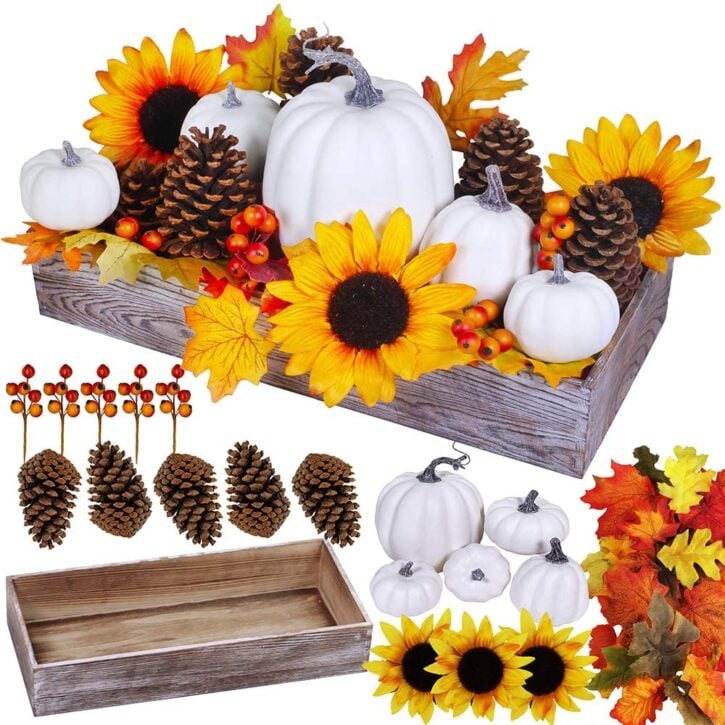 Assorted Artificial White Pumpkins and Maple Leaves in Rectangle Whitewashed Wooden Box – This box comes with everything you need to put together a beautiful Thanksgiving centerpiece yourself! The whitewashed wooden box holds an assortment of iconic autumnal embellishments like white pumpkins, silk sunflower heads, artificial berry picks, and more.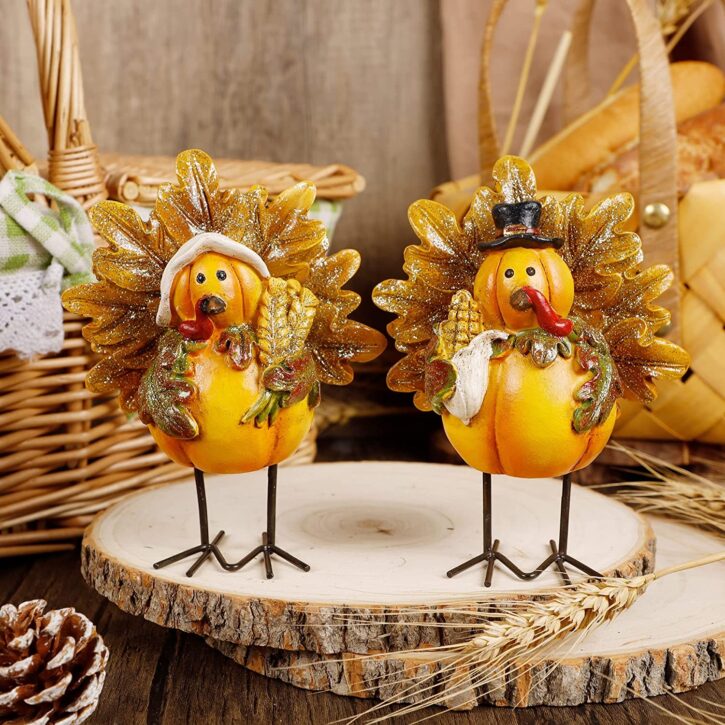 Thanksgiving Turkey Figurines, Set of 2 – How cute are these Mr. and Mrs. Turkey figurines? These freely stand on the table with metal legs. They're made of premium resin and measure 5″ x 4″ for a whimsical addition to your Thanksgiving table.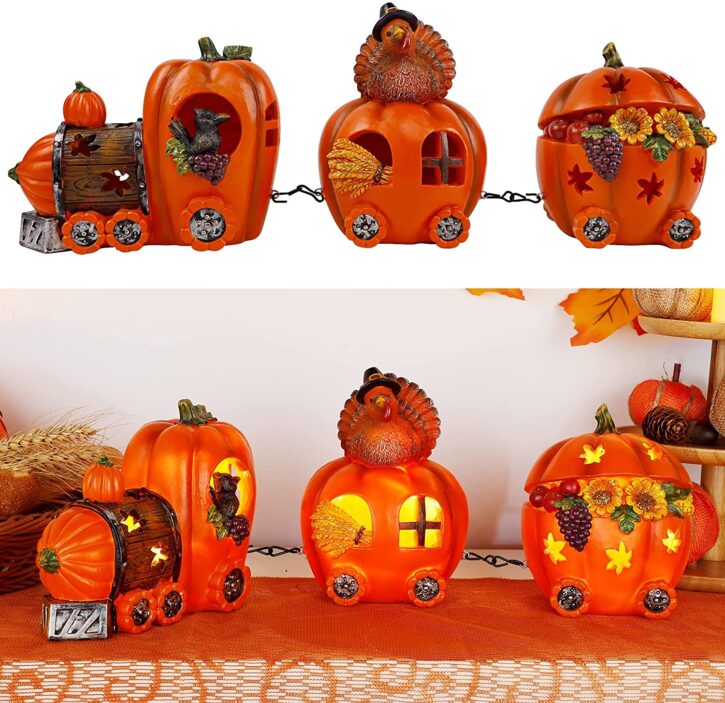 Thanksgiving Lighted Pumpkin Train – This sweet Thanksgiving pumpkin train can choo-choo along your table runner! The train is 18.3″ long and is designed with warm yellow lights, coin cell batteries included. The kids will love this one!