Some of the very best craft and DIY ideas start with items you already have around the home. Not only does that mean you don't have to spent a lot of money at the craft store for supplies, but it also means that old items that are basically trash get a brand new life!
While recycling is great, reusing an item is even better because all the energy and resources that go into the recycling process are avoided. Of course you will be using your own energy as you make your new creation, but that type of energy is actually fun to expend while you let your creative juices flow to make a one-of-a-kind project!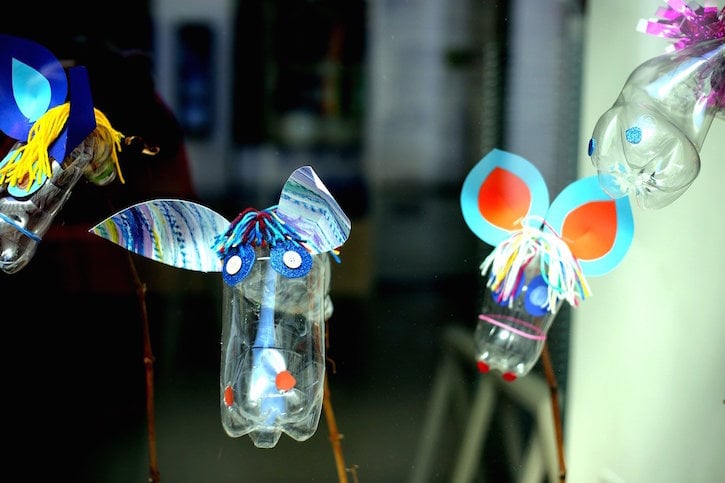 These ten ideas of ways to upcycle plastic bottles and bags take your plastic soda, milk, water or juice bottles or else your plastic grocery bags to make helpful household items or pretty things to decorate your yard.
They also make excellent gifts, especially for those you know who appreciate a "green" lifestyle. I know I always appreciate a gift someone has taken the time to make themselves. Knowing that it is made from items that would have otherwise been discarded makes it even better! Check them all out:
Ideas to Upcycle Plastic Bags and Bottles
Plastic Bag Flower Earrings – By- Reuse Grow Enjoy
Plant Watering Bottle – By- Creative green Living
Plastic Bottle Herb Garden – By- Grillo Designs
Easy Soda Bottle Bird Feeder Kit – Find on Amazon
Plarn Tote – By- Happy Deal Happy Day
Water Bottle Flowers – By- Crafts By Amanda
Plastic Bag Bowl – By- Couponing For Freebies
Plastic Bottle Bird Feeder – By- Reuse Grow Enjoy
Plastic Bottle Fairy Garden – By- Creative Green Living
Fairy Night Lights – By- Crafts By Amanda
Bottle Cap Essential Oil Diffuser Necklace – By- Reuse Grow Enjoy
Flies Be Gone Soda Bottle Reusable Non-Toxic Fly Trap Kit

Do you have any of your own ways to upcyle or reuse your plastic bottles and bags? If so, please share them in a comment. I would love to know what you're working on right now!