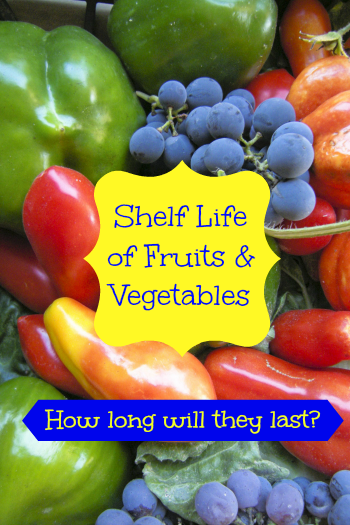 When you spend a lot of money to buy delicious and healthy fruit and veggies you don't want to end up letting it go bad before you have a chance to use it. With this handy guide to the shelf life of fruits and vegetables you can more easily plan ahead, buy the right amount and actually USE all that good produce.
Stocking up on a good sale for fruits and veggies is a great idea, but the savings disappear if you don't actually use it all.  So, follow the guidelines below to judge how much you can use soon and either stop buying there or freeze or can the extras.  If you still end up with too much, you can try some of the recipes in the 12 Recipe Ideas for Excess Garden Veggies at the bottom of this post.

Shelf Life of Fruits and Vegetables
1 to 3 days: Collard greens, corn, green onions, summer squash, avocado, strawberries, raspberries, plums, pears, mango, peaches
3 to 5 days: spinach, cauliflower, broccoli, bell pepper, asparagus, nectarine, pineapple, watermelon
5 to 7 days: tomato, radish, mushroom, lettuce, green beans, cucumber, brussels sprouts, cantaloupe, grapes, oranges
 7 or more days: sweet potato, winter squash, celery, artichoke, cabbage, onion, potato, limes, apples, banana, blueberries, cherries, kiwifruit, honeydew, lemons
Thanks Family Frugal Fun!