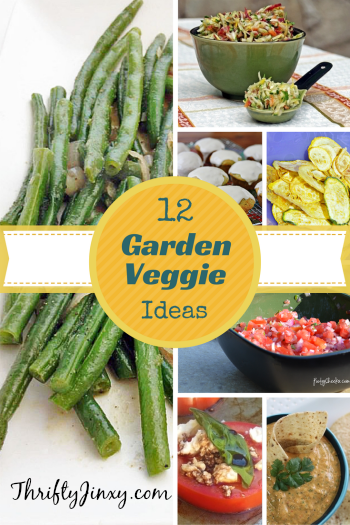 If you planted a garden this summer, just about now you might have more vegetables than you know how to use! Gardening is a great way to save money and to grow good-for-you food that helps your budget as well as your family's healthy.
But, if you end up with TOO MUCH bounty from your gardening efforts it can be tricky figuring out what to do with all of it. Sharing is always a great idea, but sometimes there is even too much for that.
If your neighbors are tired of taking your excess tomatoes, zucchini and other produce, we have a roundup of ideas for you. These recipes offer creative ways to help use up all of those excess garden veggies.
12 Recipe Ideas for Excess Garden Veggies
1. Baked Tomatoes with Feta, Olive Oil and Fresh Basil ~Lori's Culinary Creations
2. Roasted Asparagus with Garlic and Balsamic Vinegar ~One Creative Mommy
3. Easy Oven-Roasted Summer Vegetables ~The Kitchen is my Playground
4. Homemade Vegetable Chips ~Canadian Free Stuff
5. Fresh Kale Recipes ~The Thrifty Couple
6. Easiest Green Beans ~I Eat Therefore I Cook
7. Roasted Sweet Pepper Dip ~Keep It Simple, Sweetie
8. Nutella Zucchini Muffins ~Farm Fresh Feasts
9. Tomato Cheese Bread Recipe ~Thrifty Jinxy
10. Zucchini Carrot Slaw ~Turning the Clock Back
11. Fresh Homemade Garden Salsa ~Poofy Cheeks
12. Shortcut Zucchini Muffins ~Amanda's Cookin'
Which of these tasty recipes is your favorite?