This time of year, there are lots of nice, fresh garden tomatoes available. This recipe is a perfect way to use them up! It can be served as an appetizer or, if you make a bunch, can make a delicious lunch or dinner all on its own! If you're grilling, you can also make this on the top rack of your grill!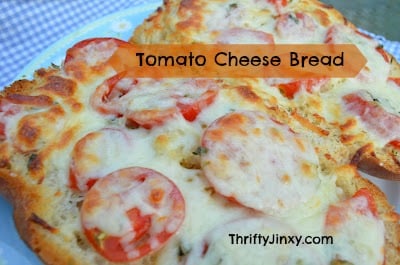 Tomato Cheese Bread Recipe

Ingredients:
1 loaf of bread (French or Italian)
2 large tomatoes, sliced
butter
garlic powder or garlic salt (if using garlic salt, leave out the salt later in the recipe)
extra virgin olive oil
salt
fresh oregano (you can substitute dried)
1 cup shredded mozzarella cheese
How to Make Tomato Cheese Bread:
Heat oven to 350 degrees. Slice bread loaf down the middle and butter each side. Sprinkle with garlic powder. Lay tomatoes in an even layer over the bread. Drizzle with olive oil. Sprinkle with salt and oregano. Sprinkle the cheese evenly across the top. Bake 10 minutes or until cheese has melted. Then turn the oven to broil until cheese begins to brown.