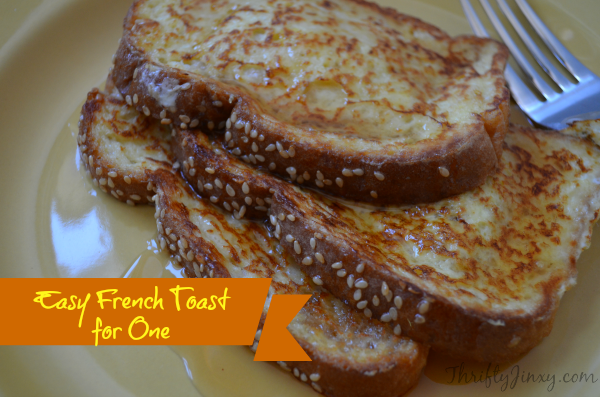 Often when I eat breakfast it's just me.  I'll usually end up making a smoothie and having a bowl of milk or a granola bar, etc.  But sometimes I want a REAL home-cooked breakfast even though it's just me.  This easy French toast for one recipe is quick and simple to make – about 5 minutes from start to finish – and is perfectly sized to feed ONE person.  I end up getting protein from the egg, fiber from the bread (I use whole grain or the fiber-rich white bread) and drink a glass of milk with it.  That's my idea of a yummy quick breakfast!!!
When I make french toast, grilled cheese, or anything with bread, I love using my square griddle. It makes it so easy to fit up to four pieces of bread/sandwiches on the square surface. I have this particular Calphalon square griddle that I have used for almost 10 years now and it is awesome!
Calphalon Contemporary Hard-Anodized Aluminum Nonstick Cookware, Square Griddle Pan
&
Easy French Toast for One Recipe

1 egg
2 Tbsp milk
pinch of salt
1/4 tsp vanilla
1 Tbsp butter
3 slices bread
cinnamon
Heat a griddle or frying pan over medium high heat. In a small, flat bottomed bowl, beat the egg. Add in milk, salt and vanilla. Stir. Melt butter on the griddle. One at a time, coat the bread slices in the egg mixture, placing each on griddle as soon as it is coated. Sprinkle each slice with cinnamon. Cook 1-2 minutes or until golden brown. Flip and cook the other side. Serve immediately with fruit, powdered sugar or syrup.