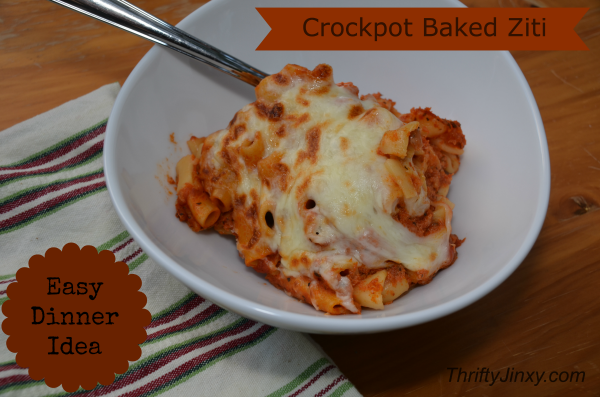 Baked ziti is one of Mario's favorite foods and I make it quite often, but I thought it was about time to try to make it in the Crockpot instead. I looked for Crockpot Baked Ziti Recipe recipes online, but many of them called for boiling the noodles before adding them to the slowcooker. I did NOT want to fool around with a whole extra step, so I just modified my own no-boil baked ziti recipe. The only "extra" step is to stick the finished product under the broiler at the end to brown the cheese on top.


Crockpot Baked Ziti Recipe

2 jars of pasta sauce
1 jar water (see below)
15 oz container of ricotta cheese
1 egg, beaten
1/3 cup grated parmesan cheese
3 cups shredded mozzarella
16 oz box of ziti
Optional:  italian seasoning, oregano, garlic powder, red pepper flakes
In the Crockpot, mix the pasta sauce, one jar of water*, ricotta, egg, parmesan and 2 cups of the mozzarella.  Then stir in the uncooked ziti.  If you like some more "zip" to your sauce, toss in a few of your favorite seasonings as suggested above.  Cook on low 4-5 hours.  Sprinkle remaining cheese on top.  Place under broiler just until bubbling and starting to brown.
*I like to fill one of the empty sauce jars with water, shake it well to get the "extra bits", pour that water into the second jar and shake that one too, then add the water to the crockpot.  No wasted sauce that way!