Do you love the idea of paying it forward?  Doesn't the happiness you get when receiving an unexpected kindness make you want to turn around and give that same feeling to someone else?  Whether or not you have been involved in Paying it Forward, you'll want to join me on Tuesday, 4/22, for a Twitter Party to get ideas for celebrating #PayitFwdDay!  Here are all the details:
What: To Pay it Forward means to perform any act of kindness without asking for or expecting anything in return, only that the person do something nice for someone else. It's a simple, yet powerful concept that can change the lives of those around us, make us healthier and happier, and even make the world a better place for future generations.
Join us for a Twitter party to celebrate International Pay it Forward Day coming up on April 24, 2014.
Along with Charley Johnson, President of the Pay it Forward Foundation, we will be sharing powerful Pay it Forward stories, ways that you and your family can Pay it Forward, and how to teach our children the importance of spreading kindness.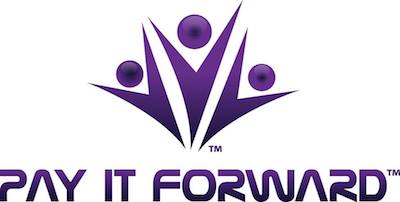 When: Tuesday, April 22, at 1 p.m. ET (the party will last one hour)
Where: We'll be on Twitter – follow the #PayitFwdDay hashtag to track the conversation. You can see the details and RSVP via this Twtvite:  http://twtvite.com/payitfwdday
Hashtag: #PayitFwdDay
Prizes: We will be giving away five prizes to randomly selected winners. Five winners who answer trivia questions during the party will receive $50 VISA gift cards, and the Pay it Forward bracelet!
Hosts: @SavingsBankLife and @charleypif
Pay it Forward Foundation Website: http://www.payitforwardfoundation.org/
Pay it Forward Foundation Facebook page: https://www.facebook.com/payitforwardexperience
SBLI Website: http://www.sbli.com/
SBLI Facebook: https://www.facebook.com/mySBLI/app_599788450050788
Co-hosts:
Brandy, Happily Blended - @brandyellen
Chrysa, Thrifty Jinxy - @ThriftyJinxy
Dawn, Homemaking Hacks - @dawnchats
Debra, A Frugal Friend - @AFrugalFriend
Ellen, Thrifty and Chic Mom - @ThriftyChicMom
Emily, Nap Time is My Time - @naptimeismytime
Jenn, The Rebel Chick - @TheRebelChick
Kristen, Mudpies and Tiaras - @MudpiesandTiara
Lolli, Better in Bulk - @1momof5
Shauna, Adventures of 8 - @adventuresof8
Stefani, Mommy Enterprises - @mommye
Tiffany, Broward Saves - @BrowardSaves