Fashion Project is on a mission to change the world one piece of clothing at a time – and YOU can join the movement! The idea behind the Fashion Project is simple. You can shop for amazing like-new or gently used designer clothing, handbags, shoes and accessories at prices as much as 90% off retail. But, you're not only getting some awesome new goods for yourself, 55% of the net proceeds from your purchase go directly to support a deserving charity.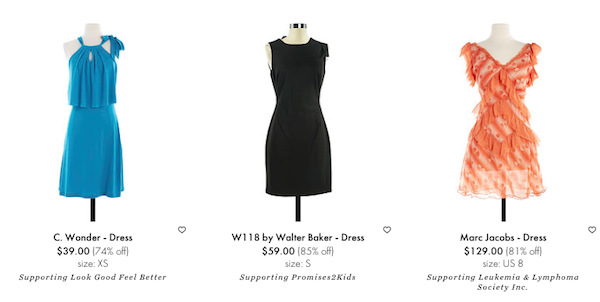 Shopping on the Fashion Project site is easy and enjoyable. There are many ways to look for your fabulous fashion finds. You can start shopping by type of product, see all new arrivals, or you can shop specialty boutiques. For example, right now the boutiques include a Rebecca Minkoff boutique, Fall Finds: 100 Under $100, Living on the Wedge, Effortless Elegance and more. Once you select an area to shop, there are various ways to filter, including by brand, size, charity and condition.
I love all the detail Fashion Project provides on each item. Take a look at this listing for a Rebecca Minkoff Shoulder Bag. It lets you know the original price and how much you save and even tells you exactly how much will be donated and to which charity. Then there are multiple pictures of the item. They don't just give you one or two photos, like so many sites, they give you a LOT! Also included are details about the dimensions, color, condition, etc. I like having all the info I need before I make a decision!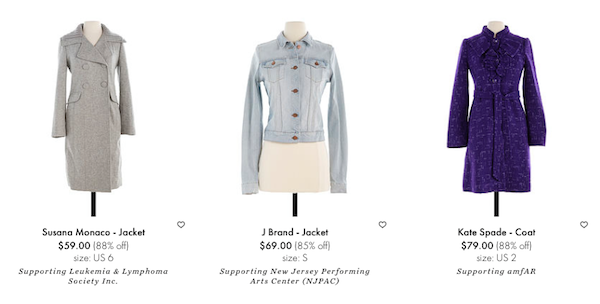 I have spent a good part of my morning browsing through and looking at all the gorgeous finds. The weather is turning cooler and I recently found out that I lost one of my favorite jackets in our move. Fashion Project has some great choices for replacements. Not only do the styles I like have great prices, but they support worthwhile charities like the Leukemia & Lymphoma Society, the New Jersey Performing Arts Center and amfAR.  I had better hurry and make my choice before the temperatures dip any lower!
All items sold through Fashion Project are guaranteed authentic. They have a team of stylists that process each item by hand to make sure of it. And they are picky! Items must be in very good condition to be accepted for sale. But if you like, you can also sort and find only items that are new. They also offer a 30 day return policy on non-clearance items.
Oh, and shipping is FREE on orders of $100 or more! Otherwise there is a flat rate shipping charge of $6.99.
Head on over to Fashion Project and see what you can find!