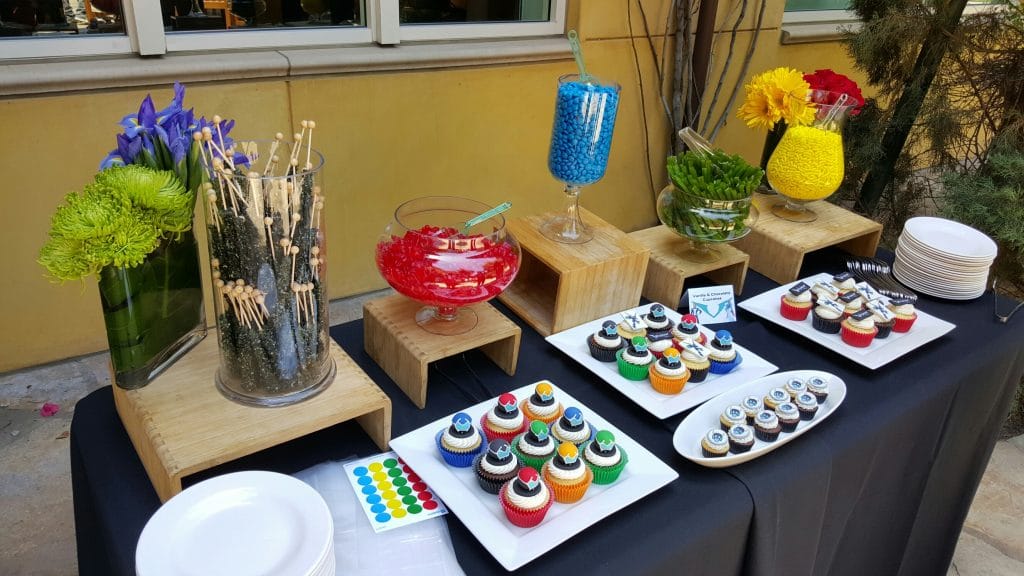 Whether the Voltron fans in your life are 9 or 39, we know they would LOVE a Voltron-themed birthday party this year. Last month I had the chance to visit DreamWorks Animation Studios to get a behind-the-scenes look at the making of Voltron Legendary Defender exclusively for Netflix. While I was there, we were treated to an awesome lunch followed by yummy desserts. When I saw that fun table filled up with Voltron-related goodies, the first thought that popped into my head was BIRTHDAY PARTY!!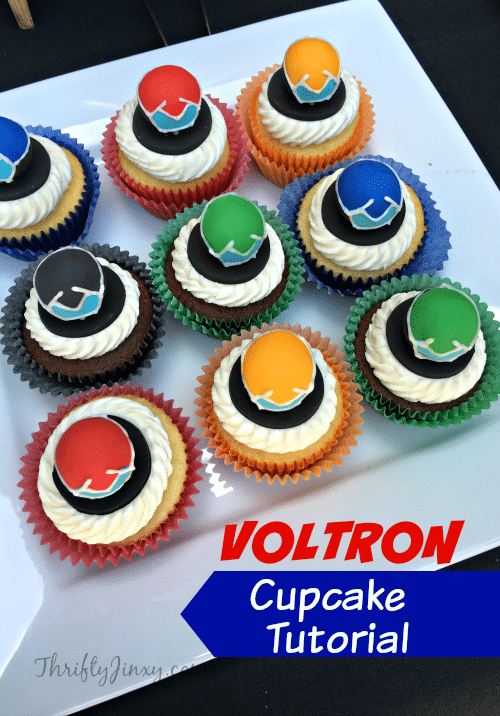 That led to these Voltron Birthday Party Treat Ideas, complete with a Voltron Cupcake Tutorial that is a bit easier than it looks once you see the instructions broken down step-by-step. The helmets themselves are made out of a gumball, fondant and white royal icing. Just click the image below to see the full list of tools and ingredients, as well as the printable instructions.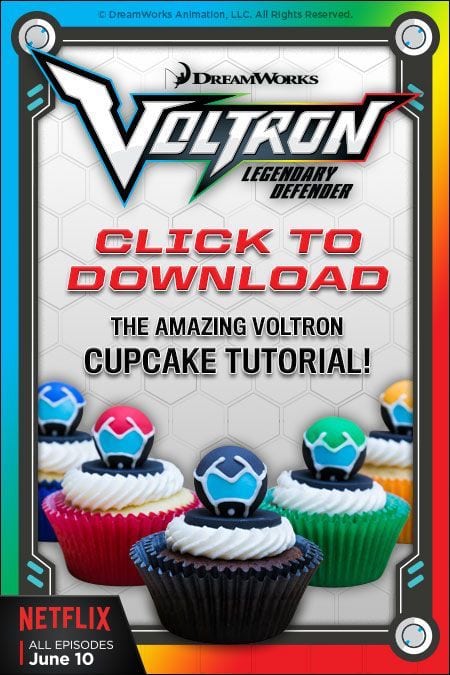 To add some variety to the treats and make sure there is something that everyone likes, a candy station is a great plan! Since we're working with a color scheme based on the colors of the lions: blue, red, yellow, green and black, we will want candies in each of those colors. I like the idea of having some chocolate candies, some fruit-flavored candies and some good ol' fashioned sugary candies. Some good ideas are blue M&Ms, black rock candy sticks, yellow bananas, red Swedish fish, and green licorice. But, of course feel free to choose any candies that fit the color scheme!

To set up the candy station, put each type of candy in a separate clear, glass container. Look around your kitchen for interesting shapes or sizes like lemonade pitchers, vases, cake servers, etc. Then have scoops on hand along with a supply of cellophane treat bags ready to be filled up. A fun way to seal them is with sticker dots like the ones often used to price garage sale items. They're also easier to handle than twist ties!
DreamWorks Voltron Legendary Defender is now available exclusively on Netflix with a one-hour origin story plus 10 twenty-two minute episodes!
Voltron Vintage Paper Table Cover (1ct)

Vintage Voltron Small Napkins (16ct)

Vintage Voltron Party Pack Set for 8 by CA Reed

Voltron Travel Tote Lunch Bag

Voltron Red, Yellow, Blue, Green and Black Lion Assortment Figures Set of 5

Voltron Defender Gear Roleplay Set