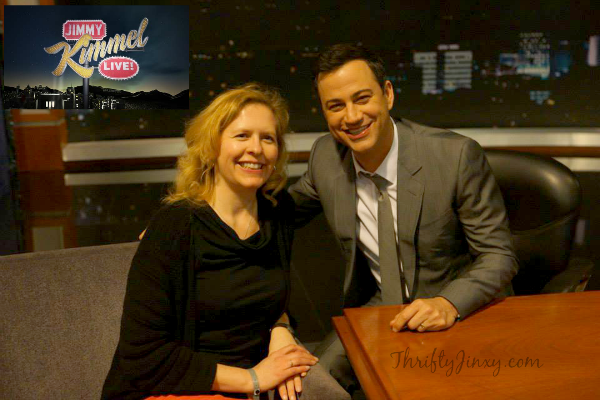 So, yeah. Jimmy Kimmel and I are best buds – – – at least that's what the profile picture on my Facebook page would tell you! While we may not officially be besties, I did get to meet Jimmy last week when we went to visit Jimmy Kimmel Live!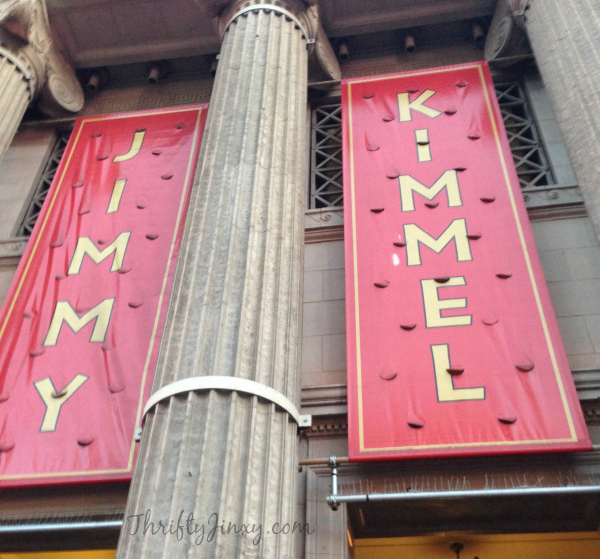 To start the evening, we were ushered into a VIP viewing area at Jimmy Kimmel Live! where we found a yummy buffet of Mexican food (it was Cinco de Mayo). We even had Steve's Ice Cream for dessert – which is SO good! Before the show started, we had a chance to chat with both Executive Producer Jill Leiderman and co-head writer Molly McNearney. Molly has been with the show for 10 years and has been married to Jimmy Kimmel for just about a year.
Molly filled us in about what it's like to work on the show every day and how much work goes into putting it on the air each night. There are 13 writers plus Jimmy. While some shows divide writers into monologue writers, bit writers, etc., at Jimmy Kimmel Live!, every writer does everything. Each day, their pitches for the show are due at 9:15 in the morning. They write topics for that evening and write monologue jokes.  They also watch clips. There are four guys with the job title TV Watcher. They watch TV all day and pull clips of funny things. Then the writers write jokes to the clips. At night they usually spend time getting ahead and write comedy ideas for celebrity guests. For each show, Jimmy gets about 45 pages of material to choose from and whittles it down to about a page and a half. So, as a writer, about 90% of what they create every day is rejected, but Molly says they are used to it.
Executive Producer Jill Leiderman grew up with her dad as a sportscaster and her mom as a lawyer who walked away from practicing law when Jill was born.  Jill likes to think she got some of her mom's analytical thinking and her dad's love of entertainment and television.  Because of that she has always loved being around television, the business and funny people.  She feels really lucky to be able to work with an amazing group of people in an infrastructure where they can work together and give Jimmy everything he needs to put on a show each night.  Her job is to make it the most comfortable opportunity for him possible to walk out there every night and feel great about what he is delivering. Her job is to make sure everybody is delivering the best they can every day to the show because that is what the audiences demands.  They want to make sure the audience comes back every night because of their affinity for Jimmy and knowing that they deliver such a high caliber product.  Jill's job is to make sure she does everything she can to chip in and make sure that the 200+ folks who work on the show are operating at their maximum capacity at all times.
In speaking with Molly and Jill, you could just feel how passionate they are about the show and how much they like working with Jimmy. I never realized what a super nice guy he is!
After our chat, it was time for the show!! Guests that night were Sally Field and Julia Roberts. They were both fantastic to watch in their interviews with Jimmy (and I loved Julia's outfit), but the highlight of the show for me was definitely the Celebrity Curse Off.  It was extra funny for us because we saw the live version before the censors added all of their bleeps. It was hilarious to hear those curses flying out the mouth of Sally Field, who once played The Flying Nun, and America's sweetheart Julia Roberts. Check out the edited version:
Before the musical guest Future Islands took the stage, Jimmy's trusty security guard Guillermo stopped by to greet us as well. Then, after the show, we headed into the theatre for a quick tour. Imagine our surprise when Jimmy himself came in to chat with us! Jimmy was SO nice. Our plan was to take a quick group photo, but he suggested that instead he take a photo with each of the 25 of us individually. So….that's how I came about the photo at the top of this page. Yes, my butt is in the exact same spot where Julia Roberts and Sally Field had theirs less than an hour before!
Emmy Award-nominated "Jimmy Kimmel Live" airs every weeknight (11:35 p.m. – 12:41 a.m., ET), packed with hilarious comedy bits and features a diverse lineup of guests including celebrities, athletes, musicians, comedians and humorous human interest subjects.