See how delicious Spinach & Herb Dip Mix is and all the yummy things you can make with it!

Have you ever been to a Tastefully Simply Party? Or have you been lucky enough to receive Tastefully Simple as a gift? If so, you know what delicious and fun products they have. If you haven't, you're probably asking "What IS Tastefully Simple?"
Just like me, Tastefully Simple is based in Minnesota and their mission is to provide convenient, easy-to-prepare foods that let you spend less time in the kitchen and more time enjoying the rest of your life!
The products are available through independent Tastefully Simple consultants at in-home tasting parties, or through TastefullySimple.com. For a little more on the company, check out this video:
What types of products do they have? Lots and lots! I was first introduced to Tastefully Simple through their dip mixes, spices and salsas, but that is just the starting point. They also have breads, soups, condiments, seasonings, sauces, desserts and more.
As I mentioned, I was first introduced to Tastefully Simple by their dip mixes, which I would often receive as gifts from my Mom. It was a fun, yummy and practical gift and one I was always happy to get. It's been a while since I have tried any, so I was happy when I received a package of Tastefully Simple products to try and inside was their Spinach & Herb Dip Mix. That is the first thing I tried!
The Spinach & Herb Dip Mix can of course be used to make dip, but it can also be used as a seasoning. The first thing I noticed on the package was the ingredient list: spinach flakes, onion, minced green onions, dill, and garlic. I love that everything inside is REAL food that I know – no big confusing words that usually mean chemicals or preservatives.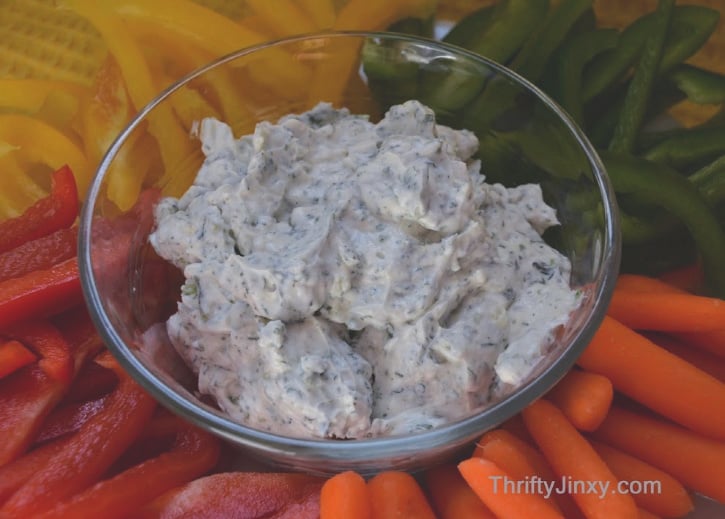 I then decided to go ahead and make the dip. The only two things necessary besides the seasoning itself are mayonnaise and sour cream. The package states to only use "real mayonnaise", but I wanted to see what would happen if I made a lighter version of the dip. So I used light mayo in place of the regular and fat free Greek yogurt instead of the sour cream. To prepare, all I had to do was mix together 2 tablespoons of the dip mix, 1/2 cup mayo and 1/2 cup of the Greek yogurt and then let it refrigerate for a bit to blend the flavors.
When I took it out of the fridge and did a trial dip of a few crackers and veggies – YUM!! It tasted even better than I remembered it – and that was the low fat version. I love that it's so versatile. Below are more ideas of ways to use the Tastefully Simple Spinach & Herb Dip Mix.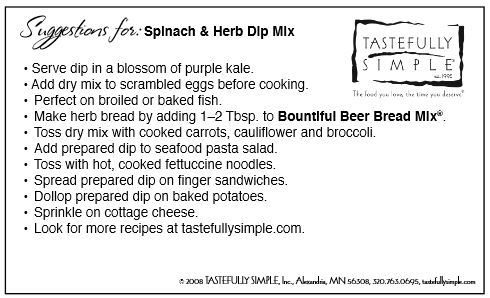 Stay tuned as I'll be bringing you more info about Tastefully Simply over the next few months.