Skip the cookie exchange and have a Chex Mix Exchange this holiday season! This delicious Sugar Cookie Chex Mix recipe just might be the star of the holiday season.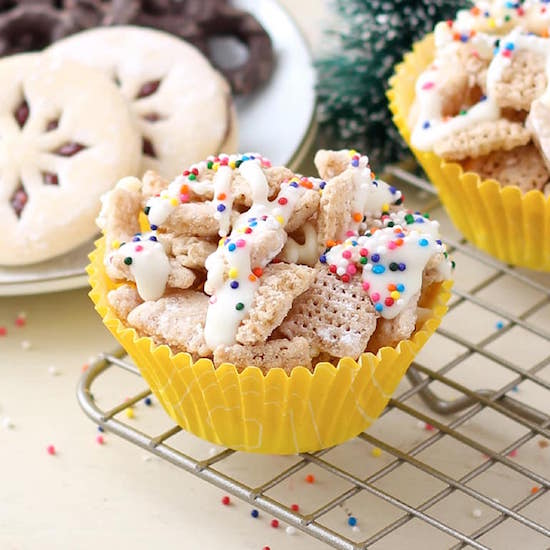 I have always loved Chex Mix. I remember when I was first out of college I used to bake up big batches of it in our tiny apartment. I think it made me feel "grown up" having homemade snacks that I actually made myself. It could be that my Mom is such a "Chexpert". Mom is famous for her Chex Mix using her own blend of seasonings and it has always been a favorite Christmas gift for her to give to my aunts and uncles, neighbors and friends since everyone loves it.
Well, this past week, I learned about a whole new twist to Chex Mix. On Black Friday I attended the awesomely fun Chex Party Mix-Change event at Mall of America. You're familiar with holiday cookie exchanges, right? Well Chex has come up with the brilliant idea of having a Chex Party Mix-Change and to help you do it they have developed a whole bunch of recipes based on America's favorite holiday cookie varieties.
I have never had the nerve to venture to Mall of America on Black Friday, but the nice people at General Mills offered to send a car to pick me up, so I said "yes" and am glad I did! I got to see some of my other favorite Minnesota bloggers plus meet a few new ones.
There were plenty of Chex Mix-making pros on hand to show us some of these yummy new recipes. Oh, and I totally forgot to mention that all of these recipes are based on the fact that Chex Mix can now be made in the microwave in less than 15 minutes! Yes! No more big old roasting pans and stirring every 15-20 minutes over and over again.
For our first demonstration, Stephen instructed us in how easy it is to make the scrumptious Sugar Cookie Chex Mix. It's amazing that all the ingredients combined together (things like white chocolate, granulated and powdered sugar, etc.) taste like an actual sugar cookie! Using edible glitter makes it really cute too. Some of the other delicious recipes we sampled were Caramel Cookie Crunch Chex Mix and Chocolate Mint Chex Mix.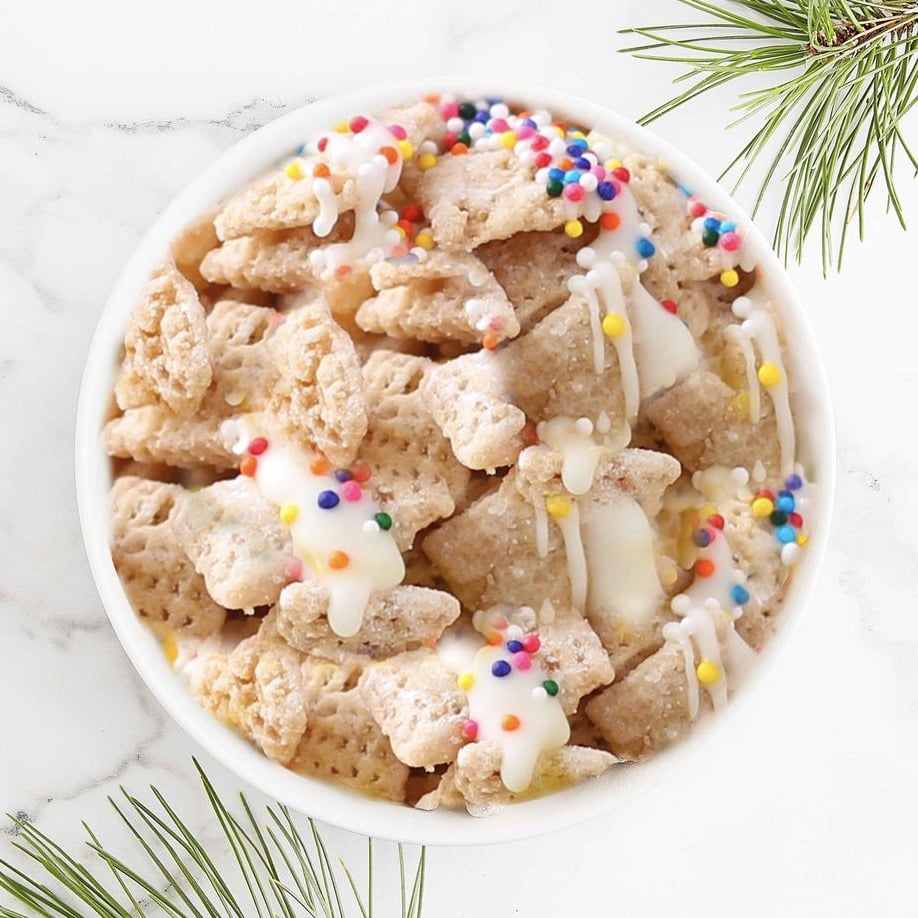 I seriously had a hard time choosing a favorite, but just had to share the Sugar Cookie Chex Mix recipe with you. It's so good!
Sugar Cookie Chex Mix Recipe
Ingredients:
6 cups Rice Chex™ cereal
1/4 cup butter
1/3 cup granulated sugar
1 1/2 teaspoons water
2 teaspoons vanilla
1/4 cup powdered sugar
1 oz white baking chocolate or 1/4 cup white vanilla baking chips
1 to 2 teaspoons gluten-free colored edible glitter or sugar sprinkles
How to Make Sugar Cookie Chex Mix:
In large microwavable bowl, measure cereal; set aside. Line cookie sheet with waxed paper or foil.
In 2-cup microwavable measuring cup, microwave butter uncovered on High 30 seconds or until melted. Add granulated sugar and water; microwave uncovered on High 30 seconds or until mixture is heated and can be stirred smooth. Stir in vanilla. Pour over cereal, stirring until evenly coated.
Microwave uncovered on High 4 minutes, stirring every minute, until thoroughly glazed. Sprinkle with powdered sugar; mix well.
Spread on cookie sheet.
In small microwavable bowl, microwave white chocolate uncovered on High 30 to 60 seconds, or until it can be stirred smooth.
Place in small resealable food-storage plastic bag; cut off small corner of bag. Squeeze bag to drizzle white chocolate over snack mix; sprinkle with edible glitter.
Cool until white chocolate is set, about 10 minutes.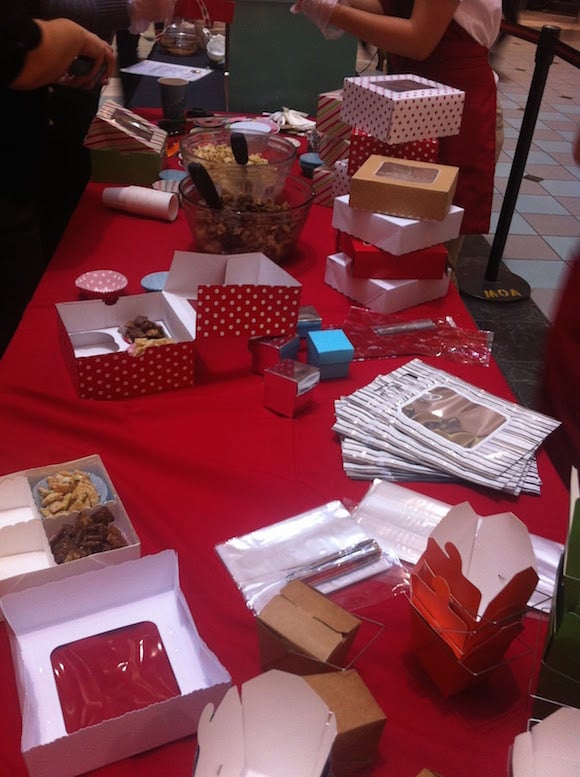 Once we had sampled to our hearts content, it was time to package up some of these Chex Mix goodies to take home.
We used adorable cupcake boxes from the craft store, put cupcake papers in the four holes to hold different flavors of Chex Mix and decorated the boxes with ribbon. We also used folded Chinese takeout boxes as cute containers. Both would be fabulous ideas to wrap your own homemade Chex Mix as holiday presents.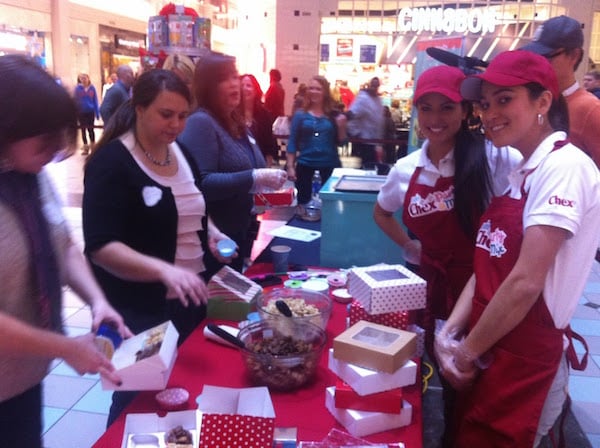 Are you ready to host your own exchange? Find over 70 recipes for all types of Chex Mix, both these yummy 15-minute sweet ones, as well as savory at Chex.com.