If you love Tory Burch style, check out these awesome Tory Burch inspired sandals at amazing prices.
Currently these beautiful Tory Burch inspired sandals are on sale for only $25.99 with FREE shipping! Get them here.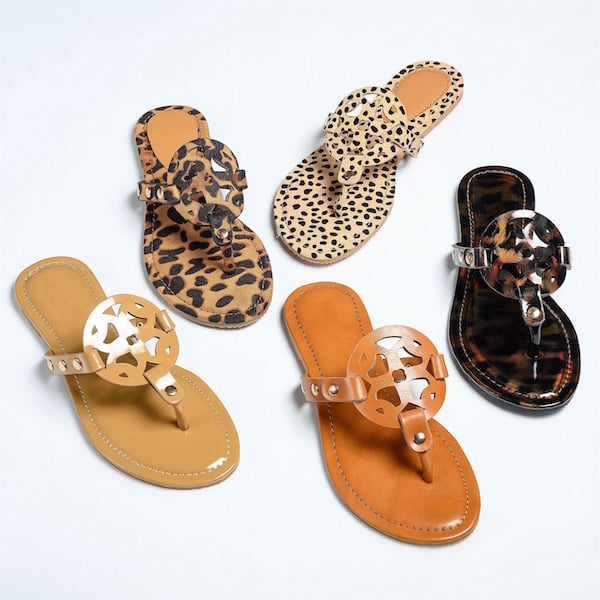 Find details on the original deal at the bottom of this post, but first check out these other sandal options perfect for Tory Burch fans!
Sashu Womans Joyce Medallion Sandal

Pierre Dumas Rosetta-l

Tory Burch Dillan Sandall

Soda Women's Danal Sandal

BW Sandals Women's Chia Silver Sandals

BW Sandals Women's Cactus Black Sandals

HOTSOLES EE69 Women Leatherette Medallion Rhinestones Slingback Boho Thong Sandal

Jack Rogers Women's Sparkle Georgica Jelly Flip Flop

Liliana DF53 Women Leatherette Medallion Rhinestone Thong Cork Wedge Sandal

Tory Burch Miller Flip Flop

Tory Burch Laura Flip Flop Flats

Tory Burch Terra Thong Sandals

Or if you want to find GENUINE Tory Burch sandals at a discount, check out the amazing Tory Burch deals at Shopbop!
UPDATE: The deal below is no longer available.
Check out this selection of beautiful women's sandals on sale for only $18.99 a pair. These are inspired by the popular Tory Burch brand which sale for around $100 a pair!
These are regularly $40, so this is a really great deal – over 50% off. Also, shipping is only $3.99 a pair making these only $22.98 shipped.
Head over here to grab this great deal and here are a few details from the listing:
This is your last chance to load up on this summer's hottest designer inspired sandals. At this major reduced price, they are sure to go quick! All styles fit true to size and are made of vegan leather.
Tory Burch Miller Flip Flop Veg Leather Thong Sandal Logo Black