We all love our smartphones for staying connected with friends and family, as well as surfing the web, getting emails, playing games and all that stuff, BUT there is another reason I love my smartphone.  It helps me save money!!  While things as simple as using your web browser to check product info and pricing while at the store can save money, there are a few shopping-specific apps that I like to make the dollars add up.
Yes,  there are literally thousands of money-saving shopping apps out there, but these are some of my favorites that I use on a regular basis.  You regular Thrifty Jinxy readers may have seen me mention several of these before, but a recap is always helpful, right?  Here is my list of the top 5 grocery savings apps for your smartphone: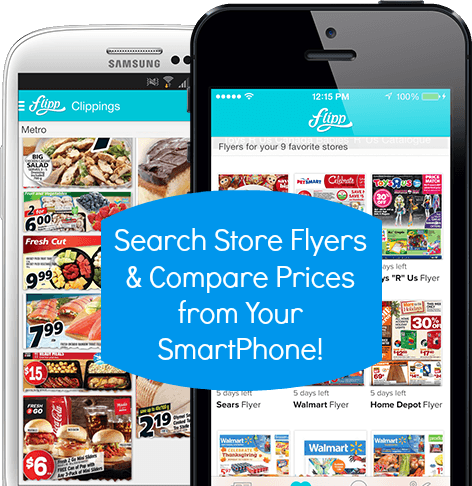 To grab all the info out of your local store flyers into your smartphone,  Flipp is the way to go.    You can just browse through ALL the flyers in your area, or browse by type of store  (like grocery stores or electronics.)  Or, if you're shopping for a specific item, you can search for it and find the store that has the lowest price.  We do this often with our beloved Diet Coke.  Almost every week, one store or another has it on sale and Flipp is an easy way to see where that is.  Another awesome feature is the ability to browse through a flier and clip the items you want.  It then transfers all of them to a handy dandy shopping list.
Another app I love is Ibotta.  They have lots of offers for products at the grocery store (as well as restaurants, apparel, etc. now) that save you money.  The way it works is that you just browse through the app to find products.  Then, after you buy them at the store, you scan the UPC code on the product, take a photo of your receipt and submit via the app.  Purchases are approved very quickly, which is convenient.  You can then transfer your earnings to PayPal or else choose to use them to get a gift card.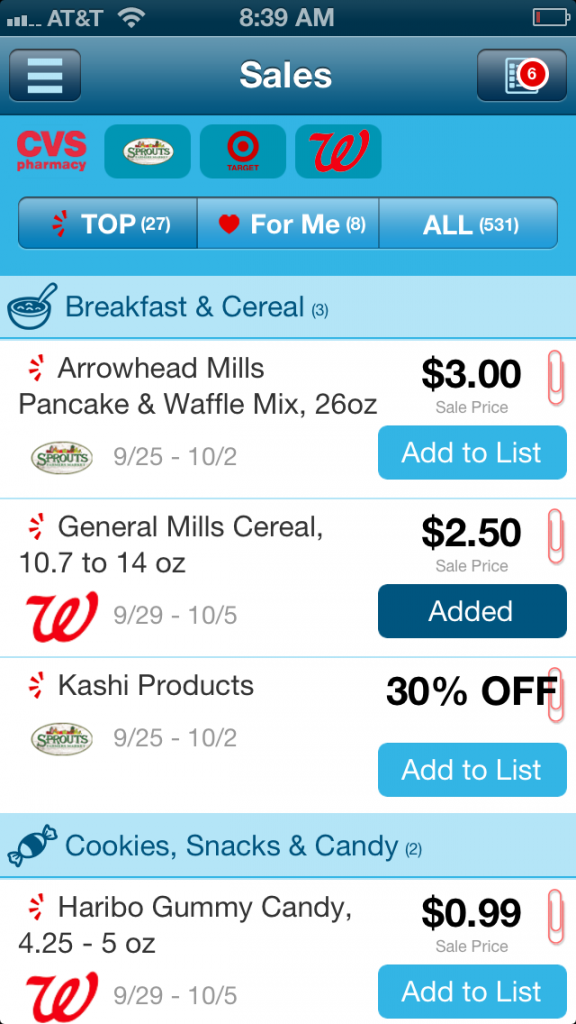 Favado is another handy savings app that lets you know when your favorite items are on sale. The cool features with Favado is that their money saving experts hand select sales and coupons every week for more than 65,000 grocery and drugstores nationwide.  You don't have to do any of the work of combing through sales flyers or store promotions – the experts find all those deals for you.  You can select which of the deals you want by adding them to your list and then you just have to buy them!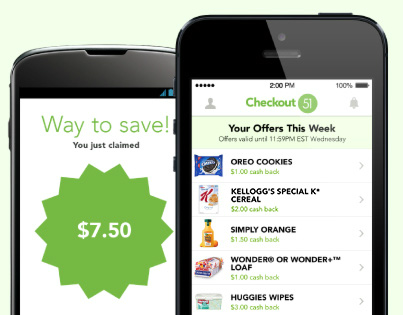 Similar to to Ibotta, Checkout51 has offers each week where all you have to do is select an offer, buy it the item at the store and snap a picture of the receipt to claim your reward.  With both Ibotta and Checkout 51, you can still use coupons on the item at the store AND that item can be on sale at the store, basically tripling up on your savings.  I especially love when they have offers for things like ANY brand of milk or ANY brand of eggs.  We're buying those things already, so it's like FREE MONEY to get rewards for them!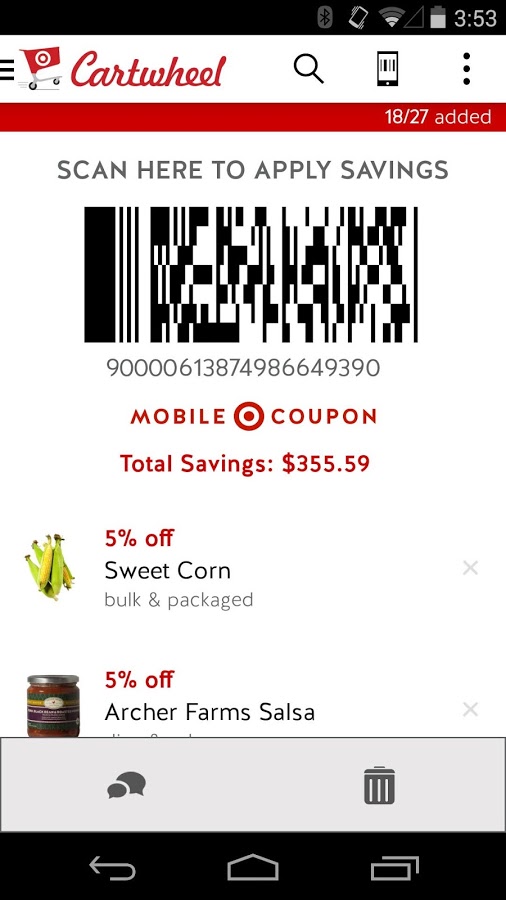 And last, but certainly not least, since Target is one of my favorite stores to shop in, Target Cartwheel is also one of my favorite apps!  You can browse through hundreds of items sold at Target stores and select them.  At the checkout, just have the team member scan your barcode in the app and you'll automatically save on all the offers on your Cartwheel.  I find that there are offers for LOTS of the Market Pantry and Archer's Farms products – usually for things I am buying anyway even if there isn't an offer.  Every time I head to the checkout at Target with my grocery cart, I go through the Cartwheel app and search for the items I have put in the cart to see if there are Cartwheel savings.  It can really add up!
What is YOUR favorite app for saving on groceries?