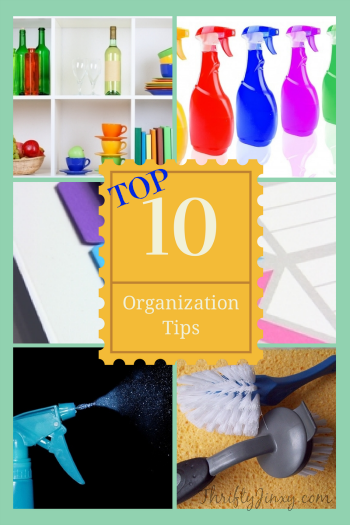 Are you a natural-born organizer, or is it something you have to work at?  While I LIKE to have my home nice and organized, I am not a fan of actually putting in the work and time to get it that way.  I think it's because organizing isn't something everyone is born to love. However, it's something that must be done. You can take your organizing one step at a time by following these top 10 ten organization tips.

Top 10 Organization Tips

#1. Remove the Clutter
This probably isn't a surprising tip for you to follow, but it's a necessary one. If you want to start organizing correctly, you need to remove all of the clutter.
#2. Write it Down
To make organizing go even faster, make sure you write it down. Write down exactly what you want to get organized and in what order you want to do it in.
#3. Get Rid of the Unnecessary
You don't need to organize the things you're not keeping. Make sure you get rid of unnecessary items, so you can make room for all of the items you really do need to organize.
#4. Find a Place for Everything
Nothing should be left without a home, whenever you're organizing it. Taking the time to organize now and putting everything away will be very helpful later.
#5. Make Everything Simple
Everyone has the misconception that organizing is complicated. It's really not. Just start getting rid of your items now and you have just simplified everything.
#6. Color Code
This is one of my favorite things to do when organizing. I love to color code everything. You can make all of the toys color coded with yellow, so the kids know where they go. Really, color coding is a simple thing.  Labels help a lot of with color coding.  I personally like Mabel's Labels.
#7. Calendar
Isn't it time you whip out your paper calendar? Your electronic calendar is great, but some things just need written down on paper. There's not always a substitute for old fashioned pen and paper.
#8. Tidy on the Way
One reason our homes get so disorganized is that we put things off till later. Well, learn to tidy on the way, so you don't have to come back to everything later.
#9. Have More Control
The more out of control things are in your life, then the more unorganized you will be or become. Try controlling small parts of your life to eventually get a handle on the bigger things.
#10. Learn to Delegate
If you're a mom or dad, you can't do everything yourself. Learn to delegate the things that are going on around you, this will help you stay more organized.
These simple tips for staying more organized can help you for the rest of your life. They're tips you can apply to everyday living, whether you're 20 or 60. What tips would you add to this list?
Disclosure: This post contains affiliate links that help support our site with no additional cost to you. See our complete disclosure policy here.