Today is the day! No, not yesterday, not tomorrow, but TODAY is the day that TOMORROWLAND hits theaters everywhere. It seems like we have been waiting a loooong time for this Disney family film starting George Clooney – a bit too long! Now the wait is finally over.
If you have been totally out-of-the loop, here is what we are talking about:
From Disney comes two-time Oscar® winner Brad Bird's riveting mystery- adventure "Tomorrowland," starring Academy Award® winner George Clooney. Bound by a shared destiny, former boy-genius Frank (Clooney), jaded by disillusionment, and Casey (Britt Robertson), a bright, optimistic teen bursting with scientific curiosity, embark on a danger-filled mission to unearth the secrets of an enigmatic place somewhere in time and space known only as "Tomorrowland." What they must do there changes the world—and them—forever.

The film is directed, produced and co-written by two-time Oscar® winner Brad Bird ("Mission: Impossible – Ghost Protocol," "The Incredibles"). Damon Lindelof ("Star Trek," "Star Trek Into Darkness") and Jeffrey Chernov ("Star Trek," "Mission: Impossible – Ghost Protocol") are also producers. John Walker ("The Incredibles"), Bernard Bellew ("Les Misérables," "28 Weeks Later"), Jeff Jensen and Brigham Taylor (upcoming "Jungle Book") serve as executive producers.

"Tomorrowland" features a screenplay by "Lost" writer and co-creator Damon Lindelof and Brad Bird, from a story by Lindelof & Bird & Jeff Jensen, and also stars Hugh Laurie ("Mr. Pip," TV's "House M.D."), Raffey Cassidy ("Dark Shadows," "Snow White and the Huntsman"), Tim McGraw ("The Blind Side," "Four Christmases") Kathryn Hahn ("This Is Where I Leave You"), Keegan-Michael Key ("Horrible Bosses 2") and Thomas Robinson ("The Switch").

Bird's exceptional team includes Oscar®-winning director of photography Claudio Miranda ("Life of Pi," "The Curious Case of Benjamin Button"), production designer Scott Chambliss ("Star Trek," "Star Trek Into Darkness"), Oscar®-nominated costume designer Jeffrey Kurland ("Inception," "Ocean's Eleven"), Academy Award®–winning editor Walter Murch ("The English Patient," "Cold Mountain") and editor Craig Wood, A.C.E. ("Guardians of the Galaxy," "The Lone Ranger").
I was so excited to get to see TOMORROWLAND a few weeks early and have a few things you will want to keep your eyes open for in the film. Some are nearly impossible to miss, but others are a bit more tricky!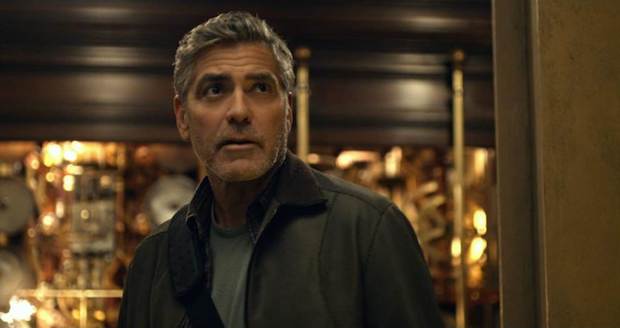 George Clooney Keeps Getting More Gorgeous:
George Clooney proves the fact that some things and some people just get better and better with age. Don't believe me? Just Google a picture of young George as "George the Handyman" on Facts of Life, compare to modern day George, and tell me which looks better. I don't think my husband believed me when I told him the silver strands in his hair were hot until he realized how attractive I thought those same silver strands are on George Clooney's head.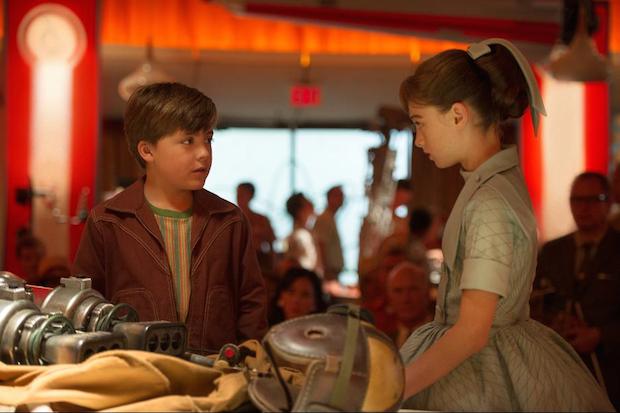 Costumes:
There is some great costuming in Tomorrowland. Everything from the vintage fashions during the 1964 World's Fair to the futuristic clothing of Tomorrowland itself. There is even attention to detail in the present-day clothing and accessories, such as Casey's NASA cap. One very unique thing to keep an eye out for is Athena's blue dress. If you look closely, the design is actually algorithms.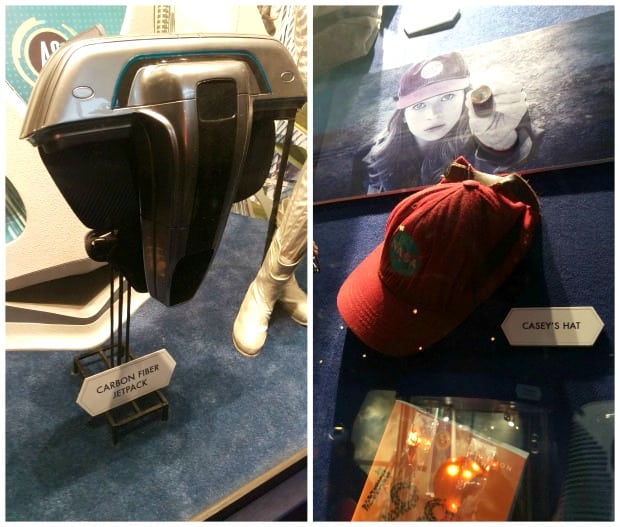 Jetpacks:
YES! There are jetpacks in TOMORROWLAND. Who hasn't wanted to ride in a jetpack at least once in their life?? Look closely at young Frank's homemade jetpack and you'll see what common household item makes up a large part of it.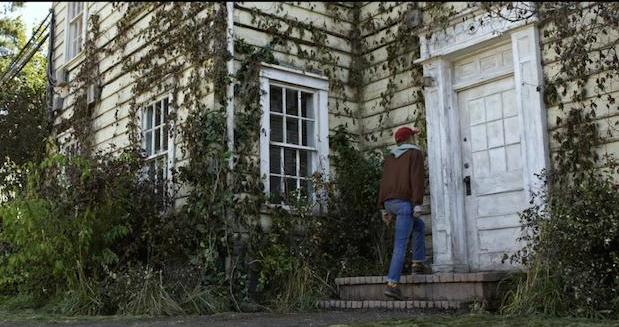 Images Can Be Deceiving:
Looking at a rickety old farmhouse you might get the creeps that it could be old and haunted, or think that it simply houses a retired old farmer. You might be right, but you may have simply overlooked some clues on the outside of the house that could tell you this farmhouse is a bit different.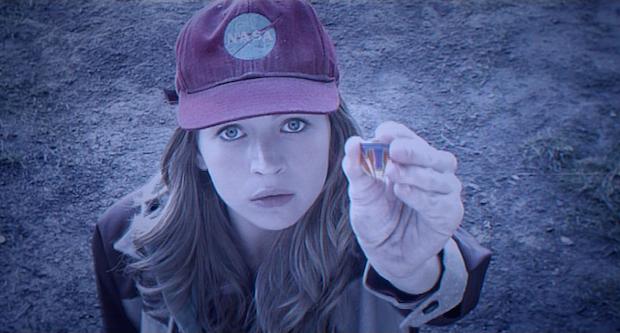 Britt Robertson is One to Watch:
It's easy to dismiss Britt Robertson as just another pretty face with blonde hair, but in her role as Casey, a super-smart, headstrong teen, Britt shows she has the acting chops to act right alongside big starts like George Clooney and Hugh Laurie. We are sure to be seeing lots more from Britt in the future!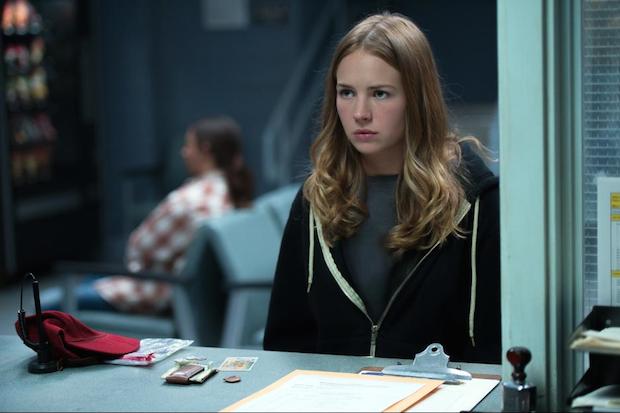 TOMORROWLAND is rated PG and in theaters everywhere NOW!
Like TOMORROWLAND on Facebook: https://www.facebook.com/DisneyTomorrowland
Follow Disney Pictures on Twitter: https://twitter.com/DisneyPictures
Visit the official TOMORROWLAND website: www.Disney.com/Tomorrowland