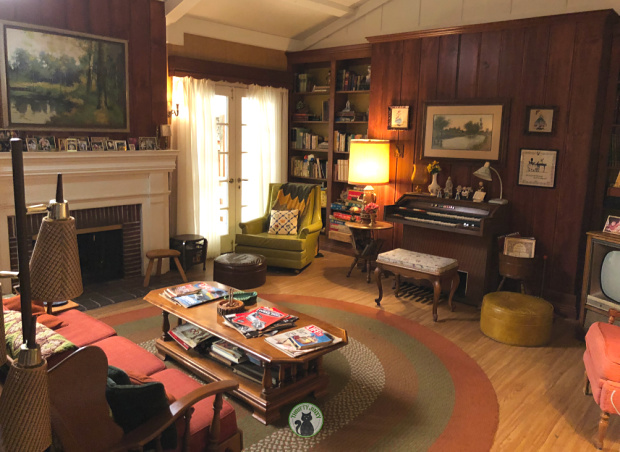 Have you watched "The Kids Are Alright" on ABC yet? If not, do it! I'm one of those people who plans ahead for TV viewing. Every fall I'm excited to see what new shows will be on the air and I always hope there will be a few really good shows that will be keepers. After reading descriptions and watching trailers I usually narrow it down to about 8-10 new shows and start recording them on the DVR.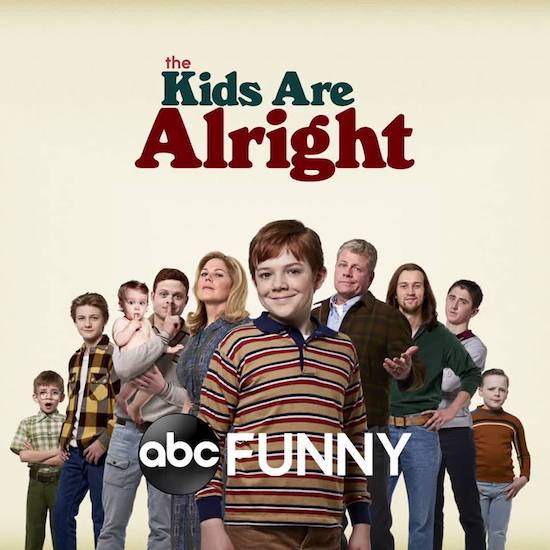 After a few episodes there are always a number of shows that get deleted from the recording queue. There are only so many hours in a week to watch TV and I don't want to waste it on MEH shows. Then there are the shows that become the MUST WATCH shows out of the bunch. This year, at the top of this list is "The Kids Are Alright". It tells the story of a large Catholic family living in Southern California in the early 1970s – and by "large" I mean they have EIGHT boys!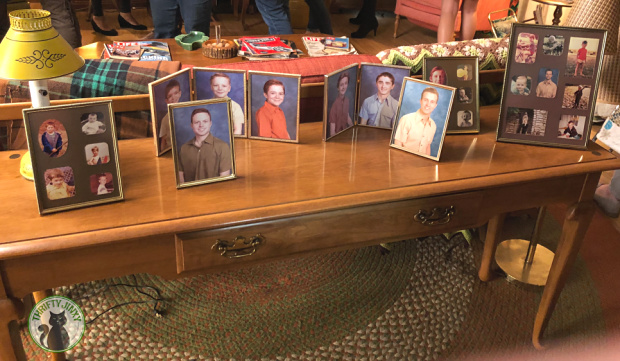 My husband and I both LOVE this show. Seriously. In the second episode it got to the point where I had to finally tell him to stop rewinding because he always likes to hear the super funny parts more than once and there were just too many super funny parts. So, you can imagine how thrilled I was when I found out I was going to have a chance to visit the set of "The Kids Are Alright"!!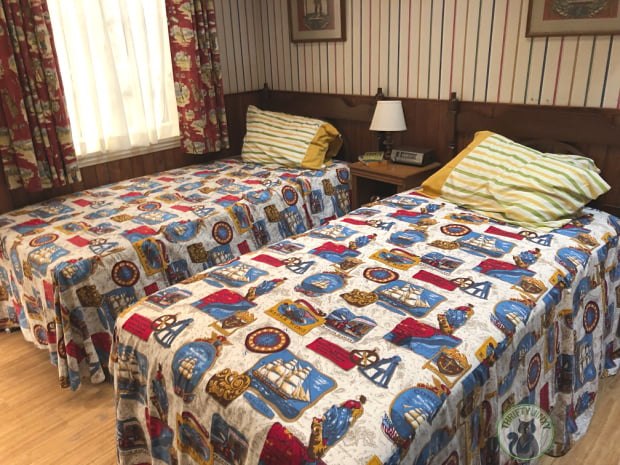 Visiting the set of "The Kids Are Alright" is like stepping into a time warp. Since the show is set in 70s, I saw so many things on the set that transported me back to my childhood. (For instance, I KNOW my mom still has the pillowcases from this striped sheet shown above set tucked away in her linen closet.)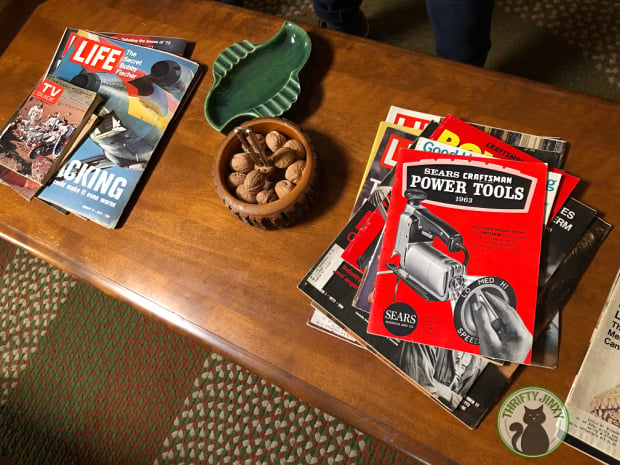 The set's authentic reflection of the time period is largely due to set decorator Claudette Didul, who was nice enough to walk us through the set of the Cleary house and point out exactly how they were able to obtain the thousands of items needed to make the house and its contents a perfect reflection of the era.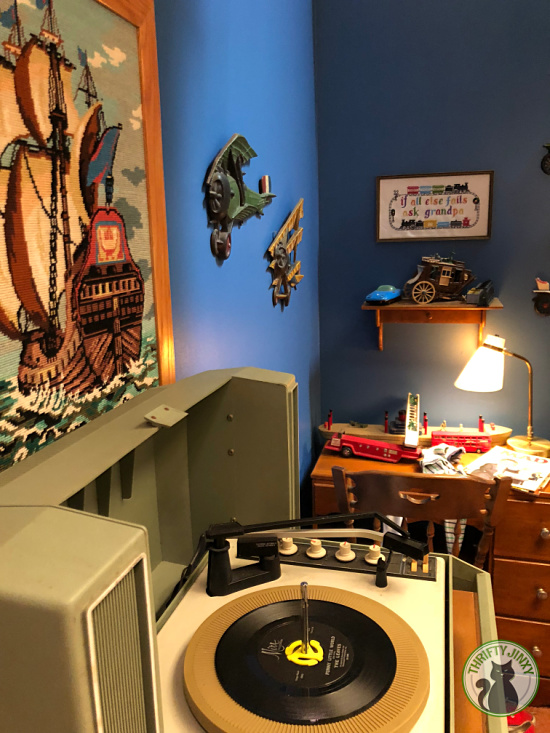 Claudette explained they had to get creative with sourcing everything for the set. For example, the drapes you see in the Cleary's living room is something they took straight out of a house having an estate sale. She said, "we literally took this whole drapery rig right out of the house as is, and it's so fragile that I couldn't get it dry cleaned."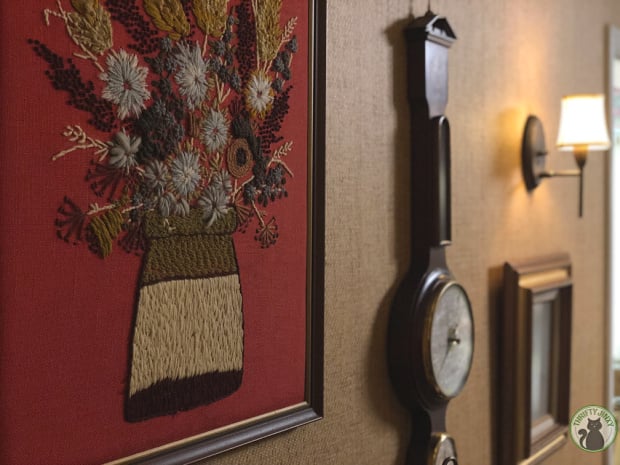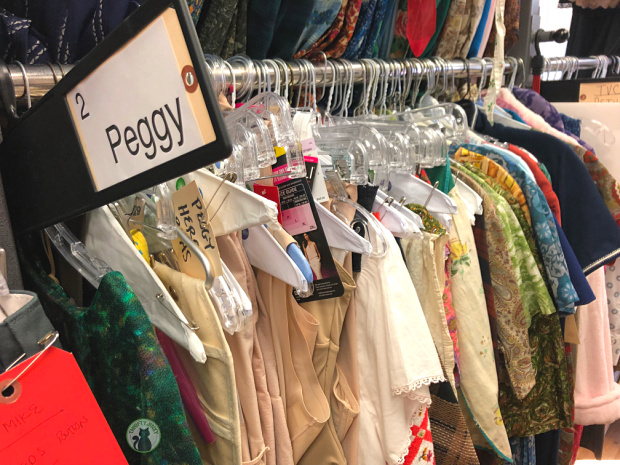 Also lending to the authenticity of the 1970s setting is the costumes. With a central cast of 10 plus many, many extras, clothing all those characters is a big job for the Wardrobe Department!
Costume designer Susan Michalek walked us through some of the many massive storage areas for all of the clothing needed for the show. She said they had to dress up to 275 background actors in 1972 clothing – not an easy feat!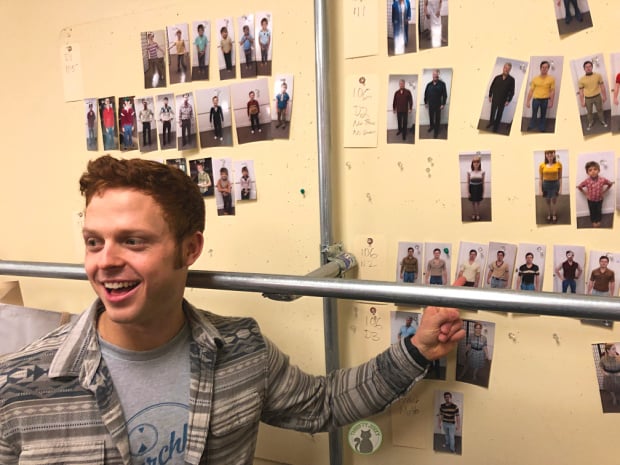 Besides making sure the wardrobe fits the time period, Susan said she also does things like plan the colors for each character to eliminate overlap and having the clothes look like hand-me-downs (which would be natural for a large family), but keeping it colorful and happy.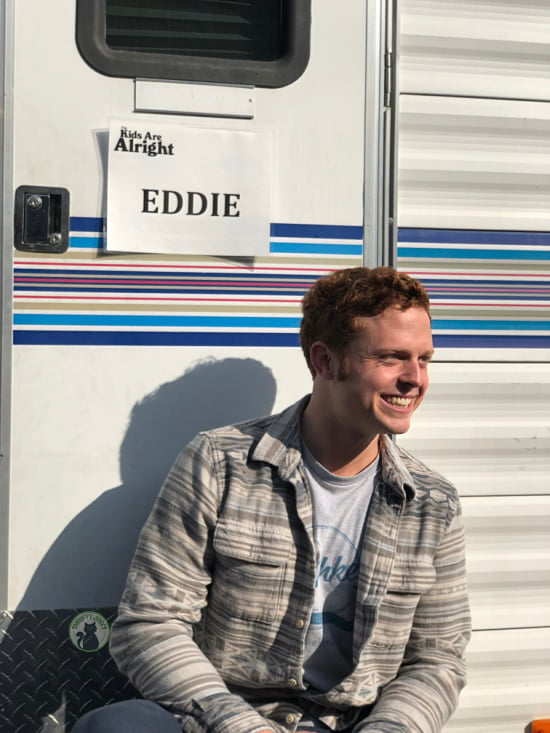 For our entire set visit, Caleb Foote, who plays Eddie Cleary (the second to oldest brother), walked us through the set and shared so much about his character, the entire family, what it's like to work on the show and more. He's really the NICEST guy.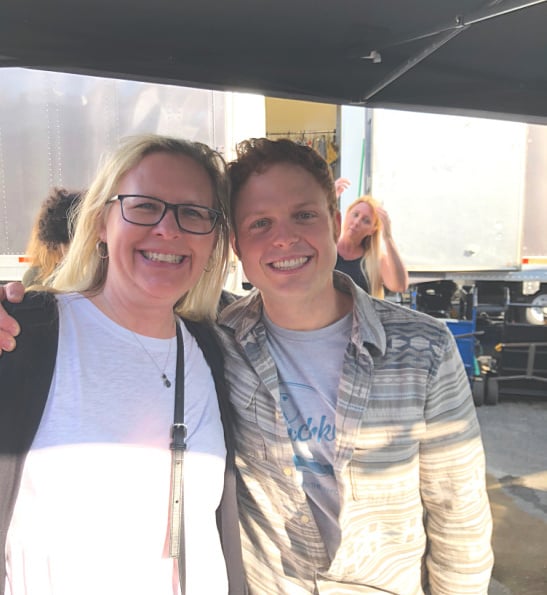 Caleb explained that the cast shoots about an episode a week. He said, "we will read for episode twelve on Thursday, and then we'll get the final script Friday, and then you memorize it all weekend, and then we start the next episode, Monday." He said it is "long hours, but it's the best job. So it's like you go home after a long day of work, and you're like, 'That was awesome.' You put in a twelve hour day and you're like, I wouldn't wanna be doing anything else."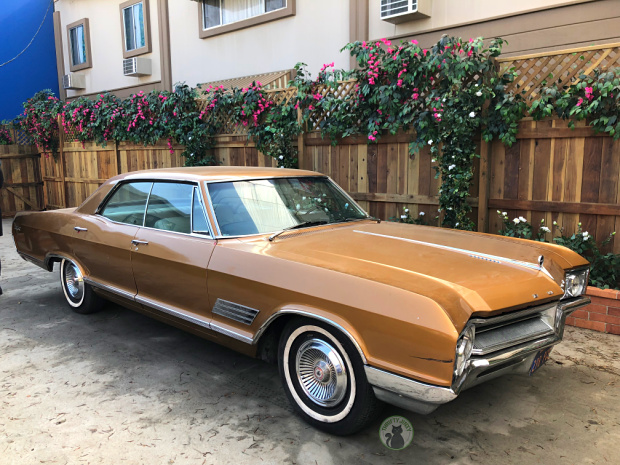 We got lots more insight into the making of the show with production designer Michael Whetstone, line producer Kris Eber and creator, showrunner and executive producer Tim Doyle.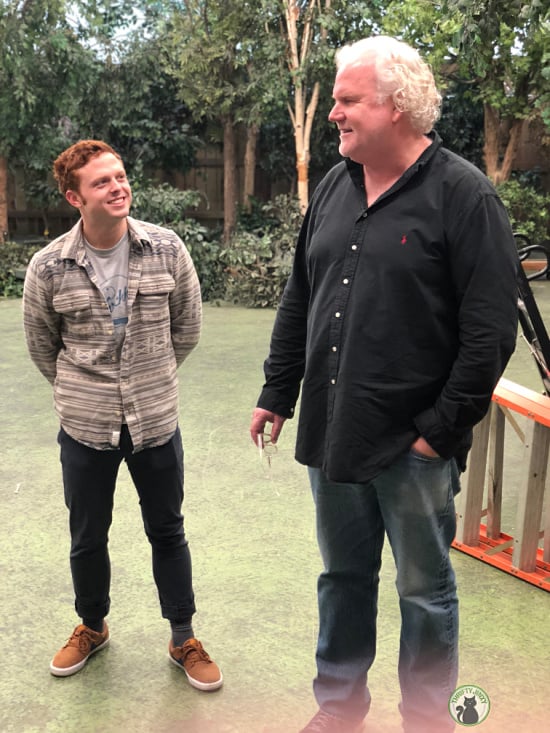 Tim gave us some background on his creation of the show as "The Kids Are Alright" is based on his own life and his real family. He has said that his family has been very enthusiastic about the show and also very helpful. If he has trouble remembering something from childhood his brothers, especially those who were older than him, have helped him out and filled in pieces he was missing.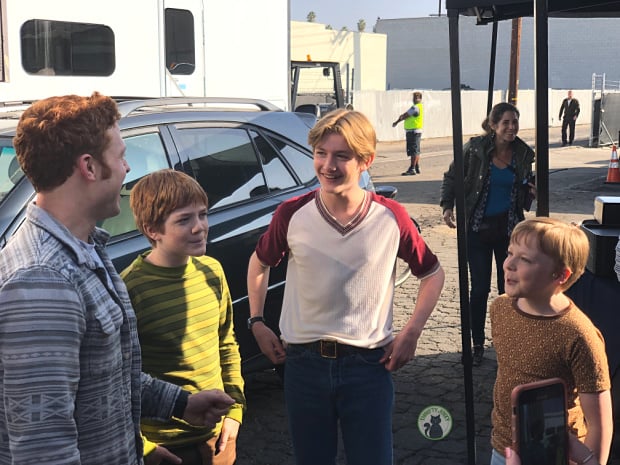 While on set we also ran into some of the talented young actors from the cast, Jack Gore (Timmy Cleary), Chris Richards (Joey Cleary) and Andy Walken (William Cleary). They sound like they have a blast on set!
Tonight's episode of "The Kids Are Alright is "Peggy's Day Out" – To hide a mess Eddie made, his girlfriend, Wendi, tries to distract Peggy by insisting she take a day off with a fun day out while they take care of the housework. To everyone's surprise, Peggy accepts the offer and requests Wendi tag along, with the ulterior motive of teaching her a lesson. Meanwhile, Eddie enlists the help of his brothers to clean up and keep Mike out of the house while Wendi and Peggy are out. Elsewhere, Pat introduces Timmy to his secret dog on "The Kids Are Alright," TUESDAY, NOV. 13 (8:31-9:00 p.m. EST), on The ABC Television Network.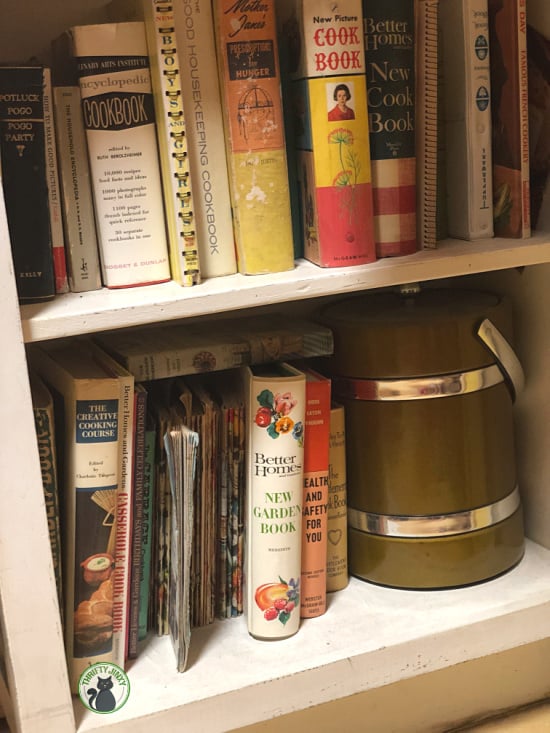 If you haven't yet watched, watch and come back with a comment to let me know your thoughts! I hope you love it as much as we do!
The Kids Are Alright airs Tuesdays at 8:30|7:30c on The ABC Television Network or streaming or on demand.