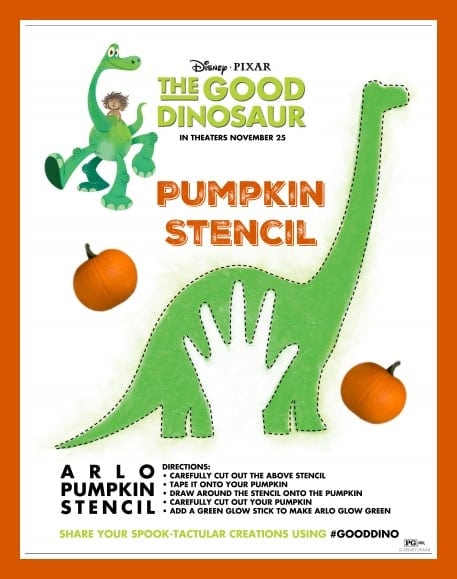 We're only a few days away from Halloween and that means it's time to get those pumpkins ready!! For a super fun jack o' lantern with some dinosaur flair, you can use this The Good Dinosaur Pumpkin Stencil to create your very own Good Dino themed decor for your front porch.
To make your pumpkin, start by printing out The Good Dinosaur Pumpkin Stencil. Then use a scissors cut out the stencil on the dotted lines. Use tape to attach the stencil to your pumpkin. (If your pumpkin is larger or smaller than the stencil, you can use the increase/decrease size functions on a copier to make it bigger or smaller.) Cut your pumpkin along the edges of the stencil.
To make your pumpkin extra dinosaur-y, light it with a green glow stick to make Arlo glow green!
THE GOOD DINOSAUR opens in theatres everywhere on November 25th!
Like THE GOOD DINOSAUR on Facebook: https://www.facebook.com/PixarTheGoodDinosaur 
Follow THE GOOD DINOSAUR on Twitter: https://twitter.com/DisneyPixar
Follow THE GOOD DINOSAUR on Instagram: https://instagram.com/disneypixar/
Follow THE GOOD DINOSAUR on Pinterest: https://www.pinterest.com/disneystudios/
Visit THE GOOD DINOSAUR on Tumblr: https://disneypixar.tumblr.com
Follow Disney/Pixar on YouTube: https://www.youtube.com/user/DisneyPixar