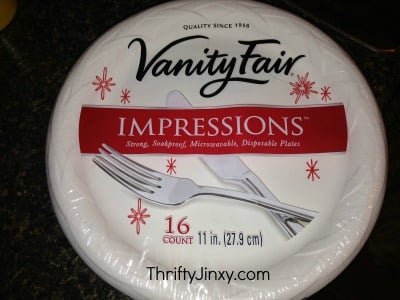 If you're shopping at Target in the next few days, be sure to keep your eyes open for Target hidden Christmas clearance. If you spot any household goods that have snowflakes or other winter designs on them, they just may be on clearance (as much as 70%), even if they aren't marked with clearance tags.
For example, today I found these Vanity Fair Impressions plates while Target shopping. They were right with the rest of the paper plates on the shelf, but several packages had these little red snowflakes on the packaging. I took one to scan and sure enough – it was 70% off. That means it was only $.89 rather than $2.99. Great deal!!
I didn't see any of the clearance napkins at my store, but if you do, then you could also use this printable coupon to make the deal even better:
Then, you can also save an additional 5% if you pay using your Target REDCard! Signing up is free and you can sign up as a debit card or a credit card. Besides the 5% off, you also get FREE shipping on all online orders plus an extra 30 days for returns!
Let us know if you find any great clearance finds at Target.