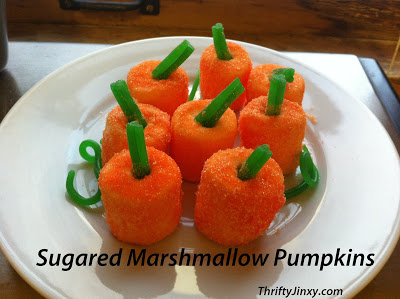 We have been working on Thanksgiving table decorations and I think these turned out so cute!  While they would also have been perfect for Halloween, adding little green vines makes them just right as part of the Thanksgiving bounty.
They are fun and easy to make and may have even turned out a bit cuter if the 4-year-old hadn't exclaimed "I can do it myself" so many times!
Sugared Marshmallow Pumpkins
Ingredients:
Marshmallows
White Sugar
Food coloring (red and yellow)
Water
Twizzlers Pull and Peel Green Apple
Directions:
Use a small covered plastic container.  Add in about 1/2 cup of white sugar and drop in 4 drops each of yellow and red food coloring.  Cover container and shake well.  Use a whisk to break up any clumps.
Fill a small bowl with room temperature water.  Take a marshmallow, quickly dip in the water, shake off excess and drop in the container of sugar.  Replace the lid and shake until marshmallow is covered.  (We did two marshmallows at a time.)
Use a skewer (we didn't have one, so used a pointy kitchen thermometer) to make a hole in the center of each marshmallow top.  Cut a small piece of the licorice (we pulled it apart so that a thickness of 3 strands was used for each stem) and press it into the hole.  Use your pointy implement to stick it in further.
If displaying your pumpkins together, use other strands of licorice that you have curled as pumpkin vines on the plate.