Use Snack Pack vanilla pudding cups to make these cute little flower baskets that are perfect for Easter or any spring celebration.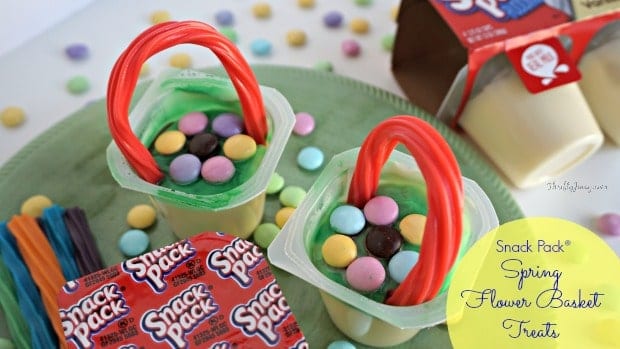 The spring season is upon us! While I know there is still a chance of snow for at least a month here in Minnesota, the weather today is bright and sunny and we may even see 60 degrees! This beautiful weather is putting us in the mood for spring and all things flowers, Easter bunnies and springtime treats!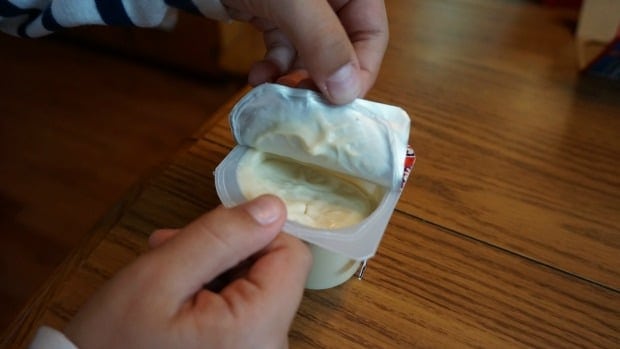 Since flowers, pastels and sweetness are all in fashion for springtime, we put all of those things together to make these cute and delicious Springtime Flower Basket Treats with Snack Pack®!
We chose vanilla Snack Pack® both because we like vanilla and also because it's easy to turn the surface to green grass, but chocolate would also be a great choice because the brown color would be a good representation of the dirt those flowers grow in.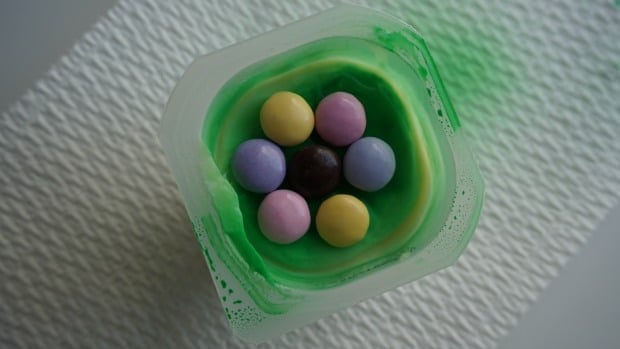 Springtime Flower Basket Treats
To make your ownSpringtime Flower Basket Treats with Snack Pack® Pudding, you need only a few simple ingredients. They include:
Snack Pack® vanilla pudding
Candy-coated chocolates (both pastel colors and brown)
Licorice in pastel colors
Green food coloring spray OR green colored sugar
Putting together your baskets is very simple and fun for kids to do themselves. The one part where an adult might want to help is the first step of using food coloring spray to turn the surface of the Snack Pack® cup to green.
As an alternative to the spray, you can sprinkle the cup with green colored sugar or green sprinkles. You can also put a layer of green icing on the top. It's up to you! Once your grass is in place, use a brown candy-coated chocolate for the center of your flower.
Then use the pastel candy-coated chocolates to create petals for your flower. For the finishing touch, loop a piece of licorice over the top of the cup to create a handle for your basket.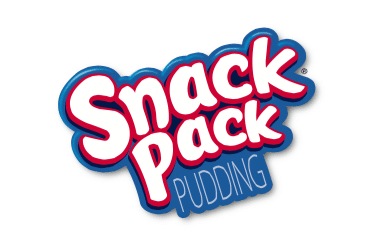 This Easter season, take a moment to slow down and enjoy a tasty and fun treat with the kids. Snack Pack® comes in a variety of flavors and offers endless mix-in opportunities the kids can help prepare. Each serving of Snack Pack® is fortified with as much calcium as an 8-oz glass of milk,* so you can feel good about serving your kids Snack Pack®. For mix-in inspiration, visit Snack Pack® on Pinterest and Facebook.
*All Snack Pack® products contain 30% DV calcium, with the exception of Bakery Shop Lemon Meringue Pie, Lemon Pudding, and Snack Pack® Gels.