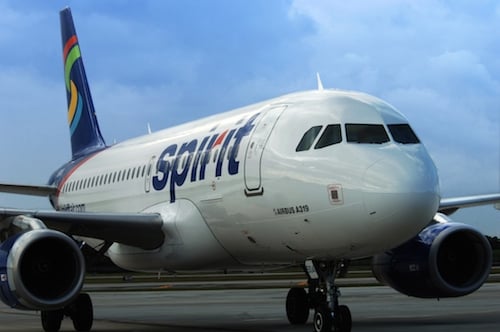 Last week I flew Spirit Airlines for the first time. I have heard mixed reviews and was a little nervous as to how things would go. I already knew that Spirit makes up for it's incredibly low fares by charging for every other possible thing including carry-on bags and beverages in-flight.
We prepared for the baggage situation by checking in one large suitcase for my husband and I to share, rather than each paying for a separate carryon bag, which saved us $20 each way. The next thing they charge for is seat assignments. Your seat is randomly assigned unless you pay a fee. We wanted to make sure we were able to sit together, especially since it was a red-eye flight and I like to lean on him when I sleep, so we paid the extra $14 to choose our seats. Unfortunately, while we were waiting at the gate to board, the gate attendant called our names to let us know that one of the seats we had chosen had a broken headrest and we would have to move. We ended up seated on opposite sides of the aisle from each other. We did ask to have our seat selection fee refunded, which they did.
Then it came time for the actual flight. Let me just say that the seats were SO uncomfortable! They were actually quite old and beat-up looking, plus there was NO recline. Even though our flight didn't leave until 1:15 am and I had been awake since 6:30 that morning, I didn't sleep at all on the plane simply because I was so uncomfortable.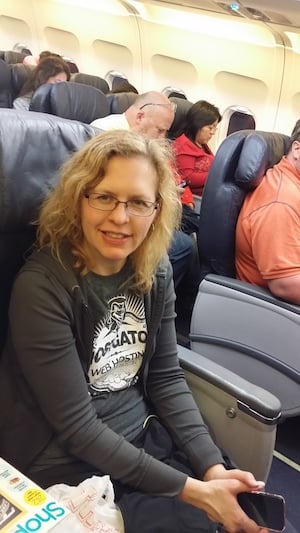 At that point, we decided we would NOT be flying Spirit again until…..the return flight. For the return flight we forked over the additional $25 each to sit in their "Big Front Seats". This is basically the front First Class area of the plane, but you get First Class Seats only, not First Class service. That upgrade charge was soooo worth it. The seats were much, much more comfortable and we had plenty of room. I was so content that I even sprang for on-board soda and Pringles – – which in actuality are cheaper than what you would pay in the airport.
So, it all boils down to that in the future, if the Spirit flights are $25 or more less than the other airlines I would still book Spirit, simply for the fact that I can pay the extra $25 for a Big Front Seat, pay for my luggage and know that I will be flying in comfort.
Have you ever flown Spirit airlines? What are your thoughts?