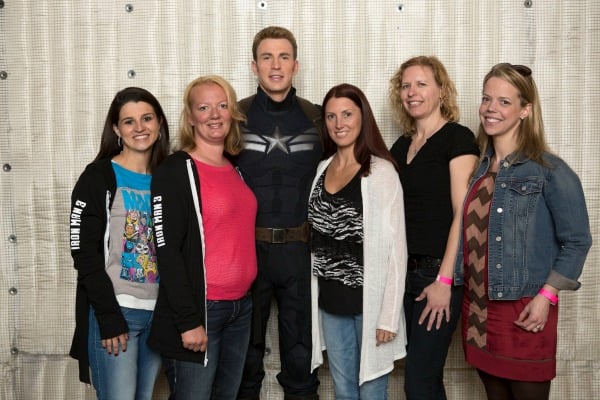 I have been waiting for today for over almost a year!!! Over the past few months I have shared that I was on the set of CAPTAIN AMERICA: THE WINTER SOLIDER last spring while in LA for the premiere of Iron Man 3. BUT, I have been oh so patiently waiting until TODAY to finally get to share my picture of me and my blogging buddies with Chris Evans himself!!
That whole set visit was a blast (see my recap here), but the highlight had to be meeting Chris himself. He was nice, engaged and funny too!
And now MORE excitement.  While on set, we got to watch the filming of a scene in the Quinjet.  Not any old scene in the Quinjet, but THIS SCENE that was just released today!!  What we witnessed appears in the first 30 seconds of this clip.  That 30 seconds took a couple of hours to film!
Besides meeting Chris Evans and Scarlett Johansson, we also spoke with Frank Grillo who plays Brock Rumlow – featured at the beginning of the clip above.  He has a great sense of humor!  (And is not bad to look at either!)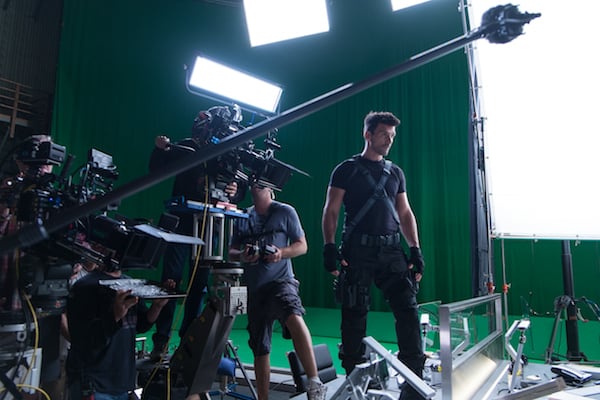 And I might as well share with you a couple more pictures from filming: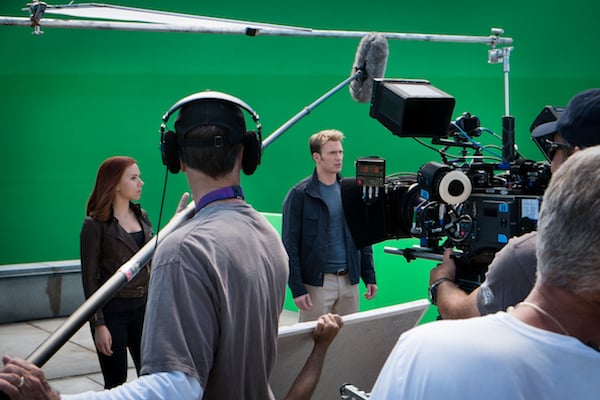 Tickets to CAPTAIN AMERICA: THE WINTER SOLIDER go on sale TODAY, so head on over to Fandango to get yours and guarantee you have a seat on opening day!  Keep an eye on the count down clock below to see just how much time we still have to wait.  It's getting closer!
Like CAPTAIN AMERICA on Facebook: https://www.facebook.com/CaptainAmericaMovie
Follow CAPTAIN AMERICA on Twitter: @CaptainAmerica
CAPTAIN AMERICA: THE WINTER SOLDIER releases in theaters on April 4, 2014!
Disclosure: Disney sponsored my travel, accommodations and activities during the #IronMan3Event. Any opinions expressed are my own.