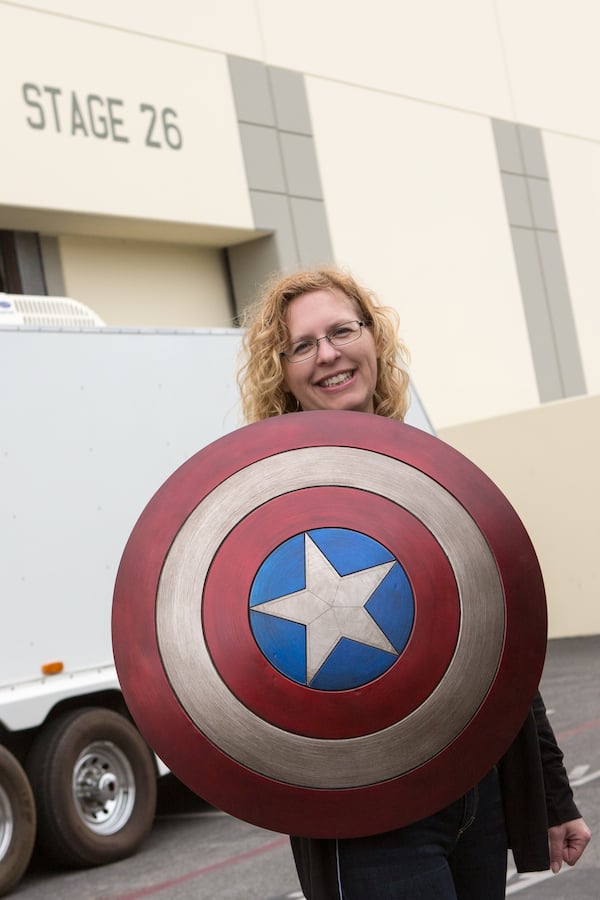 This is quite possibly one of the coolest pictures of myself that I have ever had taken. You may glance at it and think, "Yeah, that's the Thrifty Jinxy chick with a Captain America shield." BUT – it is not any old shield. It is THE shield. Not a souvenir from the gift shop, not something I picked up in the toy aisle at Target —- it's the REAL Captain America shield used in the filming of the movie CAPTAIN AMERICA: THE WINTER SOLDIER!!!
You may have noticed "Stage 26" on the building in the background. That's because it is where I actually got to go on set for the filming of CAPTAIN AMERICA: THE WINTER SOLDIER and get a behind-the-scenes look at the making of the movie. This all happened waaaaaaay back last April, but I have been sworn to secrecy until now.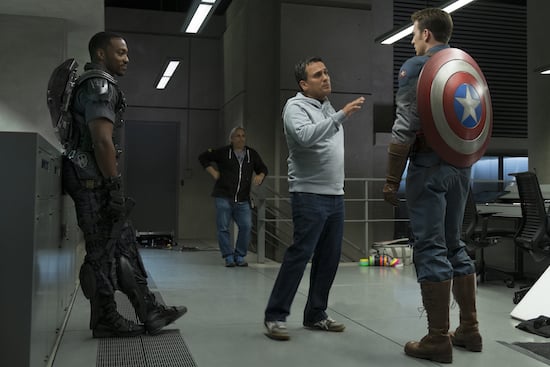 It's hard to describe how fantastic that day was. Besides taking my picture above there is another super-cool-awesome picture I will be sharing with you later. While we were on set, they were working on one particular scene for the film – for several hours! This piece will probably end up being less than a minute of the film. I really should have counted how many times they had to repeat over and over and over again. But everything has to be just right—so no stopping until it's perfect.
While we had some time between takes, we had the opportunity to speak with Property Master Russell Bobbitt – yes an EXCLUSIVE Russell Bobbitt Interview. Russell has an amazing history in the movie-making industry. (Check out his list of credits on IMDB.) He gave us the inside scoop on the shield and how much work goes into creating and maintaining this essential part of Captain America. Many different shields are needed for different scenes. Russell's team ends up making over 50 shields with materials from rubber, soft rubber, fiberglass to metal all depending on the type of scene, the type of movement and what will look best on camera.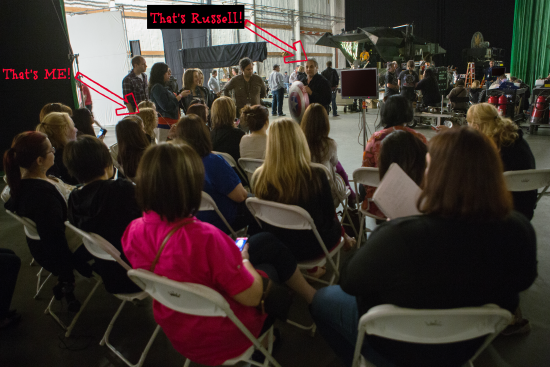 And YES, we DID get to speak with Chris Evans and Scarlett Johansson, but I will be sharing a little more about that with you later.
Being on the set was a totally amazing experience and one that is rare for MARVEL movies. I was honored to be there, especially after talking to several people working on the set who said that it really doesn't happen very often. It was quite out of the ordinary for them to have visitors on set.
Speaking to these crew members (besides Russell, of course) was one of my favorite parts of being there. After making a run to the ladies' room, I had to wait in a hallway until a break between filming to return to our group. While there, I chatted with several people, including Chris Evan's stunt double Sam Hargrave and Lisa Rocco from the Makeup Department. I love Lisa!! She shared lots of beauty secrets with me, confirmed several rumors I had heard about what products professional makeup artists find best and gave me other tips – – I'll have to share them with you all later. Another awesome person we talked to while there was Lee Malin from the security team. Actually – – we talked to lots of great people on the set and it made the time there even more incredible.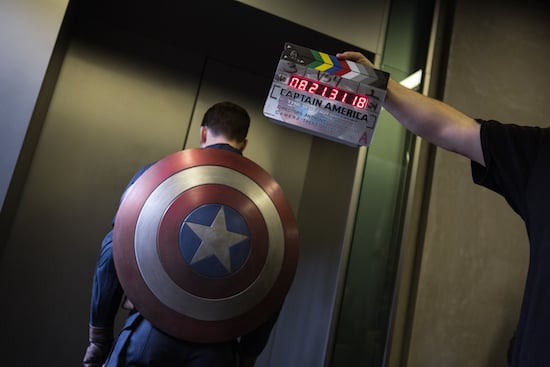 Like CAPTAIN AMERICA on Facebook: https://www.facebook.com/CaptainAmericaMovie
Follow CAPTAIN AMERICA on Twitter: @CaptainAmerica
CAPTAIN AMERICA: THE WINTER SOLDIER releases in theaters on April 4, 2014!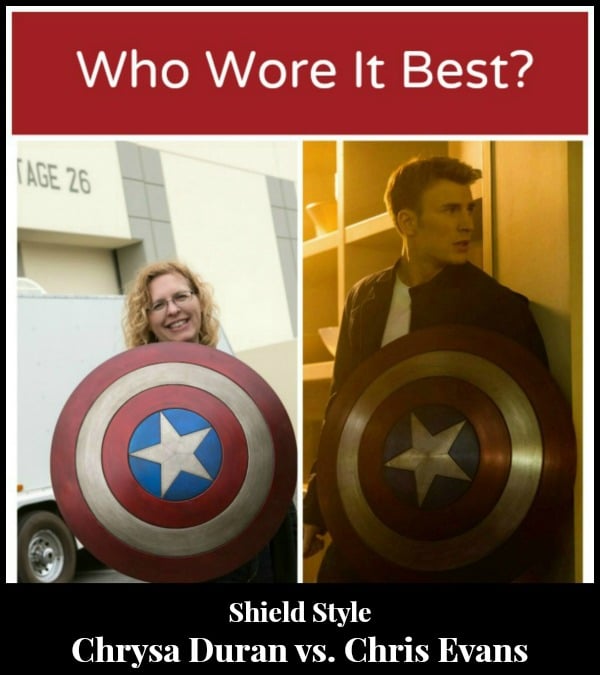 Disclosure: Disney sponsored my travel, accommodations and activities during the #IronMan3Event. Any opinions expressed are my own.