Thanks to Bimbo Bakeries USA for making this Sara Lee Snack Cakes Review possible by providing the review product and giveaway prize!

I have a big weakness for baked goods. Whenever I finish a meal, I need something sweet. And my sweet of choice is something baked! If I don't have anything in the house I start to get desperate and beg my husband to go out and buy me something or if I have some ambition I will bake something for myself. But, the best situation is when I have something close at hand. So, when I was offered the opportunity to sample Sara Lee Snack Cakes – I said "Yes, please!"
The largest baking company in the nation, Bimbo Bakeries USA, just introduced a variety of pre-portioned delicious Snack Cakes that make it easy to take along the quality and heritage of the Sara Lee brand for on-the-go, for anytime snacking. (Or, in my case, at home after lunch or dinner snacking!) The new varieties include:
Chocolate Crème Cupcakes
Devil's Food Crème Cakes
Buttery Sunshine Cakes
Crumb Cakes
Golden Fudge Cakes
I received the Buttery Sunshine Cakes and the Golden Fudge Cakes to review. While the Buttery Sunshine Cakes were very good, they were a little plain for my taste. If you like a basic dessert, these would be perfect for you, but I like a little fudge and frosting in my dessert! With that said, I LOVED the Golden Fudge Cakes. The cake is tasty, the fudge is fudgy and it's all topped with a chocolate coating – YUM!! These will definitely be in my shopping cart in the future.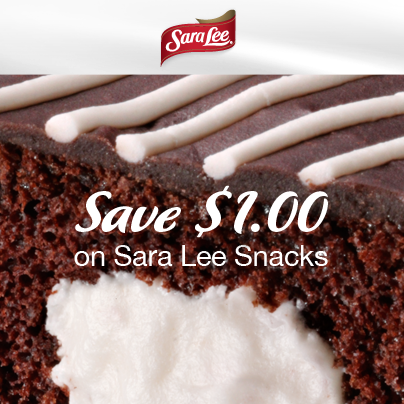 If you're ready to try them for yourself, you can use this Sara Lee Snack Cakes printable $1 off coupon from their Facebook page.