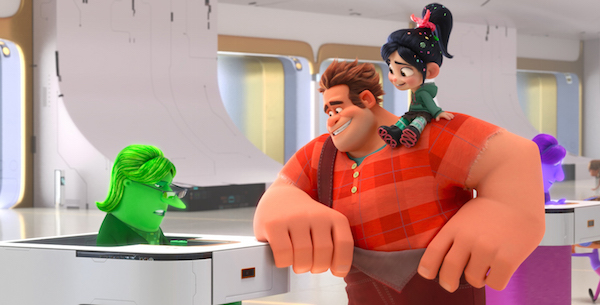 The long awaited Wreck-It Ralph sequel, RALPH BREAKS THE INTERNET, is almost here – opening in theaters everywhere November 21! After seeing an advance screening of the movie last week (you are going to LOVE it, trust me!) I had a chance to sit down with Directors Rich Moore and Phil Johnston (who also wrote the screenplay), to talk about creating this amazing movie.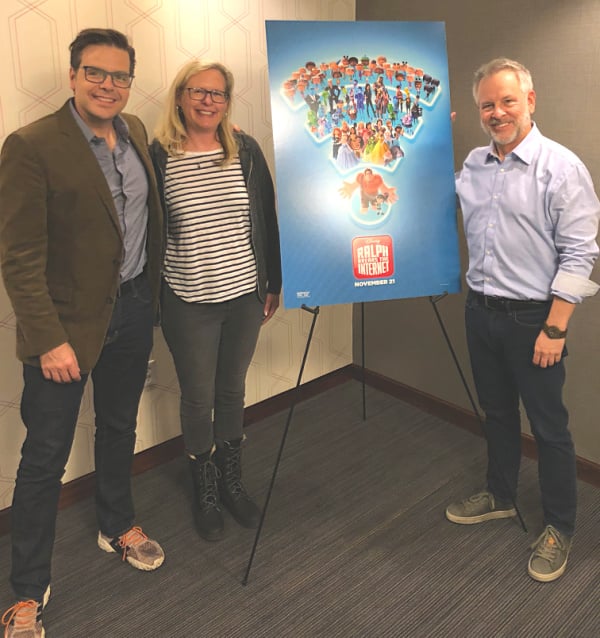 Ralph Break's the Internet's New Characters:
"There was a concerted effort to make sure we weren't retreading ground we covered in the first movie," said Phil. "Because this movie is about a friendship and a friendship that has grown somewhat toxic in a way, we wanted to introduce new characters who would both challenge the friendship, as in Ralph's jealousy with the Shank character. Ralph is the kindest, nicest person and has no reason to be jealous except that he is just insecure.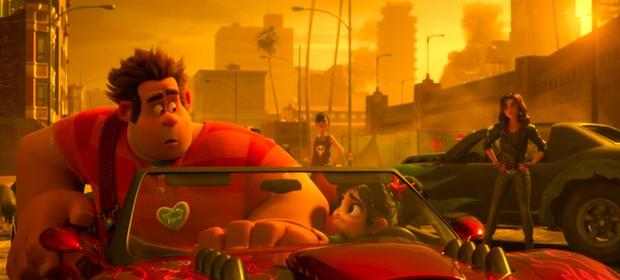 And then the character Yesss we put in there because the character Ralph is really averse to change and Yesss is all about changing every moment and knowing what's trending every second. We tried to design the cast and the characters to either help or get in the way of Ralph and Vanelope's friendship. That is usually how we though about these new characters."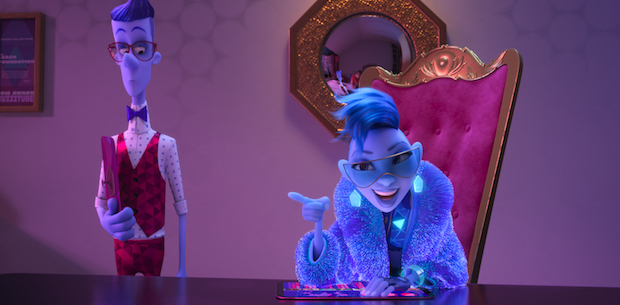 Creating the Internet as a Physical Place
Rich said, "It was probably one of the most challenging design problems that I have ever countered. It's a way to make it more contemporary and open up their world, but the internet is so abstract as an idea that there were really no comps to something like this before. It was just kind of blue sky wide open as to what we would like the metaphor to be for this."
"We tried a lot of different things that internet experts we talked to (and even tech people at our studio who we would pitch these ideas to) would say, 'Nah, that's not a great metaphor. The internet is not a cloud.' It's a tactile real thing. It's a physical tool."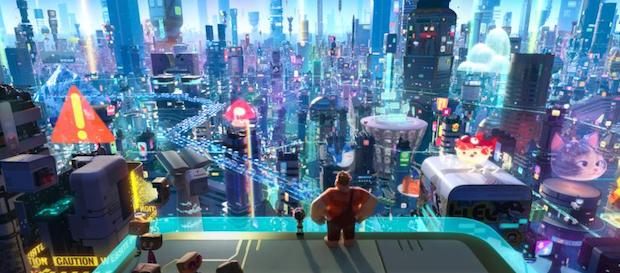 "We toured a lot of these giant server farms where the internet lives basically and it really is skyscrapers filled with computers and wires and cables. It really fed our imaginations beyond just the obvious first stabs at it to where we thought it should feel real. It should feel like a real city. The internet started out as sort of a small sphere and then it just started to grow out from there. When experts began building the foundation and infrastructure of the internet, they were not expecting everyone in the world to be using it. But, instead of starting over, they just built on top of it and patched it and hacked it and attached it and it just got bigger and bigger. That reminded us of an ancient city like Rome that is stratas of civilization just built on top of one of another with the newest stuff being at the horizon, out at the sky level. It was really going and doing the research and seeing the physical internet that inspired the look of that big city."
What Is it Like Working as Co-Directors?
After joking that it's a nightmare, Phil mentioned that he wrote on both Wreck-It Ralph and Zootopia and working with Rich was very collaborative on both of those movies. He said Rich is a very democratic director. I remember him saying a director's job is sort of to act like a funnel where you let all the ideas come in the top and then as it narrows down that becomes the movie. He is really good about entertaining lots of ideas from lots of different people and really embraced my input as a writer and empowered my voice as a writer on both of those movies more than most directors would. He's just a really great collaborator. In some ways our working relationship hasn't changed radically, but we're just together more."
"For Zootopia," said Rich, "Phil had a huge input on that movie, but was only credited as screenwriter on it. When we started on Ralph Breaks the Internet I wanted to correct that. I said to him 'we have been sort of co-directing these things so I want you to have the proper title going into this next one."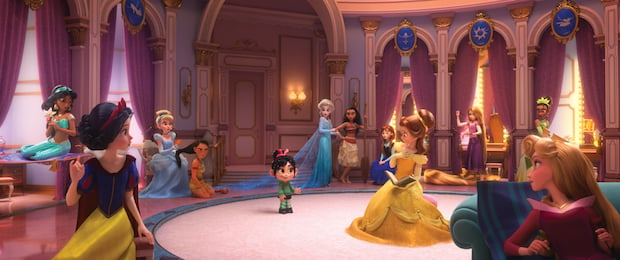 How the Princesses Came to Ralph Breaks the Internet
"It started with a joke that anything can happen on the internet and you can meet anyone", explained Phil. "Rich was like, 'Wouldn't it be funny if Ralph took a personality quiz like Are You an Anna or an Elsa and somehow Anna or Elsa would be physically there. From there it was like, well, Vanellope is a princess, so if anyone should meet them it should be her."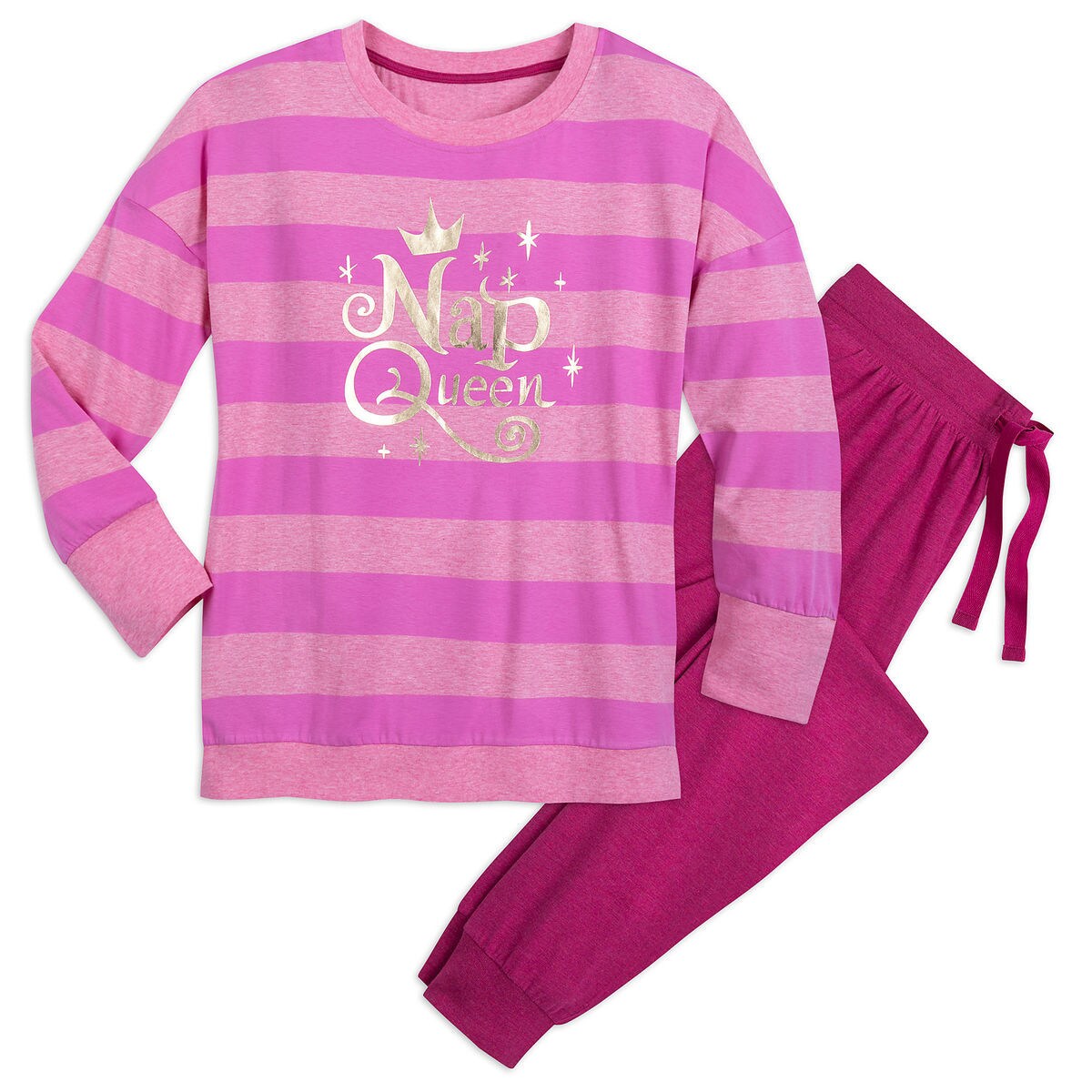 Aurora PJ Set for Women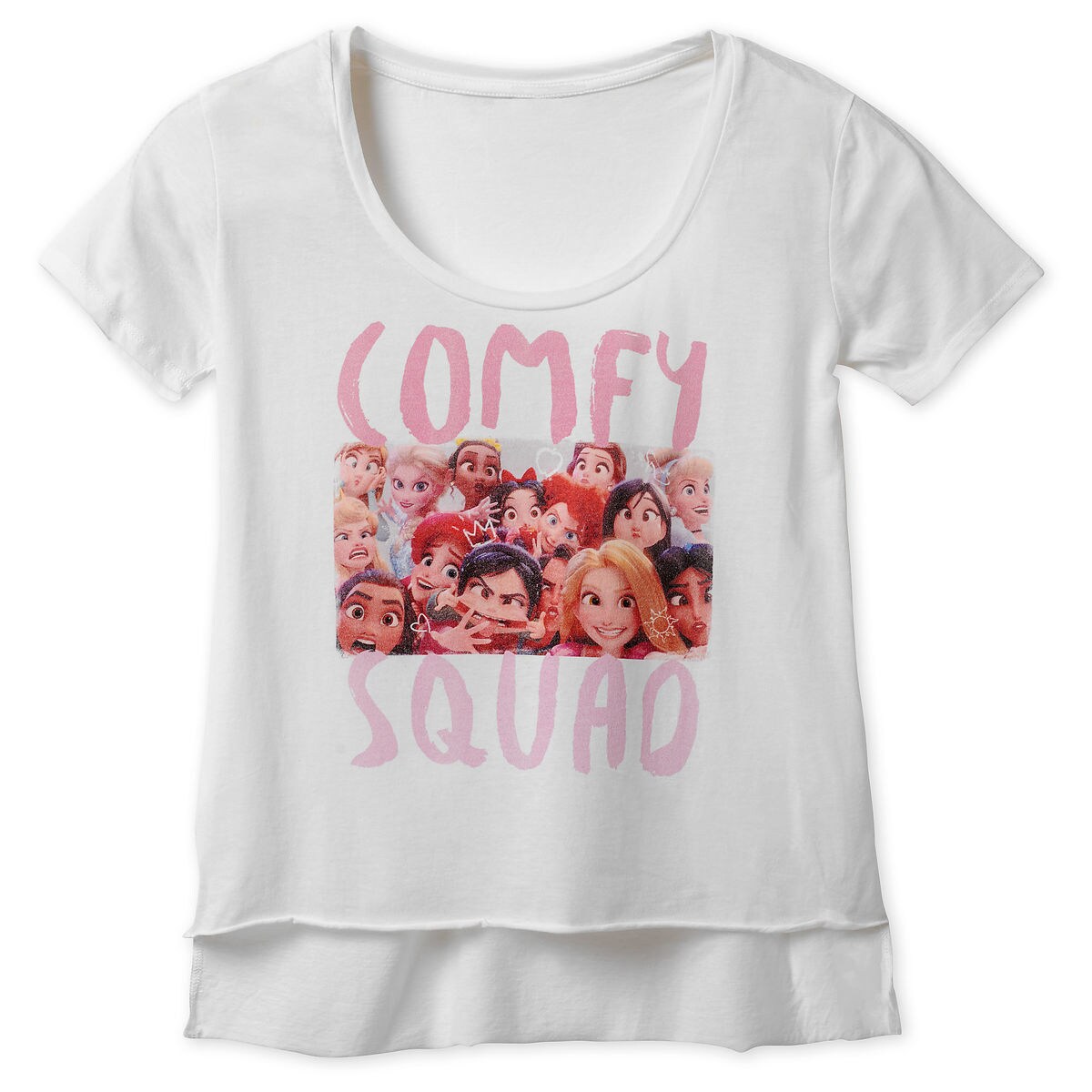 Vanellope and Disney Princesses "Comfy Squad" T-Shirt for Women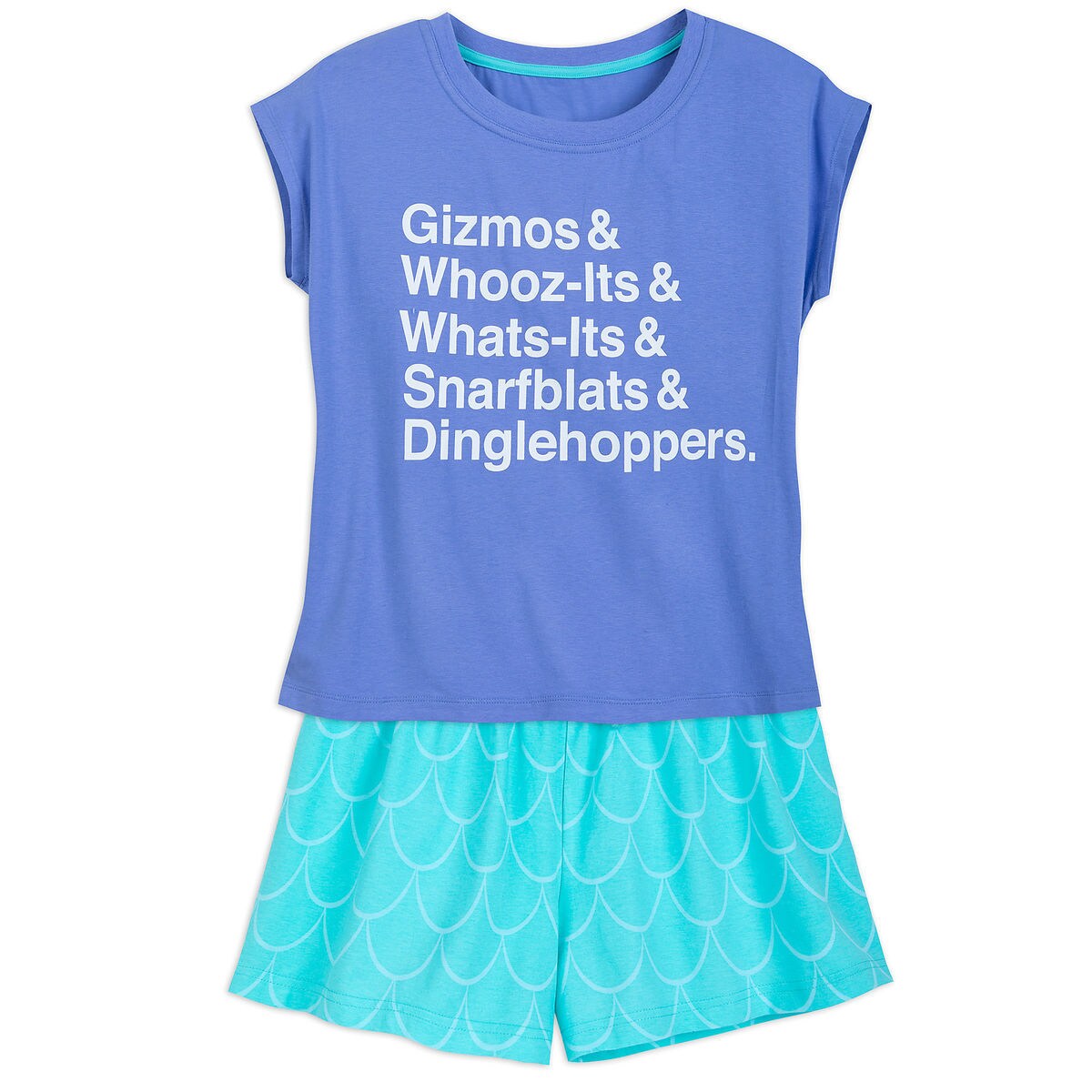 Ariel PJ Set for Women

"Then, as we started poking around at that idea we realized we could deconstruct these princesses and create sort of a feminist forward scene that would help Vanellope on her journey. We wanted it to be a funny set piece that sort of pokes fun at our own legacy, but then also is really important for her journey of self-discovery. It started with a joke acorn and turned into this oak tree of insanity."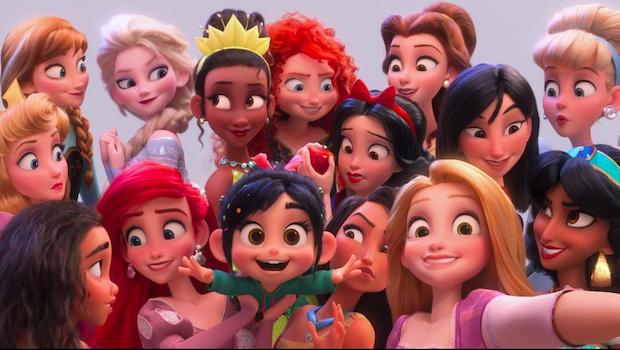 Rich said that what he likes about it is that it "clears the deck, especially for the old iconic Snow White and Cinderella, who seem like they are locked in another time. As a kid, with those old movies, I was like 'I don't get this.' They just seem kind of cardboard cutout representations of women. They don't seem very dimensional. They don't seem like my sisters. So, hopefully in doing this kind of comedic scene, maybe we have done something to facilitate a bringing of these characters, especially the old classic ones, kind of up to date where they do feel a little more human and a little more relatable."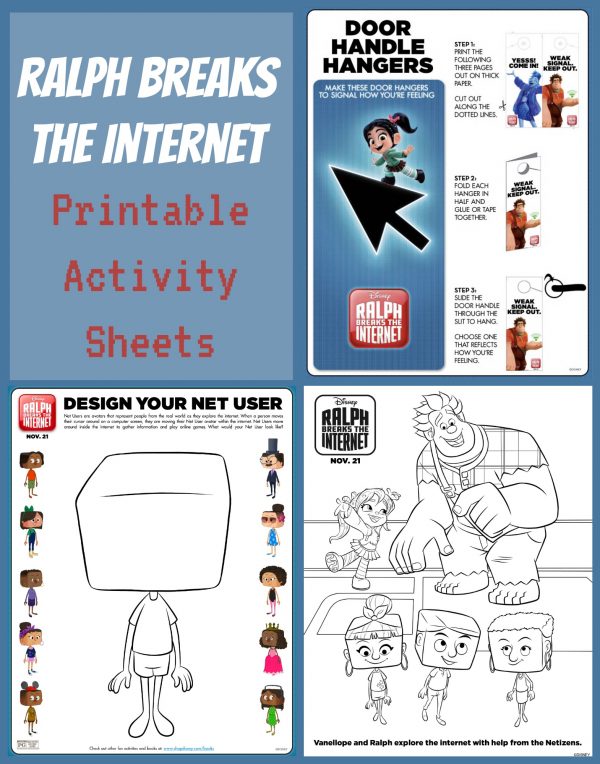 For lots of Ralph Breaks the Internet fun, visit JinxyKids.com for all of these fun Ralph Breaks the Internet Printable Activity Sheets. They are a fun way to get excited about the upcoming movie and, once viewing it, relive the action and excitement at home.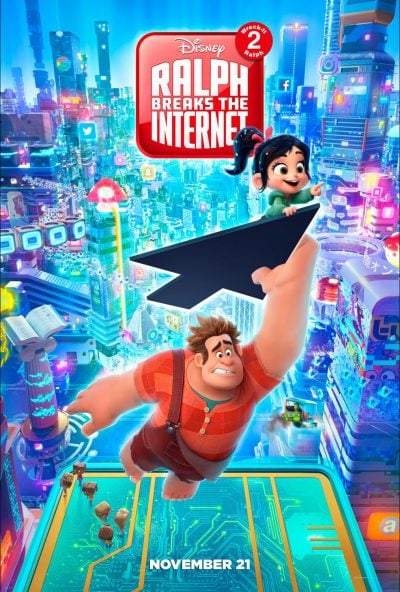 About the movie:
In RALPH BREAKS THE INTERNET, video-game bad guy Ralph (voice of John C. Reilly) and best friend Vanellope von Schweetz (voice of Sarah Silverman) leave the comforts of Litwak's arcade in an attempt to save her game, Sugar Rush. Their quest takes them to the vast, uncharted world of the internet where they rely on the citizens of the internet—the Netizens—to help navigate their way. Lending a virtual hand are Yesss (voice of Taraji P. Henson), the head algorithm and the heart and soul of the trend-making site "BuzzzTube," and Shank (voice of Gal Gadot), a tough-as-nails driver from a gritty online auto-racing game called Slaughter Race, a place Vanellope wholeheartedly embraces—so much so that Ralph worries he may lose the only friend he's ever had.
RALPH BREAKS THE INTERNET is rated PG and arrives in theatres everywhere on November 21st!
Like WRECK-IT RALPH on Facebook
Follow WRECK-IT RALPH on Twitter
Follow WRECK-IT RALPH on Instagram
Visit the official RALPH BREAKS THE INTERNET website