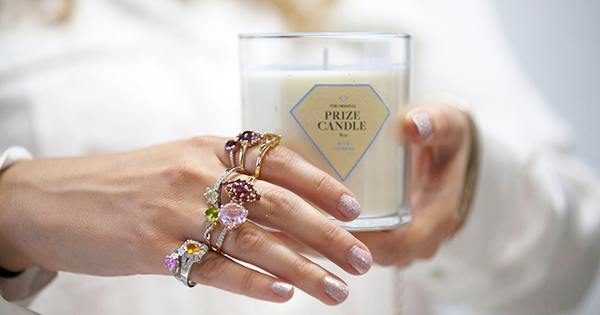 Do you love candles? How about jewelry? And surprises – are those fun? If you said yes to all three, I need to tell you about Prize Candle because it combines each of these features into one!
Prize Candle is an all natural soy candle with a ring hidden each side. The surprise part is that you won't know what type of ring you have received until you burn the candle. Each of these hidden rings is valued between $5 – $5,000.
While you don't get to choose your prize (remember, that is the SURPRISE part!), you DO get to choose the scent of your candle. Provence Lavender and Sweet Citrus both sound good to me.
They also offer special candles perfect for specific gift-giving occasions. For example, they have Congrats!, Merci!, Happily Ever After and A Star is Born.
Each Prize Candle is made from all natural soy with a 100% cotton vegetable dipped wick. They feature a 40 hour burn time. The candles will not smoke if the wick is properly trimmed and the candle is not placed in a draft.
If you're wondering how you actually get your prize out of your candle, it's actually pretty simple. You simply burn the candle until your prize becomes visible and then snuff the candle wick.
Once the wax cools for a few minutes, you remove the prize pouch with a pair of tweezers. Inside you will find your prize and a label with a code. Enter the code on the Prize Candle web site to discover the value of your prize!
If you are a lucky winner who discovers a prize valued from $500 to $5,000 you can receive a copy of the written appraisal for your records!
They even have a gallery on their site where people have shared pictures of the rings they have found in their candles. You can add yours too by posting on Twitter or Instagram and tagging your photo with #prizecandle.