Are you ready to start wrapping your holiday gifts?? I still have a LOT of shopping to do, but am starting to think about the whole process from making lists, to buying the gifts, to getting them wrapped. That's where this printable Happy Holidays Pillow Box comes in.

Printable Happy Holidays Pillow Box

To make the holiday extra fun and to make some of your gift wrapping easier, we have this cute printable Happy Holidays pillow box printable. There are lots of ways you can use it in your holiday celebrations. It can be used as a fun way to stash candy or small trinkets in Christmas stockings. They make fun classroom gifts (perfect for Sunday School) and also make a cute favor for guests at holiday dinner parties. Probably the most popular use is as a gift card holder. It makes gift cards more fun to receive when the wrapping itself is a bit unique. You might want to toss a few pieces of candy inside the box along with the gift card to make it even more special.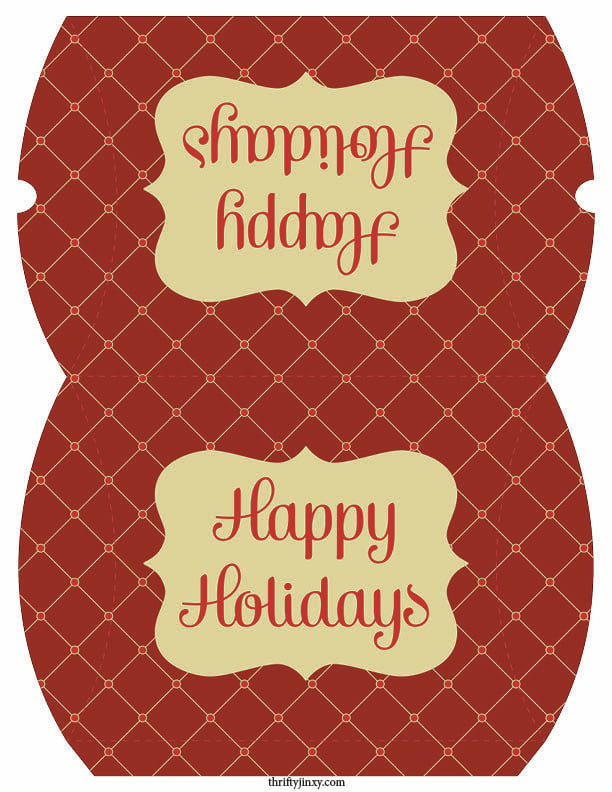 Whatever you decide to use them for, the Happy Holidays pillow box printable is super simple to put together. Just print the Printable Happy Holidays Pillow Box here, preferably on heavyweight paper or cardstock. Then cut it out using scissors and then glue down the edges where indicated on the cut-out. Easy peasy!
Now you just have to decide what you're going to put inside your Happy Holidays pillow box!