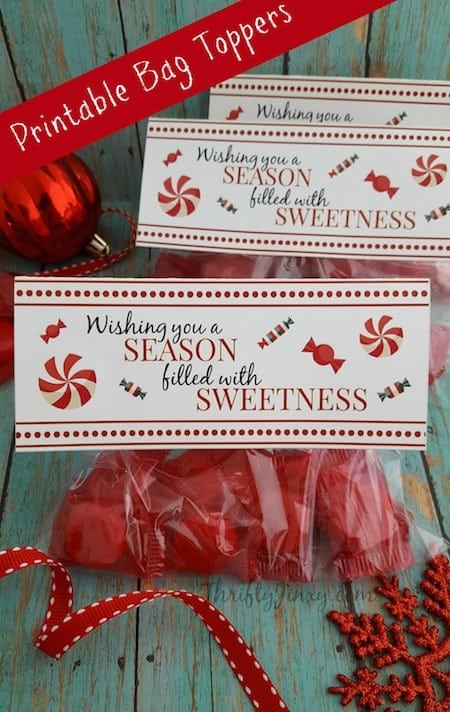 The big day is almost here!! Have you made delicious Christmas treats? Are you all stocked up on Christmas candy? If you're sitting on a pile of sweets and waiting to share them with your friends and family, these Printable Christmas Treat Bag Toppers make a fun way to do it!!
With these Printable Christmas Treat Bag Toppers you can make a little bag filled with candy or cookies into something special. It's a great way to remember all those teachers, classroom aids, bus drivers, mail carriers, church staff, neighbors – anyone you would like to say "Merry Christmas" to with a little something extra.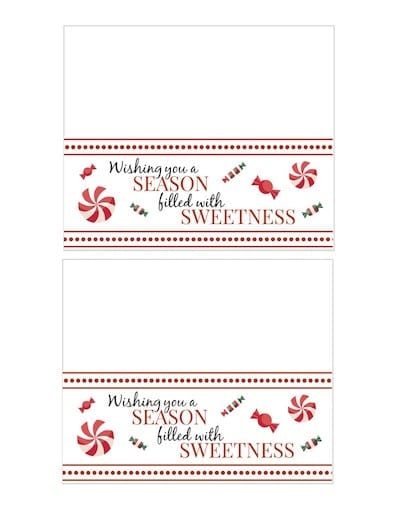 To use them, just fill cello treat bags (available online, at a craft store, or party store) with your yummy treats. Print out the Printable Christmas Treat Bag Toppers, fold them over the top of the bag and attach with two staples, or to be a little more cute and staple-free you can use a hole punch to punch two holes and thread a ribbon through and tie to fasten.
For our example above, we used small cello treat bags to hold candies, but you can use these same toppers on longer bags which would be perfect for cookies, mini loaves of bread, chocolate covered pretzels or any other type of goody.
&nbsp
For more Christmas fun, check out our recipes, crafts and printables HERE!