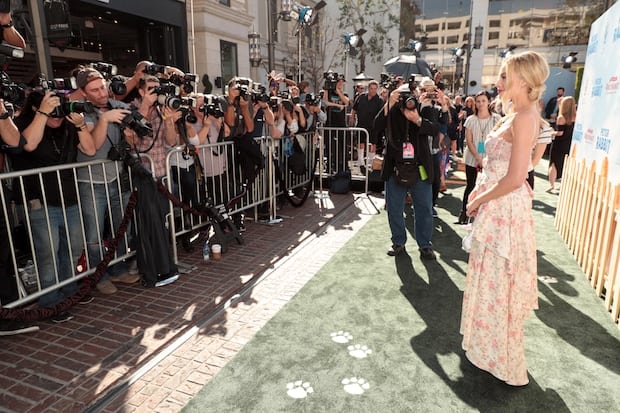 What's on your to-do list this weekend? I hope that going to see Peter Rabbit has top billing because it is now in theaters everywhere! (Check out my Peter Rabbit move review to see how much we loved it!) Just a few days ago, the movie kicked off with an amazing red carpet (well, in this case GREEN carpet) premiere and Little R. and I were lucky enough to be invited to experience it!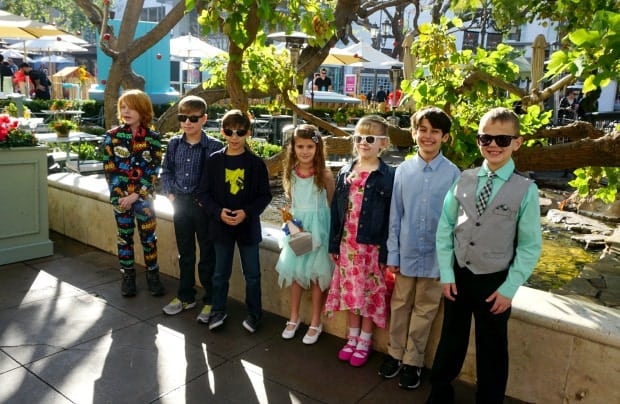 The Peter Rabbit Green Carpet Movie Premiere was held at The Grove in sunny Los Angeles. It is a beautiful setting with lots of flowers, trees, fountains and pretty walkways. I have to admit that the beautiful fountain was my favorite part. It's the perfect spot for photos and we all took a lot of them!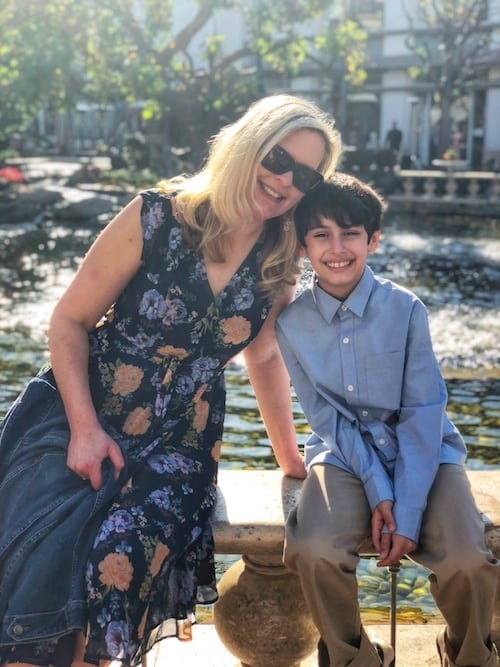 The cast of Peter Rabbit, including James Corden, Domhnall Gleeson, Rose Byrne, Margot Robbie and Elizabeth Debicki, were at the premiere to walk the carpet and greet throngs of fans and photographers. All of the stars were dressed in beautiful spring fashions that looked like they would be perfect for a garden party in the English countryside where Peter Rabbit is set.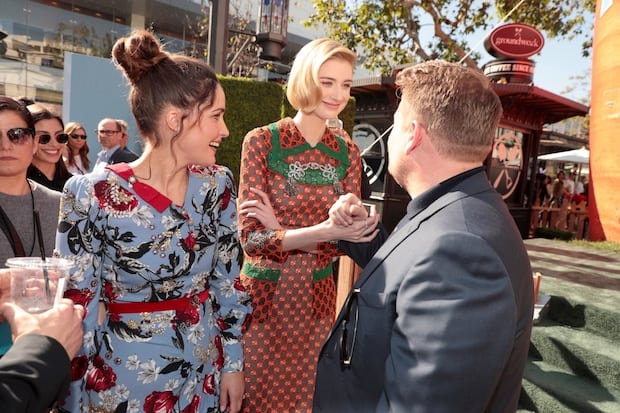 And Peter Rabbit himself even made an appearance! I think he was happy to be the #1 star of the event!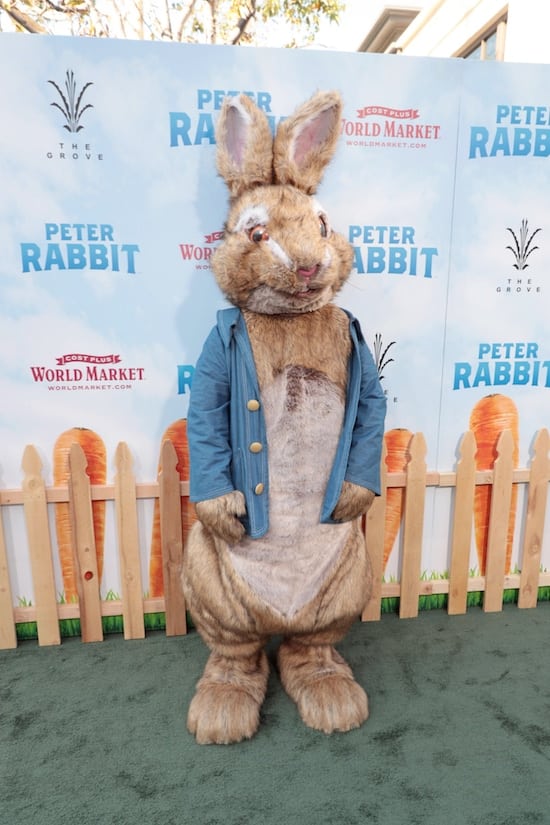 The green carpet led to the pre-premiere party, which offered lots of fun and food for all the stars and guests. I was particularly impressed with these yummy croissants formed into the shape of carrots. They were both cute AND delicious!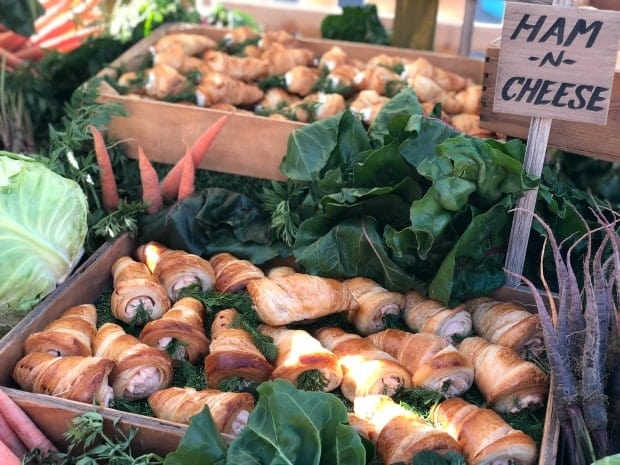 There were also lots of sweet treats to nibble on with all of them looking just as cute as can be with lots of fun bunny and garden inspired foods.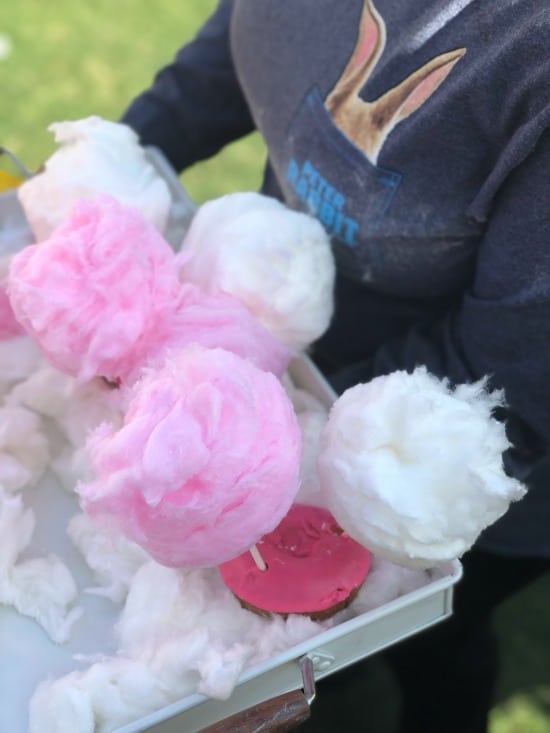 How adorable is this cotton candy and pink and white – looking like big 'ol fluffy bunny tails?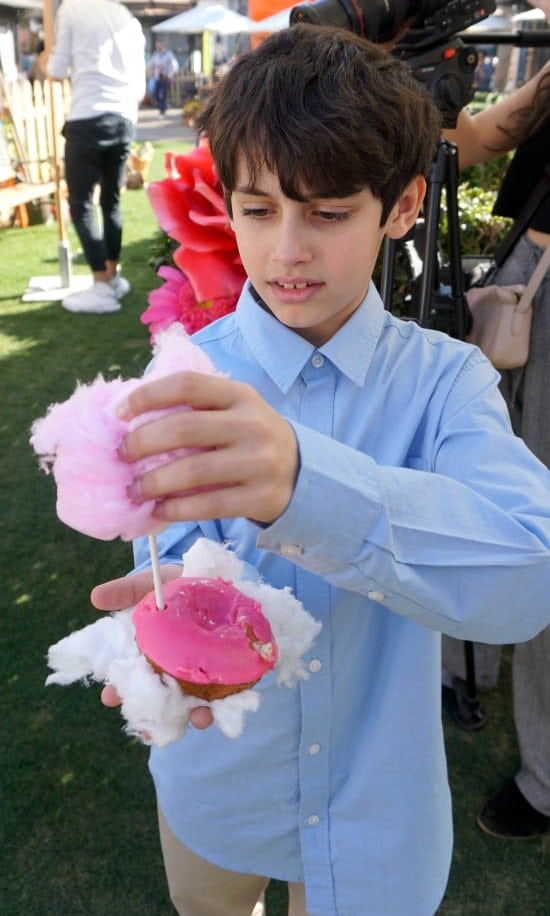 Little R is a donut fan, so he was much more interested in the donut that served as a holder for the cotton candy stick. But those weren't the only donuts….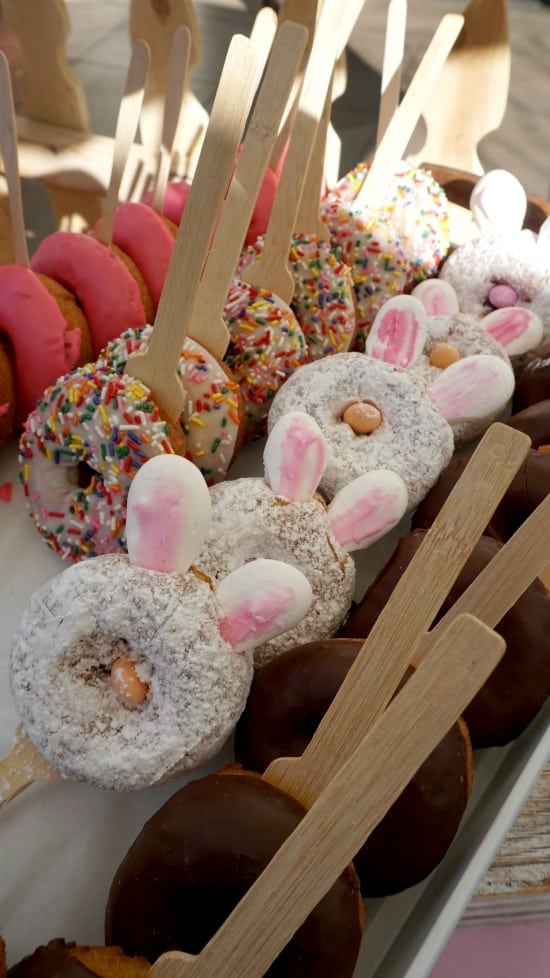 We even had some healthier options on hand with both fruit and veggie smoothies and these fun fruit skewers with watermelon in the shape of Peter Rabbit's head. (Yes, I felt a little guilty biting into Peter's head!)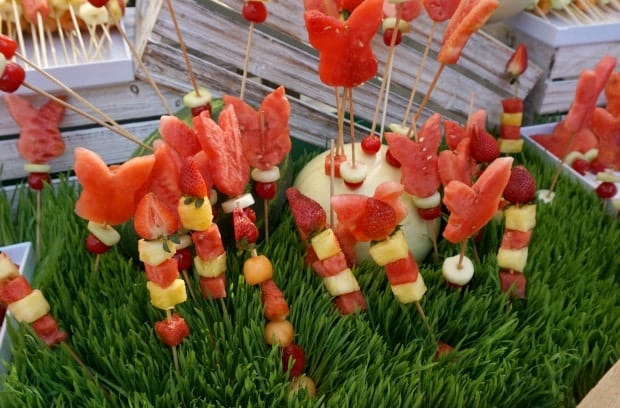 Besides all the delicious food, there were lots of fun games and activities, particularly designed for all the kids in attendance. They had a coloring wall, a garden maze and more. Little R went a little crazy with the carrot ring toss game: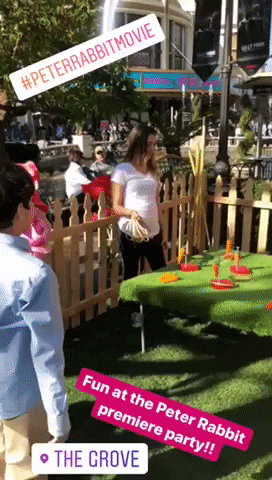 There were even real, live bunnies at the premiere! They were so big and cute and fluffy and very happy to be munching on all kinds of yummy bunny treats while we all oooohed and aaaahhhed over them!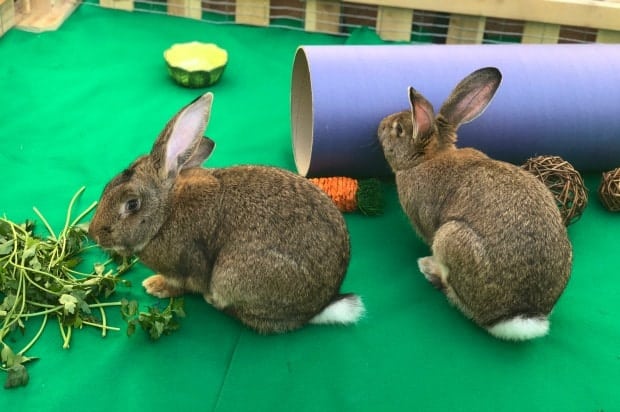 The Peter Rabbit premiere pre-party was awesome and a perfectly fun way to kick off the opening off such a fun movie that I just KNOW you are going to love as much as we did!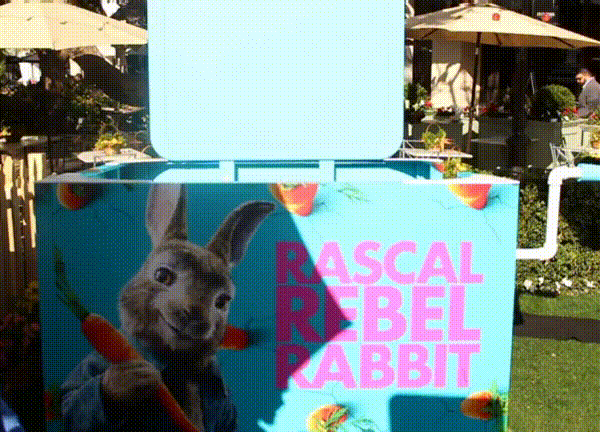 Print Peter Rabbit Activity Sheets!
About Peter Rabbit:
Peter Rabbit, the mischievous and adventurous hero who has captivated generations of readers, now takes on the starring role of his own irreverent, contemporary comedy with attitude. In the film, Peter's feud with Mr. McGregor (Domhnall Gleeson) escalates to greater heights than ever before as they rival for the affections of the warm-hearted animal lover who lives next door (Rose Byrne). James Corden voices the character of Peter with playful spirit and wild charm, with Margot Robbie, Elizabeth Debicki, and Daisy Ridley performing the voice roles of the triplets, Flopsy, Mopsy, and Cottontail.