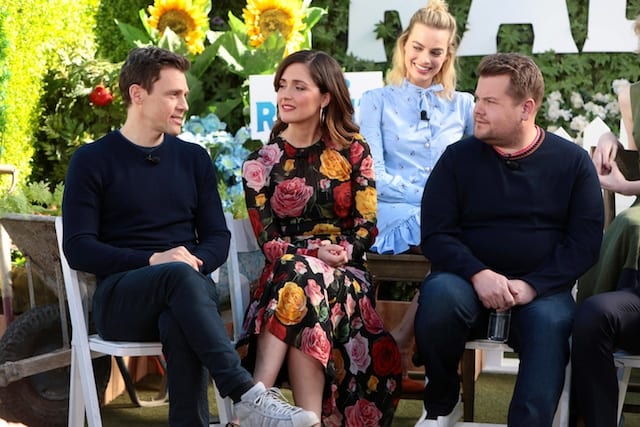 Peter Rabbit is now in theaters everywhere, but last week, before it hit the big screen, we had a chance to attend a special press conference with the cast! The setting for the event couldn't have been prettier. We were on the rooftop of the London West Hollywood hotel, which had been beautifully decorated to look like an English garden with loads of pretty flowers, vegetables, and a big garden hedge emblazoned with "Peter Rabbit".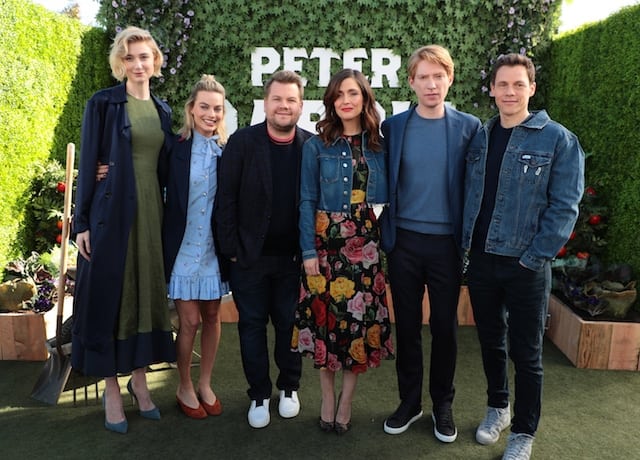 Attending the press conference were Director/Producer/Co-Writer Will Gluck and members of the Peter Rabbit cast including:
James Corden – Peter Rabbit
Rose Byrne – Bea
Margot Robbie – Flopsy
Domhnall Gleeson – Thomas McGregor
Elizabeth Debicki – Mopsy
The cast were eager to share about their roles in bringing this fun tale to life and how interesting, and at times, difficult it was to make the movie.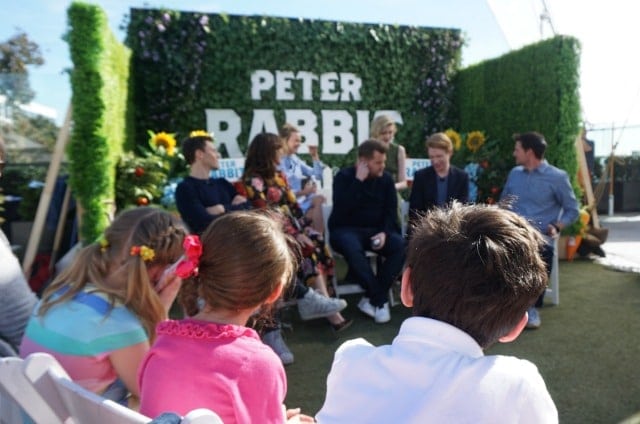 This press conference was also special for me and my blogging friends because the kids in our life also got to attend! Unfortunately, when the moderator gave our kids a chance to ask a question they froze, but Domnhall Gleeson was super nice and told them "It's ok if you don't."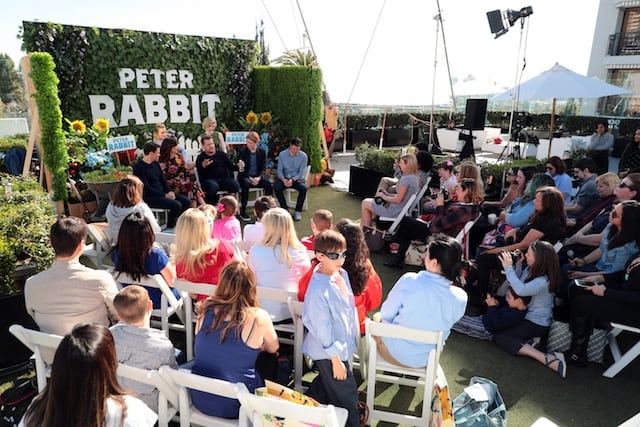 Despite the fact that our kids didn't ask questions, they obviously were paying attention throughout the whole interview. More than once James Corden expressed how excited he was that earlier that very same day the Spice Girls announced that were reuniting (he even said that if he had a chance to name his own rabbit he would actually get FIVE rabbits and name them Scary, Baby, Sporty, Posh and Ginger). The following day when Little R was describing the interview he mentioned how James Corden was very excited about the Spice Girls. Then Little R asked, "Who ARE the Spice Girls?"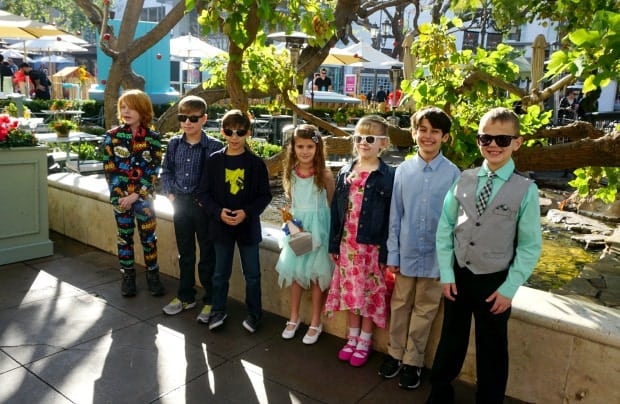 The kids also took what the adults said to heart, believing a bit more than they should have. At one point Will Gluck joked that they had first thought to make the movie by training rabbits to speak, but by the time they trained them the rabbits died. Days later, more than one of the kids mentioned the fact that this had happened, but the kids had taken it to be the truth rather than the joke it was. Ahh, kids!!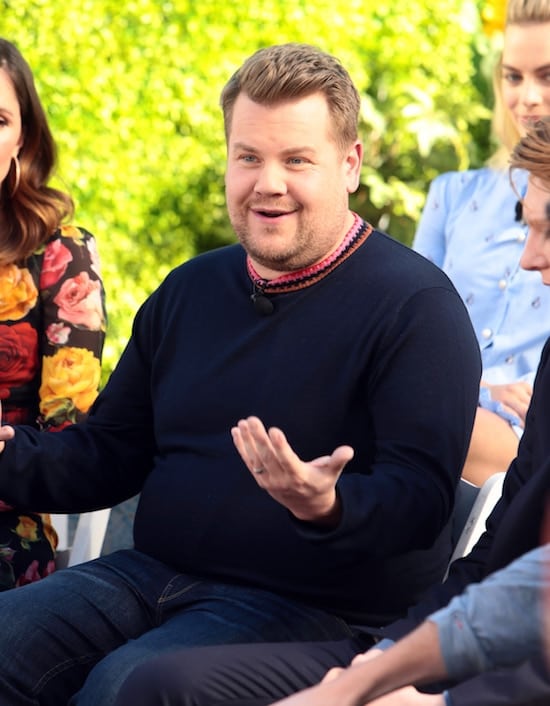 James Corden was asked about channelling his inner bunny for this role. He said, "In the conversations I had with Will (Gluck) it was never about channeling an inner rabbit, it was mostly about how do we find a way to honor this Beatrix Potter character that is so beloved. How do we unlock this lovable, mischievous character that has been created in these beautiful books and honor it now in a film. I feel very fortunate to be able to work with a director and writer like Will who understands the legacy of that character and the world that it lives in and more than anything just wants to reintroduce him to so many young people who will hopefully leave the movie theater and go and discover these incredible books. I feel like an ever so slight fraud sitting between Domnhall (Gleeson) and Rose (Byrne) who are out there doing proper acting while I was able to just turn up in my pajamas and do this for a few hours at a time."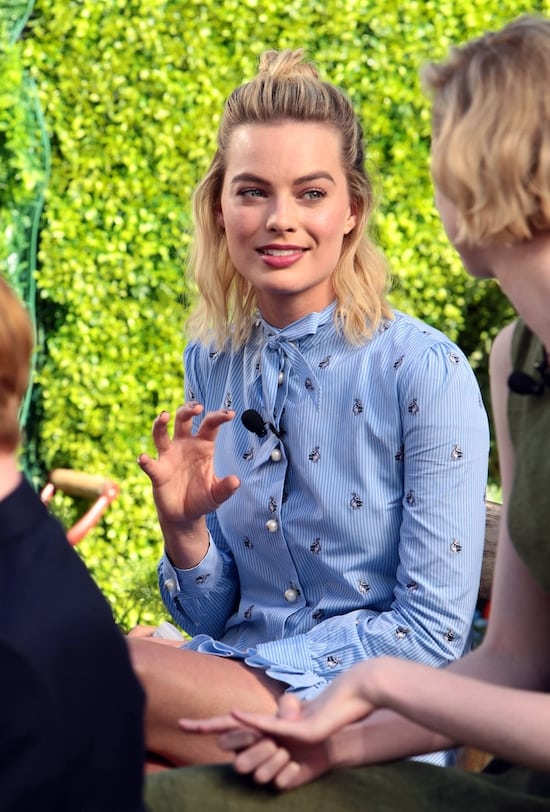 Next, Margot Robbie and Elizabeth Debicki were asked about finding the voices for their characters and enjoying the recording process. Margot said, "It was very fun. I hadn't been involved in an animated/live film before, so it was a new process for me. It's kind of liberating being the voice of an animated character where you can concentrate on the voice as opposed to physical actions. I was very jealous that I was finally involved in a film where at least part of it was shooting in Australia and I didn't get to be there for the Australia portion, which is ironic, but it was just fun being a rabbit."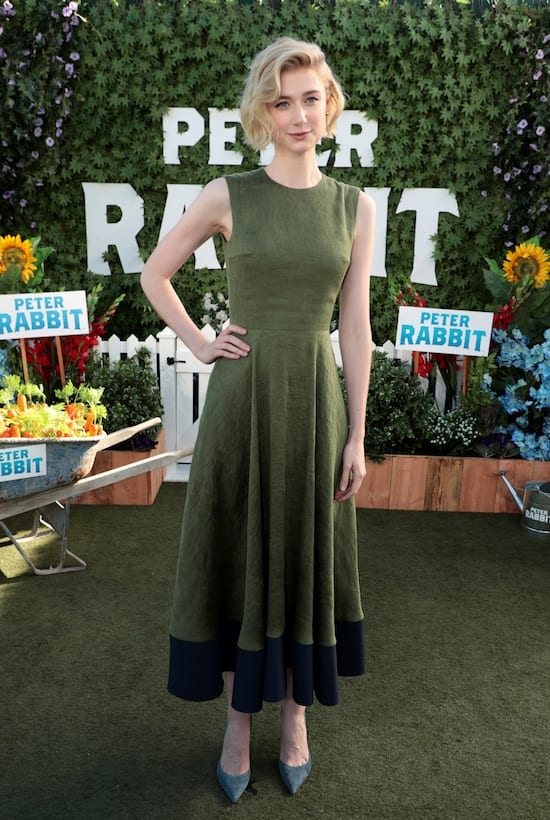 Elizabeth said, "  had a really lovely time as well. I think finding the voice is so interesting when you make an animation because you contribute some and then you see what the character starts to like because the animation grows and that might change what you're doing with your voice a little bit. I also love that when we're recording they film us. When I watched the film for the first time, I could sort of see us in the bunnies too, which is such a lovely thing to see."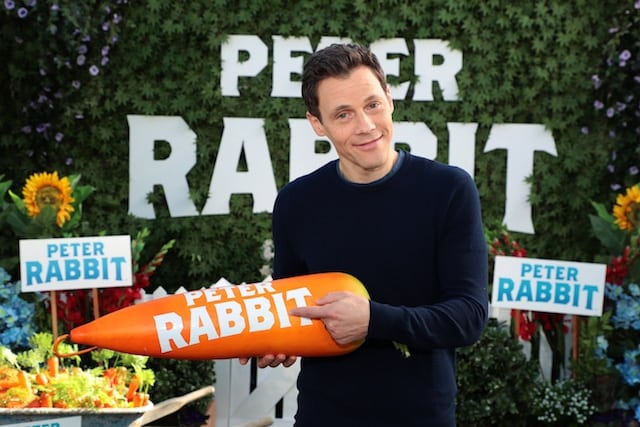 Will Gluck was asked how he went about finding the tone of the film throughout writing and pre-production and he said, "It was a long process to figure it out. Often times a lot of directors say 'It's great to be with such an amazing cast,' but with this IS an amazing cast with Rose and Domnhall on set and the others in the ADR sessions. So much of this is their personalities. James and I had many many many different sessions when we did a lot of re-writing and figuring things out, and the same with Margot and Elizabeth. I think this is a group effort to figure out where everyone comes from. We tried so desperately to keep it grounded in reality and what we thought Beatrix Potter would smile down on us for. That was the headline always – 'Does this make sense in her world? We were very religious in that regard."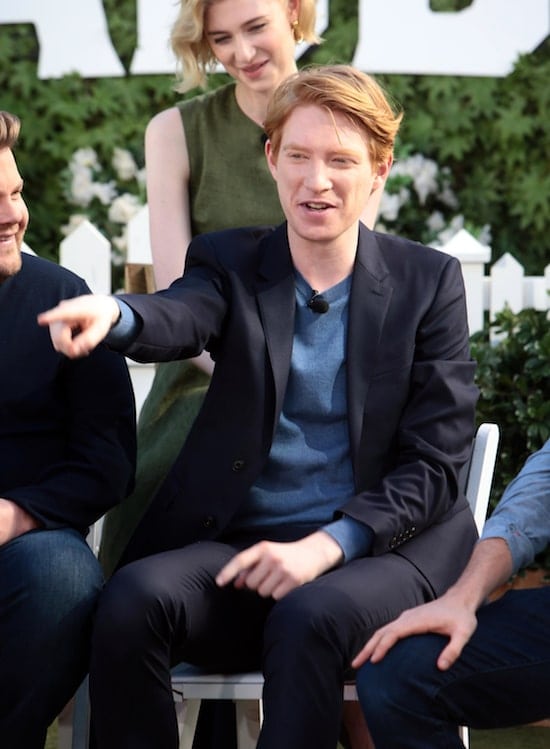 One of the most fun questions of the press conference was when Domnhall Gleeson was asked about the similarities between his character of Thomas McGregor and his Star Wars character General Hux. He said, "Very similar. I think they are both a little bit uptight, they both get thrown into walls and there is definitly a cross over. I think the aim with this film is to make children and make them laugh. There is no better sound in the world than a group of kids laughing. It just makes you happy as well. The aim is slightly different from Star Wars in that this is for children. If it does what we set out to do with it and it makes some children laugh, then I will be absolutely delighted."  I love a guy who plays a villain who has a big heart!

Peter Rabbit Press Conference Video

You can watch the video of the entire Peter Rabbit Press Conference below:
About Peter Rabbit:
Peter Rabbit, the mischievous and adventurous hero who has captivated generations of readers, now takes on the starring role of his own irreverent, contemporary comedy with attitude. In the film, Peter's feud with Mr. McGregor (Domhnall Gleeson) escalates to greater heights than ever before as they rival for the affections of the warm-hearted animal lover who lives next door (Rose Byrne). James Corden voices the character of Peter with playful spirit and wild charm, with Margot Robbie, Elizabeth Debicki, and Daisy Ridley performing the voice roles of the triplets, Flopsy, Mopsy, and Cottontail.