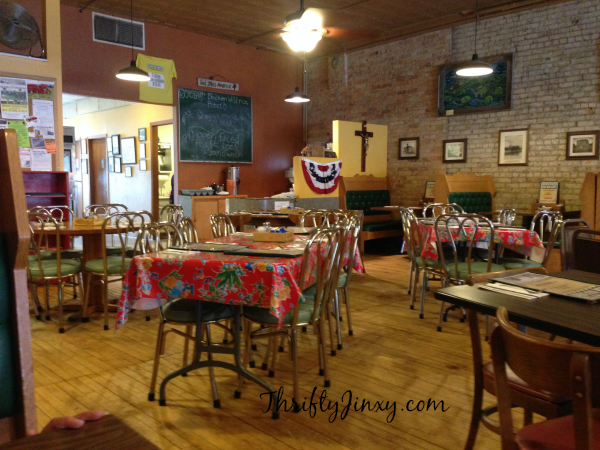 I was a lucky kid in that even though we had lots of great home-cooked meals, we also got to eat at restaurants at least once a week. (Which wasn't as common way back then!) One of my dad's favorite things to order was a patty melt. I never understood that and actually never even TRIED a patty melt until about ten years ago. Boy, was I surprised to find out how much I love them!
So, that has been one of my go-to menu choices when visiting a cafe or other small town restaurant – it's a good judge of their overall quality! Soooo – last week when I visited Olde Main Eatery in Elk River, Minnesota, with my Mom, that's what I ordered. Elk River is the town where I went to high school, but Olde Main Eatery wasn't around back then.
Olde Main Eatery has a warm atmosphere with a hodgepodge of decor making it feel very welcoming. Their menu is classic small-town cafe fair with sandwiches, salads, burgers and breakfast served all day.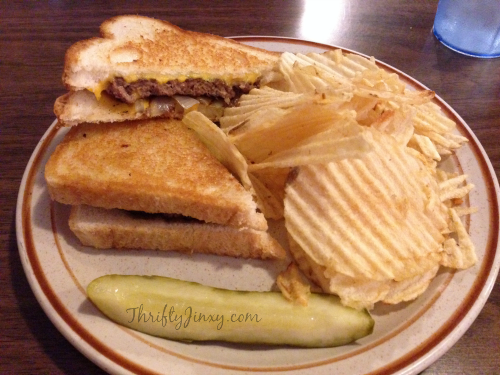 As I mentioned, I ordered the Patty Melt, but made a few changes to it. On the menu it specified marble rye and swiss and american cheeses. I switched it up a bit and ordered it on white bread and skipped the swiss cheese, since I'm not a fan. It was really good! I especially liked how golden and crispy they made the bread.
My mom ordered the Spinach Salad and loved it. She raved over the grilled chicken on the salad and I though her roll looked amazing. I think this may be my choice next time as I'm sure I'll head back there again for another lunch with Mom.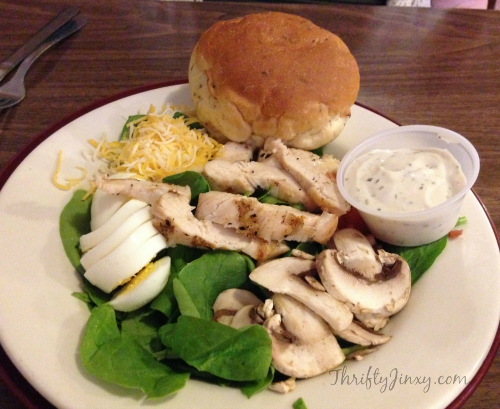 We ate at Olde Main Eatery Restaurant using a Restaurant.com gift certificate. Have you used one before? They're super easy to use. You just browse Restaurant.com for a restaurant to visit in the area you live or are visiting. Then you print out the certificate to present to your server at the restaurant. The super cool thing is that these certificates NEVER expire. They are also perfect for traveling because if you purchase a certificate for a restaurant but end up not getting a chance to use it on your trip, you can simply trade it in for a different restaurant!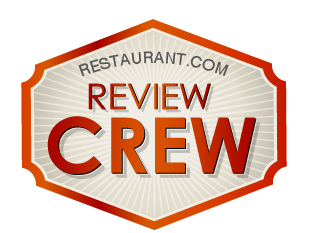 Restaurant.com is the trusted and valued source connecting restaurants and diners nationwide. The company offers savings at thousands of restaurants nationwide with more than 50,000 gift certificate options. Restaurant.com brings people together to relax, converse and enjoy well-prepared and served meals at affordable prices. To date, Restaurant.com customers have saved more than $1 billion through the gift certificate program.
What is YOUR favorite thing to order in a small-town cafe?