When it comes to delicious food, New Jersey is full of it! Here are what I think are the BEST foods in New Jersey.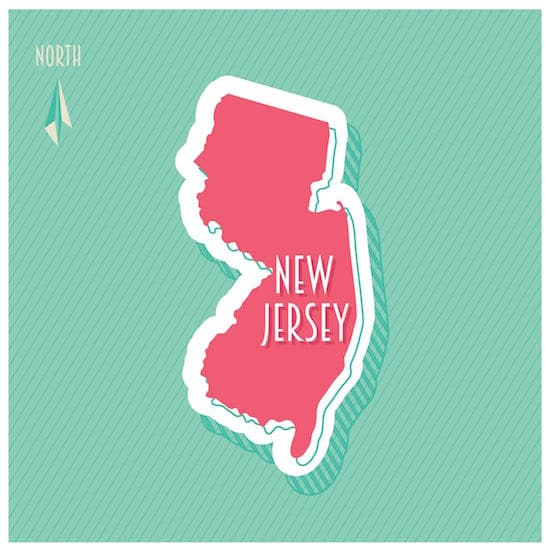 I'm typing this while on the long ride back to Minnesota from my combined BlogHer Conference, family & friend-visit trip to New York and New Jersey. The farther away I get, the more I think about all the awesome foods I left behind and how much I always miss them. This will be my ode to the delicious foods of New Jersey.
And before I get lots of complaint comments about overlooking other great eating establishments, please keep in mind that my favorites are limited to Hudson County and Southern Bergen County. But please feel free to let me know YOUR favorite places to eat. (Comments welcome!)
First off are the basics – pizza and bagels. There are so many good places to get these that I won't even single out any in particular (although New Pizza on the Block in West New York has long been a staple for us.)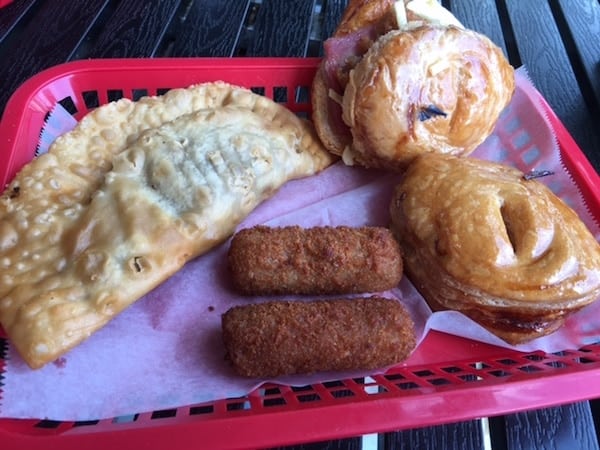 Next on the list would be what is generally called "Spanish food" in my old stomping grounds, but would be more accurately described as Latino or Hispanic food, specifically Cuban and Puerto Rican. One of my favorite things is empanadas de carne and no one makes them better than La Gran Via Bakery in Union City. All of their other pastries are also wonderful and the pan con mantequilla makes a great quick breakfast.
For both sandwiches and full meals, visit Centro Latino II, also in West New York. A few of my menu favorites are papas rellenas, boliche, yuca frita con mojo, and their platanos maduros are hands-down the best (and most consistent) I have had anywhere. You also can't go wrong with any of their sandwiches – love them!
Another awesome (yes, awesome) place for sandwiches is Dos Amigos in West New York. Their menu is simple…they ONLY serve steak sandwiches. Your choices are limited to small or large size and whether or not you want cheese/onions. They are served with french fries inside too. WARNING: When you leave the restaurant you will smell like a steak sandwich. The picture below is from Dos Amigos.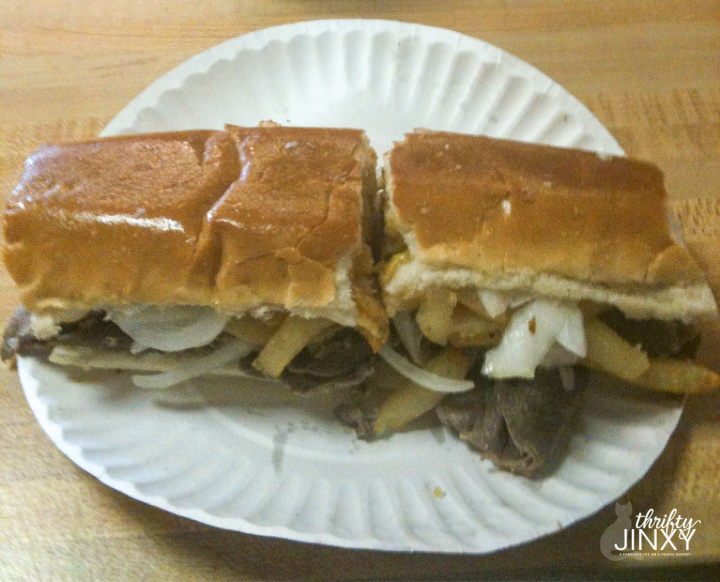 For a traditional New Jersey breakfast, you have to try Taylor ham and cheese (egg optional) on a roll. Technically, I believe Taylor ham is classified as "pork roll". I would describe it as a cross between Spam and Canadian bacon. Once it's fried up it is wonderfully salty and full of flavor and it is quite greasy – but yum!
Of course there is also the Italian food. My must-have for lunch at least once on every visit is a sandwich of prosciutto and fresh mozzarella. Giovanni's Deli in Secaucus makes the absolute best fresh mozzarella. To make it perfect, I ask them to drizzle a bit of the roasted red pepper "juice" on the sandwich. You could have them put the actual peppers on it, but I don't like to overpower the other flavors. (I have to say, however, that I was a bit disappointed in the bread used for my sandwich on this last visit.) Another great place for Italian cold cuts and the like is DePalma Brother's in Fairview. They also have a fantastic grocery section with a wide variety of Italian foods with imports that are hard to find elsewhere. For "sit-down" Italian food, both David's in Cliffside Park and The Big Red Tomato in Fort Lee are always delicious. For Italian pastries the hands-down winner is Rispoli's in Ridgefield. Everything from cannoli, to éclairs, to pasticiotti to sfogliatelle is perfect. They also rock at making cookies and their birthday cakes with a choice of fruit and cream fillings are to-die-for.
Lastly, two of my favorite quickie chain-store stops have always been Dunkin' Donuts and 7-Eleven (neither of which we have in Minnesota). At Dunkin' Donuts my usual donut is the Vanilla Kreme – super sweet and super good. My favorite at 7-Eleven is a staple in NY/NJ stores, but I don't recall seeing it in other areas of the country. It's a Kaiser roll split down the middle and slathered with butter – so much butter at times that I need to scrape some off. But, if it's a really fresh roll it is delectable!
On this last trip I also came to realize that 7-Eleven has awesome doughnuts. I think they are really giving Dunkin' Donuts a run for their money and 7-Eleven may be my new doughnut stop as well (the Boston Cream and the "Homer Simpson" doughnuts with the pink frosting and sprinkles are both top notch).
p.s. I also have to give a quick shout-out to Cubby's BBQ in Hackensack (best barbecue ANYPLACE with the possible exception of burnt ends at Gate's in Kansas City).