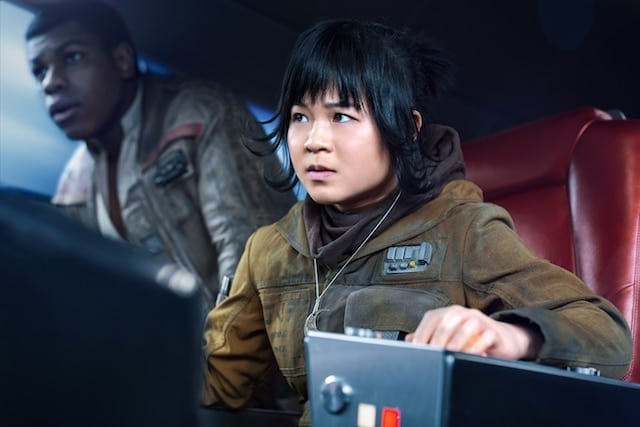 The new character, Rose Tico, in STAR WARS: THE LAST JEDI and Kelly Marie Tran, who plays her are a big deal. Chances are very slim that you ever heard of Kelly Marie before the publicity for The Last Jedi started because at the time she found out she got the part, she was still working her office job as an assistant and had to tell her boss she was heading to lunch when she was, in fact, going to meet with Director Rian Johnson. Not to mention, that right up until last week, Kelly had never been recognized by a stranger in public unless she was with fellow cast-mates. My how things can change!
On the crazy busy The Last Jedi press day, Kelly said, "I am feeling a lot of emotions. I'm feeling every emotion on the spectrum. But it's good. I'm just trying to take in every moment, and really be present here."
How Kelly Marie Tran Got the Part of Rose Tico
The first audition I had was back in 2015. At this point I had been pursuing acting for about seven years. It took me years to just get a commercial agent, much less a theatrical agent. And then it took me years to begin auditioning for commercials. And then into TV. I never could get into the room for movies. This is probably one of the two or three movie auditions I ever was allowed to go to.
That first audition came in, and I remember thinking, 'This is crazy. There's no way I'm gonna get this.' And so that feeling kind of traveled with me from the beginning to the very end and it served me, because I was so sure in my mind, and in my heart, that I wasn't going to get it, that I was free to be present and have fun.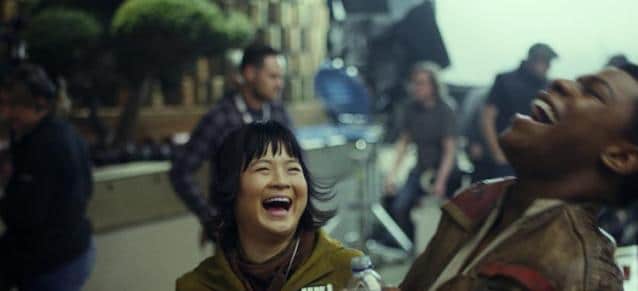 There was none of this, 'Oh my god, I'm gonna get this.' There was none of that. It was like, 'there's no way in hell I'm gonna get this. I'm just gonna have fun with the people who are here.' I wanted to have fun with John at the screen test. I wanted to have fun with Ryan in taking his direction. I think that that served me in the end. It was a five month audition process and it included a surprise chemistry test with John Boyega. and then the final test was in London in full hair and makeup on a set that they had built. It felt like we were shooting the movie. The whole time, and still now, I'm just still trying to be present in all of it."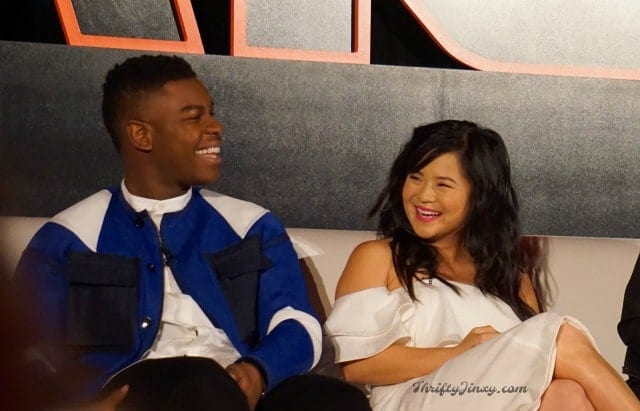 Kelly Marie Tran's Previous Experience with Star Wars
In short, she had none. She said, "Star Wars is such a family oriented thing. And so a lot of parents had seen the original movies and passed them on to their kids. My parents, when the first movies came out, were still in a different country. My parents are both Vietnamese refugees. They aren't from this world at all. They don't work in entertainment. … they're having a real hard time understanding. So growing up I didn't watch Star Wars. I was aware of it. I never really saw it. I think that gave me this kind of wonderful freedom. When I was auditioning for this movie I never thought to myself,'How can I make this more like something I had seen? How can I make this more like the characters that are so iconic to all these people?' I had this gift of being able to look at that paper and just be what I thought was honest and what I thought Rian had written onto that paper."
After she got the part, she watched all the previous movies. "There's nothing but just amazement for how you watch those original films now and they're still incredible. They were so innovative during the time, and the idea that they were so groundbreaking when they first came out – I do think that they continue to do that in this film – that in ways this film will also be groundbreaking. So, yeah. It's been a weird, long journey.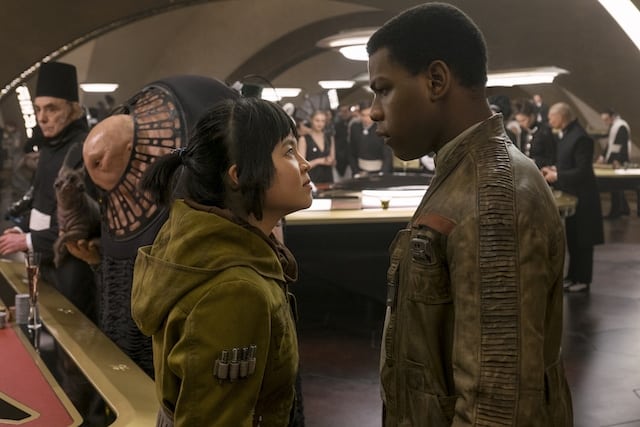 The Significance of Rose Tico
Kelly Marie was posed this question, "The character of Rose has done so much for diversity in film and changing our perspective of Star Wars. What are you hoping that Rose's character accomplishes once we actually see her in action, for yourself and for future Star Wars generations, who now have a strong female Asian role model to look up to?" Kelly said, "I thought about that a lot. It feels like such an honor, but also a lot of pressure. I knew what it was like to grow up in a world where I never saw myself in anything and I would like to hope that in some way this character is such an example of someone who doesn't necessarily belong in this world. She works in maintenance. She works behind pipes all day. She's not a star pilot. She doesn't have magical powers. She's not a princess. She's someone who is just an everywoman, essentially.
Funko POP! Star Wars: The Last Jedi – Rose – Collectible Figure

Star Wars Women's The Last Jedi Rose Tico T-Shirt

Star Wars: The Last Jedi Resistance Tech Rose Force Link Figure

These are people that you don't necessarily see in these stories, but that are so crucial to the idea of the resistance. Without these people fixing the ships, Poe couldn't go fight the First Order! So of course they're important. But no one ever really sees them, or talks about them. They're always just running around in the background. If this character could mean anything, I really hope that she portrays the idea that even if you are someone who's kind of in the background, who's not in the spotlight, who's not a princess… you can still make a difference and you can still rise up to any challenge that comes to you.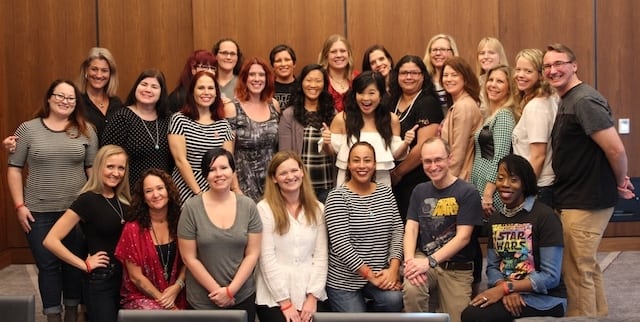 Like STAR WARS on Facebook
Follow STAR WARS on Twitter
Follow STAR WARS on Instagram
Follow STAR WARS on YouTube
Visit the official STAR WARS: THE LAST JEDI website
STAR WARS: THE LAST JEDI is in theatres everywhere NOW!