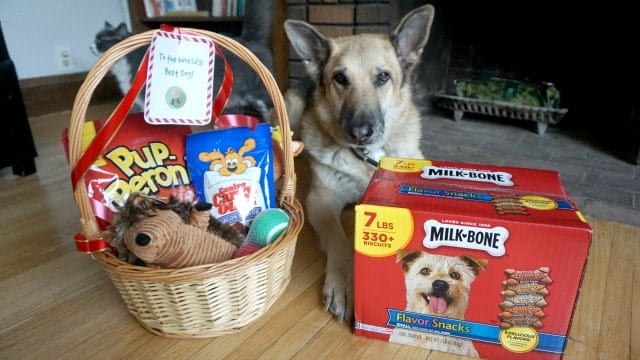 This is a sponsored conversation written by me of behalf of the J.M. Smucker Company. The opinions and text are all mine.
Holiday season is in full swing!! Do you have a favorite part of the season? For me, like many, my number one favorite thing is having time to spend with family. While much of the holiday season is spent rushing around making preparations, decorating the house, buying gifts and doing everything else imaginable to prepare, once we actually get to the big celebration days, I love the opportunity to sit back, unplug an just enjoy the festivities with the family. And by family, that of course includes our pets!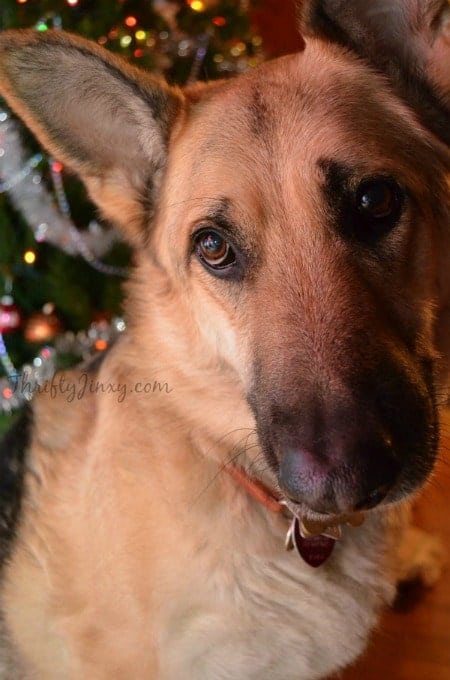 Our dog, Toby, is a VERY important part of our family! He makes us smile (and usually laugh too) every day and is always more than ready to give us love and affection. Who can ask for more than that? Since he gives us so much all year long, it's a given that he's a part of our holiday celebration when we get to the end of the year.
Food is a big part of our family celebrations. On Christmas Eve we have a "feast" where everyone gets to have their favorite foods before we open Christmas presents. Since we are getting Christmas treats, it's only fair that our pets should too! This year, to make things extra-special for Toby, I made him a big 'ol gift basket of things I found at Walmart and just couldn't resist buying for him. Want to make one for your own very special dog? Check out these tips and then grab our free printable doggy gift tags to decorate your present!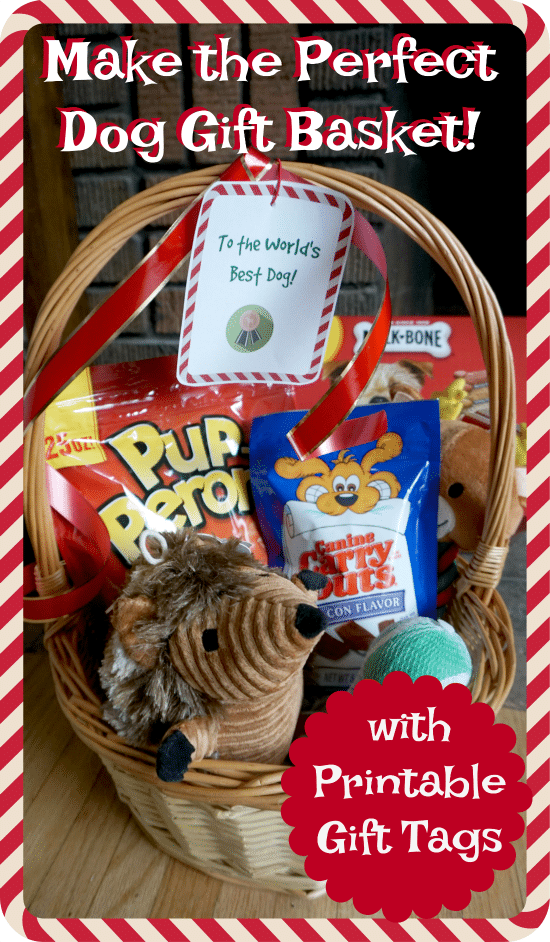 Make the Perfect Dog Christmas Gift Basket


Supplies:
Basket
Ribbon
Printable Dog Gift Tags
Milk-Bone
Pup-Peroni
Canine Carry Outs
Plush Dog Toys
Balls (or other play things your dog likes!)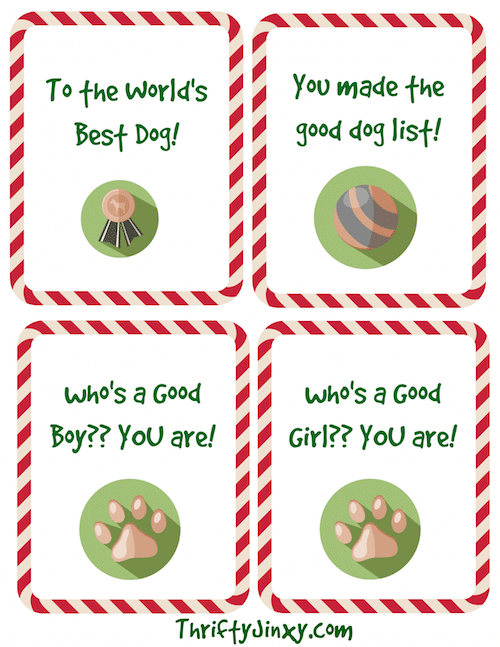 Instructions:
Since I have a big dog, I started with a big basket, but you may want to start with a big basket even for a small dog so you can fit in lots of goodies!
Place all your treats and toys inside the basket, starting with the largest items in the back. If some things are too big to fit (like our nice big box of Milk-Bone Flavor Snacks, you can keep them next to the basket.)
Print out our Dog Gift Tags on thick paper or card stock.
Cut out the tag you'll be using, punch a hole in the top and attach to the top of the basket with a piece of ribbon or cord.
Decorate your basket with additional ribbon.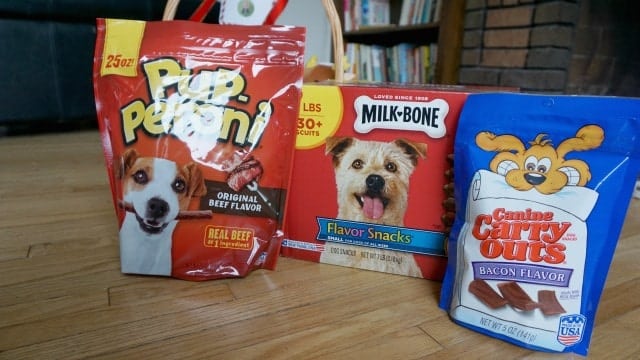 Dog Treat Choices

To fill Toby's basket, I found some treats at Walmart that I just couldn't pass up because I knew he would love. I chose Milk-Bone Flavor Snacks, Pup-Peroni and Canine Carry Outs. Here is a bit more about each:
Milk-Bone Flavor Snacks: If your dog already likes Milk-Bone Original biscuits (like mine does) he'll love Milk-Bone Flavor Snacks, which feature the same teeth cleaning and vitamin-enriched goodness in five delicious flavors your dog will love. They are produced in Buffalo, New York, USA, for dogs of all sizes.
Pup-Peroni: With real beef as the #1 ingredient, Pup-Peroni has a mouthwatering aroma dogs like Toby simply can't resist. They are perfect for a reward or any time treat!
Canine Carry Outs: Dogs love the food that comes home in a doggie bag and you can treat him with that experience every day with Canine Carry Outs Bacon Flavor chewy snacks for dogs! These treats, perfectly sized for taking on the go, are made with real bacon that gives them a delicious aroma and chewy texture that dogs love. They're also made in the USA.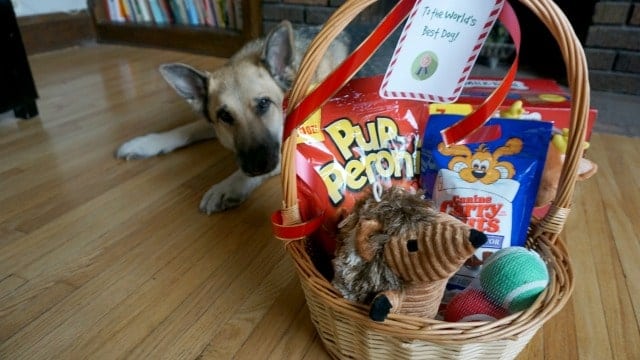 What will you put in YOUR dog's basket this year?