This post is part of a social shopper marketing insight campaign with Pollinate Media Group®, Litter Genie® and Fancy Feast®, but all my opinions are my own.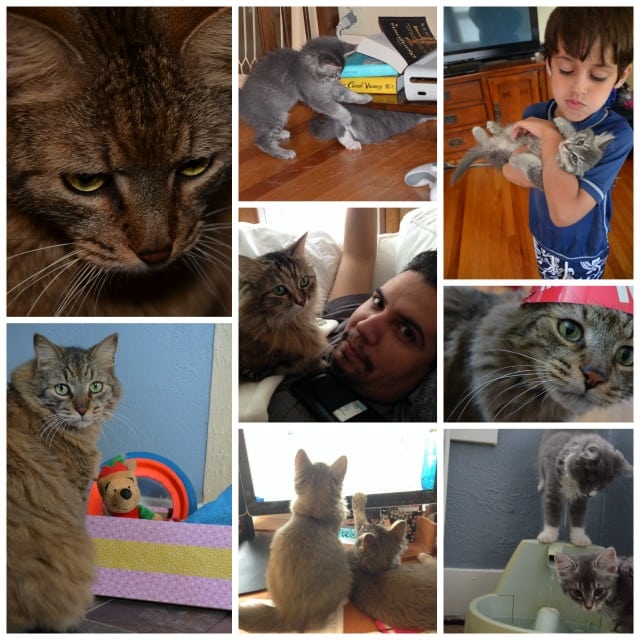 Before you cat lovers get all up-in-arms, let me clarify my title. My relationship with my cats consists of a WHOLE BUNCH of love and just a teeny tiny bit of hate. But, who am I kidding? Anyone who owns a cat knows exactly what I mean. They are most often a total joy, but there are a few things than can make you just a little bit nuts.
Let me start with the bad first and mention what makes up that tiny bit of hate. First on the list is never being able to sleep in because my four living alarm clocks always know when it's time for breakfast and feel it's their duty to wake me up to serve them.
Secondly, is the constant state of pet hair everywhere. I don't know if the pet hair comes more from the cats or from our 75-pound German Shepherd. The dog says it is the cats' hair. The cats say, "I don't care whose hair it is. You're the human. Now pick it up!"
The number one thing I hate about having cats is litter boxes. I have never met a person who likes to clean litter boxes or who likes the smell of what is taken out of the boxes. BUT, there is a way to minimize that impact. It's the Litter Genie. Many of you may be familiar with the Diaper Genie. Well, this is basically a similar concept, but for our furbabies!
To use the Litter Genie, you just scoop up the clumps from your litter box, open the lid on the Litter Genie and drop in the clumps. Then pull the handle to let the litter clumps drop in and seal away the waste and odors. It's air-tight, which means that even when you open the lid again, the smells are kept inside. It has a small, sleek, compact design, which makes it perfect for small spaces and can seal away waste for one cat for up to 14 days.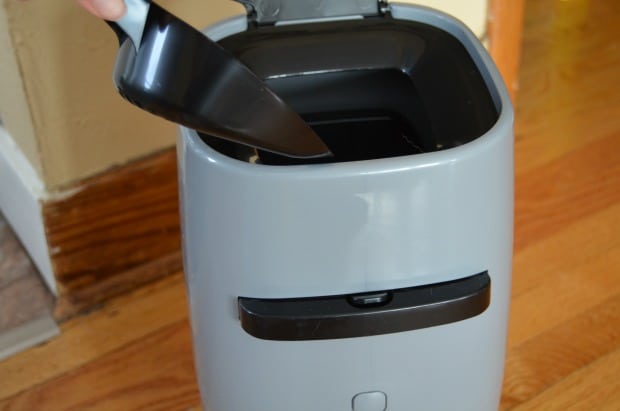 So, now that I covered the "hate" part, I have to say there are waaaaaaay more many reasons why I love my cats and are glad they are part of our lives. Actually, there are more ways than I have the time or space to share, but just a few of them are:
There is nothing better than spending my work-at-home day than with a cute, cuddly cat curled up on my lap, next to me on my desk, or wedged in behind me on my desk chair. I love that!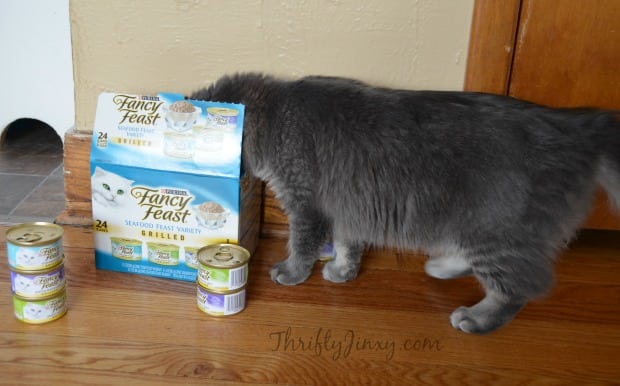 Watching our cats play provides endless entertainment. Since our two youngest cats are only about 9 months old, they are extra playful. They love to hunt imaginary objects, tackle cat toys (or everyday objects they decide are good cat toys) and just generally be silly. The little boy cat, Sammy, actually will play fetch like a dog! If you throw a little ball he will chase it down, pick it up in his mouth and return it to you to throw again.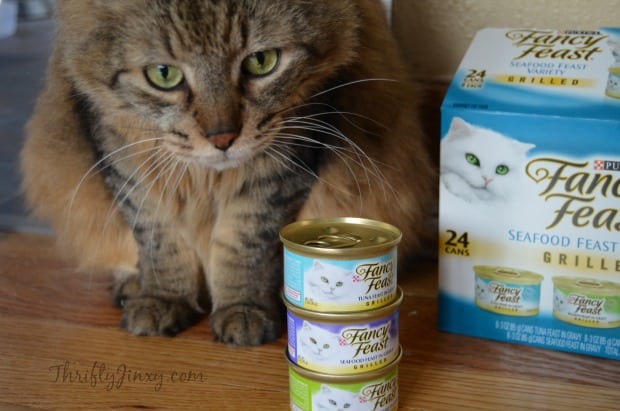 Speaking of dogs, our oldest cat Peanut will come running when he hears his name (just like a dog0 because he knows he's getting a treat. He scored a whole new bag of treats this week when I took advantage of the special offer running at Target right now. When you buy any TWO (2) Fancy Feast® – 24 pack OR Litter Genie® Pail/Refill, you get a FREE Cat Toy or Friskies party mix cat treat. The offer is available while supplies last 2/15/15 through 4/11/15.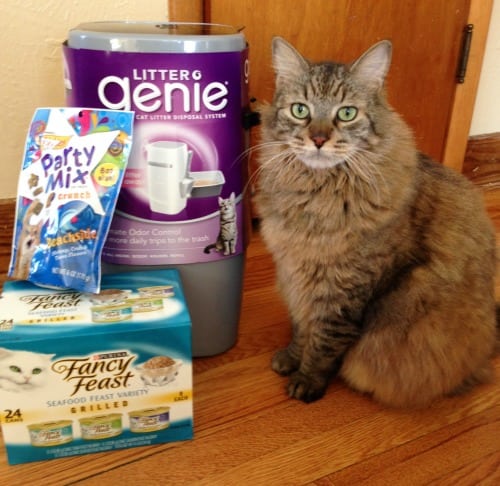 He was also super happy to see the 24 pack of Fancy Feast that I brought home. He and the little kittens were all over the box even before I had a chance to take any of the cans out of it! Once I actually opened a can for them, they were all over it. With age comes wisdom and Peanut was able to make sure he got his share of the food by using a paw to pull the bowl away from the little kids. Lucky for them, there are 23 other cans left in the box!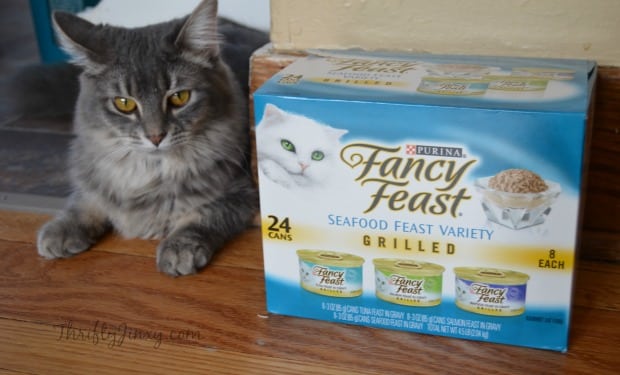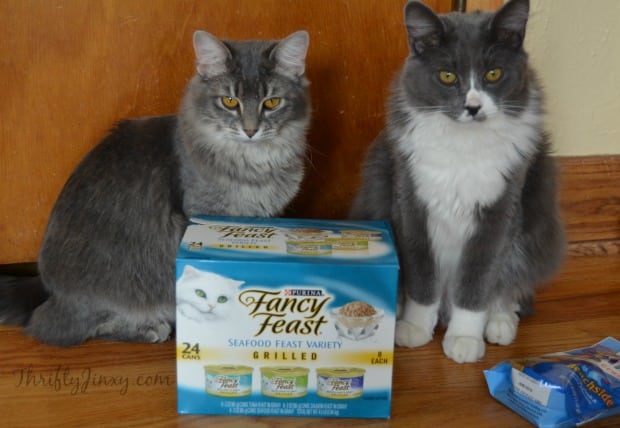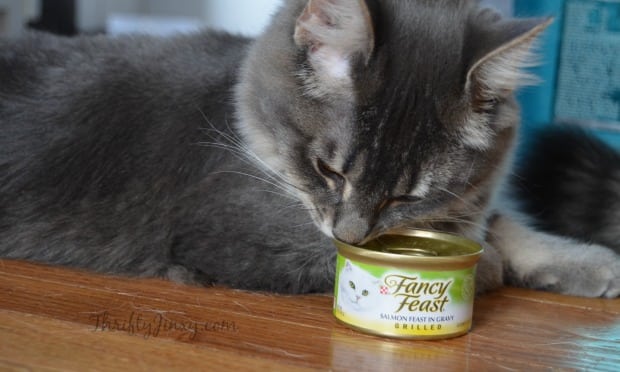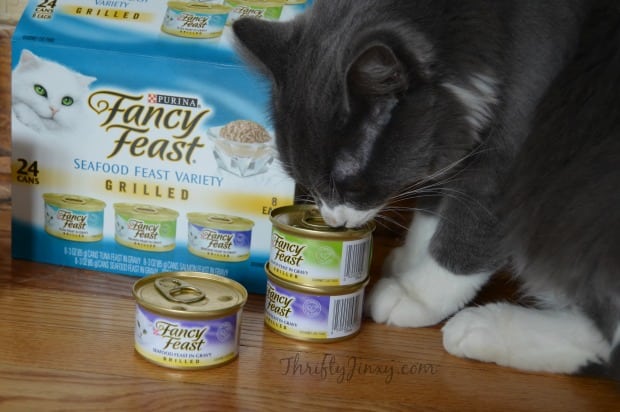 Do you have your own fur babies? Be sure to catch this special offer while it lasts: Buy any TWO (2) Fancy Feast® – 24 pack OR Litter Genie® Pail/Refill, you get a FREE Cat Toy or Friskies party mix cat treat. The offer is available while supplies last 2/15/15 through 4/11/15.