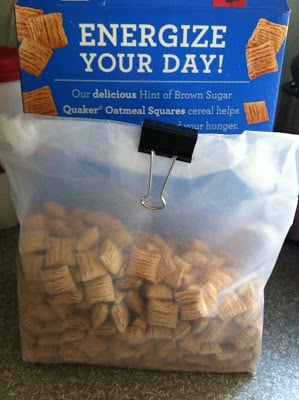 One of the easiest way to save money on your grocery bill is to make sure that the food your buy doesn't go stale or spoil before you use it. An easy and inexpensive tool to help you do this is a box of binder clips from your local office supply store or ordered online.
They make it easy to seal up EVERY package in your kitchen. Roll down and clip shut the bags in cereal boxes or cracker boxes, cookie packages….you name it. They also work great for refrigerated items like bags of salad or baby carrots.
DSTELIN Binder Clips Paper Clamps Assorted Sizes

Since binder clips come in several different sizes, you can choose one that works best. Another option is to use two clips on one bag – one on each end. That way it will keep your bag super well-sealed!
A box of binder clips is relatively inexpensive and they take up way less space in a drawer than a bunch of chip clips!
Your turn: What are some of YOUR tricks to keep food fresh?