Ok, The Bachelor fans – have you been watching Ben & Lauren: Happily Ever After? on Freeform (formerly ABC Family)? In their new reality series, fan favorite Ben Higgins and his fiancée Lauren Bushnell from season 20 of The Bachelor are giving us a peek into life after the glitz and glamour of exotic dates and fantasy suites is over and it's time to start up normal life again – but this time TOGETHER!
While in Los Angeles last week, I had a chance to meet with Ben and Lauren and hear them talk about Ben & Lauren: Happily Ever After? I admit I'm not a regular viewer of The Bachelor, but my first impressions of Ben and Lauren, which came from viewing Episode 2 before our meeting and THEN meeting them in person, is that they are a super nice and fun couple.
Many of the questions centered around Episode 2 of Ben & Lauren: Happily Ever After?, which just aired last week. In this episode, Ben introduces Lauren to his secret love of Renaissance Fairs, Lauren pranks Ben by making him think he will be singing The National Anthem before a Colorado Rockies game, and they go to dinner with JoJo and her fiancé (JoJo was the other woman on their season of The Bachelor that Ben said "I love you" to.) Here are a few of the fun things we learned: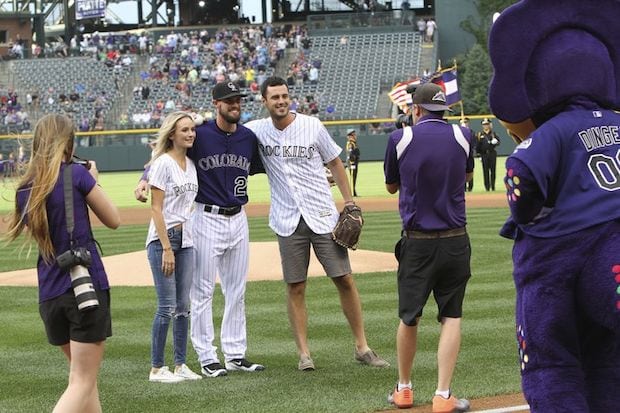 Why does Ben love the Renaissance Fair?
Ben: I think one of the coolest parts is showing Lauren that people can just be completely, for lack of a better term, weird – and be somebody else for a day. Everybody acts in character and nobody's judging you for anything. The coolest part is you can go there, be something completely different, and then you go back home, take off you costume, and you're mowing the lawn.
Lauren is the prankster, but Ben can fight back –
Lauren: My go-to prank isn't really a prank, but I like to scare him so I'll hide behind the corner of the sofa and make him jump every time.
Ben: It's the worst! A couple months ago we were in Indiana with my family. I see her crawl across the living room floor – I can just see her feet scurrying behind her. She gets behind my parents' liquor cabinet and there's a big window on the other side of it. I'm on the other side of the window and she doesn't think I can see her, but I can see her feet sticking out. So I just sit down. Like, I just sit down, like "If she's going to hide, let's see how long she can hide for." I think she was there a good 10 minutes, just laying on the ground.
How much of the show is produced?
While the show is actually their day-to-day life, Ben and Lauren know that just sitting there doesn't make good TV. Ben: It's stuff we want to do – stuff we are doing in life. Obviously if our crew is going to be in Denver and they ask 'what are you guys up to today?", we're not going to sit on the couch for the next 15 hours. We try to help everybody out. If we're going to do an activity, let's do it on a day that they're there.
Do people from The Bachelor and The Bachelorette still hang out together?
Ben: We do. I think for a couple reasons. But, I don't think everybody does. There are people from my season of The Bachelorette that I just don't talk to, but there are people I talk to quite often. I think we have a shared experience that not a lot of people can relate with. And it does change you. The Bachelor isn't easy to do. It isn't easy to go through.
Some of the people that have been the most supportive of our relationship are people like the twins. When we first started seeing them outside of the show they would just wrap us up in their arms and say "We're so happy for you guys". They've seen us progress and seen the tears and the emotions of it all. There are some awesome people. The cool part is, with the show, for at least this short season of life, we get to do some really fun things. We get to go to whatever event together, we get to go on a trip together. It helps if you like the people.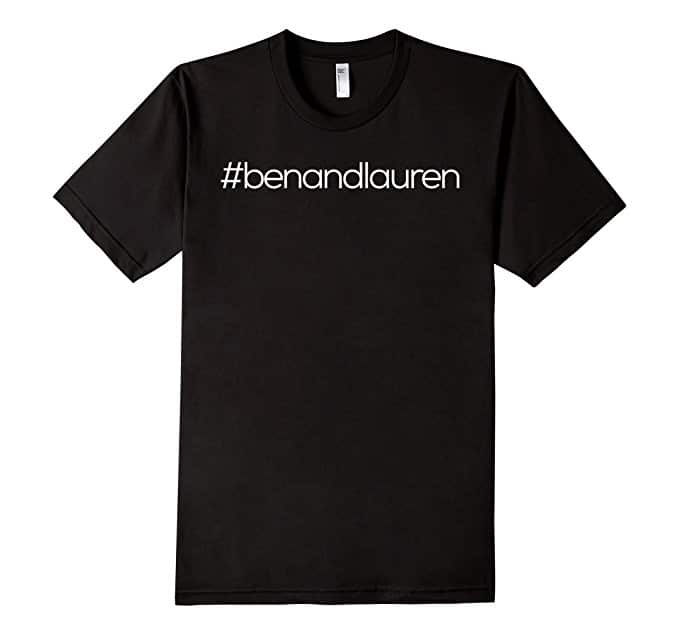 "Ben & Lauren: Happily Ever After" airs Tuesdays on Freeform at 8/7c.
And after Ben & Lauren, don't miss another new show, The Letter, narrated by actress Zelda Williams, daughter of the late Robin Williams, Zelda Williams, airing Tuesdays on Freeform at 9/8c.
"The Letter" is a bold, new relationship show that asks the simple question: "If you could anonymously tell your best friend in a letter the things that he or she really needed to hear, would you do it?"
In each stand-alone episode, four friends draw names and anonymously write to the selected person a thoughtful, yet totally honest letter outlining their opinion of what needs to be changed in order to improve and transform their friend's life for the better.