AFter a lot of searching, I found the best fish oil for cats!
Finding a fish oil supplement for cats is hard! I have seriously tried about 10 different types of fish oil for cats and my cats have turned their nose up at all of them! My dog is easy. If it is in a treat form he will eat just about anything. The cats are different!
I have bought what looks like moist, tasty treats – thinking that the cats will love them and WRONG! The treats just sit there, uneaten, until the dog lucks out and ends up with the treat for himself.
Benefits of Fish Oil for Cats
There are lots of reasons that fish oil is good for cats. Its Omega 3 fatty acids are an anti-inflammatory – the number one benefit of fish oil. which helps with any conditions that cause inflammation in the body. That means it can protect organs like the heart and kidneys. It can be a help for arthritic joints, which can provide some relief for achey cats.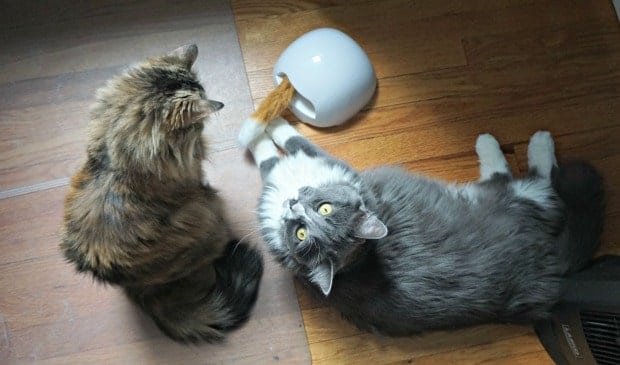 The number one reason I supplement my cat Sammy's diet with fish oil is to aid with his dry skin and coat. He has long hair and when his skin and hair are dry his fur tends to mat much more. (I don't know why that is, but it happens!) As a fat supplement, fish oil can reduce his itchy skin and dandruff and also make his coat momre shiny and healthy. It also reduces shedding (which can be a benefit if your cat experiences frequent hairballs).
An additional benefit is to help with brain health (and development in young cats) and with vision. There have also been many studies about possible benefits such as protection from strokes and heart attacks.
The Best Fish Oil for Cats
In my quest to find the best fish oil for my cats, I have tried many different types of fish oil treats. When they didn't eat them I tried mixing them with their food and that still didn't work. I tried a pump bottle of fish oil to pour on top of their food and that was also a no go. Nothing has actually been good enough for them to decide to actually consume it.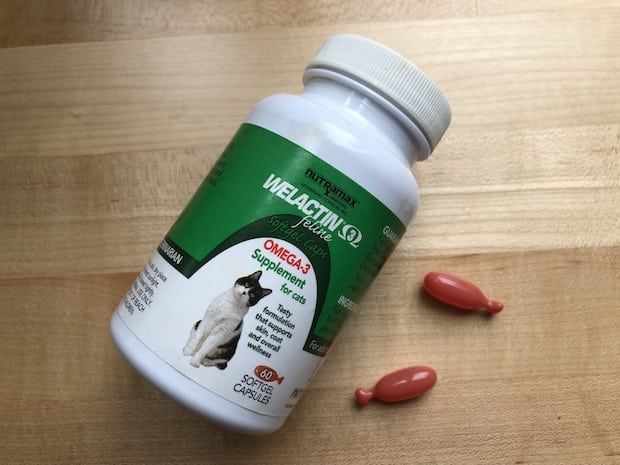 UNTIL NOW! I finally found something that the cats will eat. I have no idea WHY they like WELACTIN Feline, but they do! The specific name of the product I purchased is Nutramax Welactin Feline Soft Gel Caps. It comes in a bottle of 60 softgel capsules, each containing a minimum of 250 mg total Omega-3 fatty acids derived from cold-water fish. They also have 125mg of EPA (eicosapentaenoic acid) and 85 mg DHA (docosahexaenoic acid).
UPDATE: The Soft Gel Caps format is no longer available, but I did see that Welactin is offering a similar format in the Nutramax Welactin Feline Omega-3 Cat Liquid Supplement, but with a small measuring scoop for the oil rather than the soft gels.
How to Use Fish Oil for Cats
One benefit for ME is that the Welactin gel caps are super easy to use. You just twist or cut off one end of the capsule and pour it on your cats food. But then the miracle part is that Sammy will actually EAT IT! It's a very small capsule and just the right amount of fish oil for a serving. He gets one a day with his morning meal and then we're done. So easy!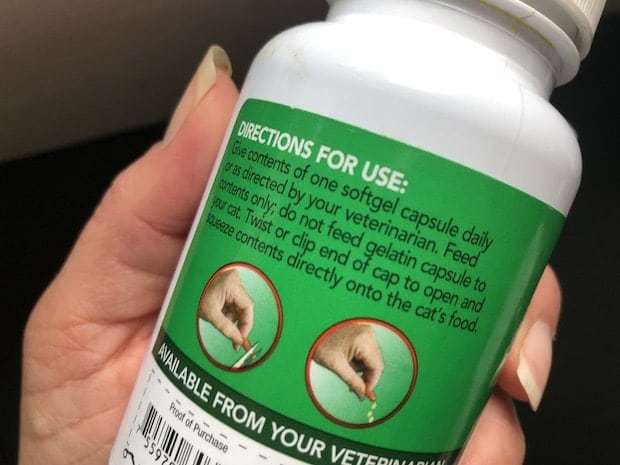 I can really see the benefits of the fish oil when he stops taking it. We had to go out of town for two weeks and I forgot to tell my family taking care of the cats about the fish oil. After that time I saw a big difference that Sammy's skin and fur started to get more dry again. That let me know that the fish oil gel caps are doing their job and I'll continue to use them.
You can find and order the Welactin Feline Soft Gel Caps here.