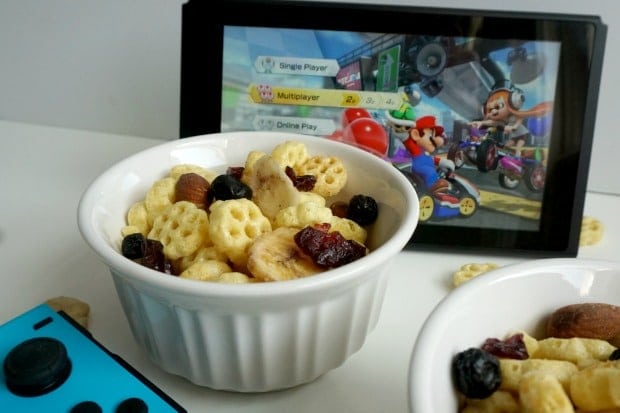 What's your favorite way to spend a night at home with your family? How about GAME NIGHT? We love a good game night, whether it's pulling out the old board games or going head to head with video games on the Nintendo Switch.
The reason the Nintendo Switch is so much extra fun is that it's super versatile and combines the option to use it like a home console on your TV OR you can use it as a handheld. There's even a cool "tabletop" mode where you can still play against a friend, but you don't need a TV. Are you thinking the Nintendo Switch sounds super cool? Keep reading and you can find out how you can have a chance to win one for your family!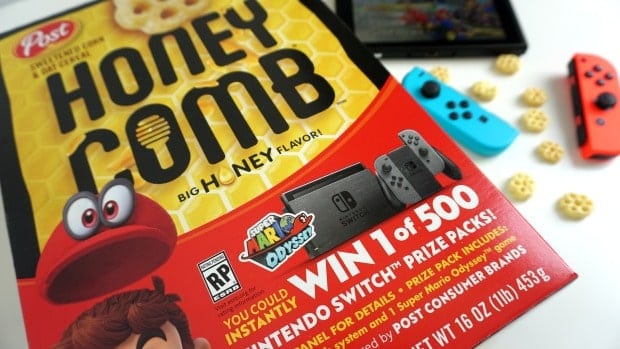 When it comes to family game night, snacks are a MUST!! When we're in the middle of a game, we want something that is quick and easy to grab and eat. To make things as simple as they are to eat, I started with a box of Honeycomb® Cereal. I created this Honeycomb Snack Mix Recipe.
To be honest, we like to snack on Honeycomb "as is" straight out of the box. It's made with honey and the big pieces are as perfect for snacking as they are in a cereal bowl with milk. BUT, since we want to make an extra-special occasion out of game night, I'm kicking things up a notch with a Honeycomb Snack Mix!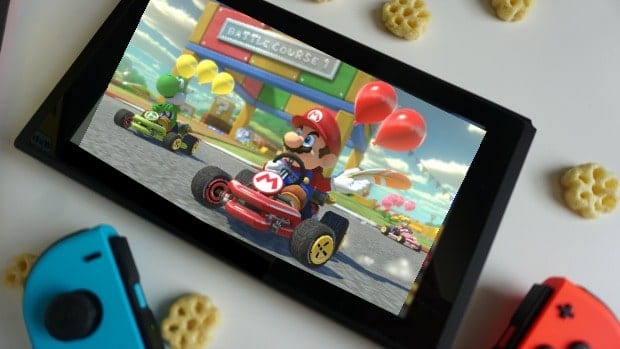 For this fruit-filled recipe, I added BLUE blueberries and RED dried cranberries to represent the colors of the Joy-Cons on our Nintendo Switch. Then I added banana chips as an ode to Donkey Kong and the almonds are just because I like almonds. The flavors combine with the big honey taste of Honeycomb to make a delicious snack.

Honeycomb Snack Mix Recipe

Ingredients:
6 cups Honeycomb Cereal
1/2 cup dried blueberries
1/2 cup dried cranberries
1/2 cup banana chips
1/2 cup roasted almonds
Directions:
Mix all ingredients together in a large bowl. Serve immediately or store in an airtight container.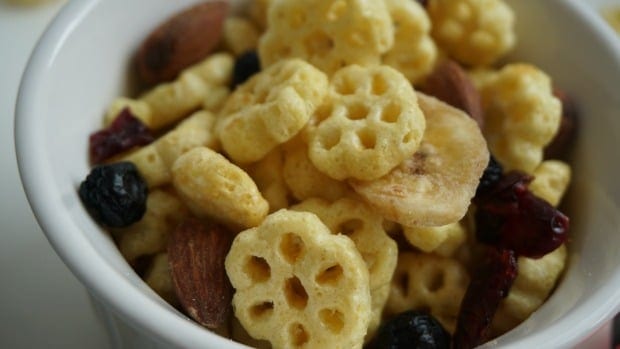 When you buy a specially marked box of Honeycomb to make your snack mix, you'll get a chance to win 1 of 500 Nintendo Switch Consoles plus a New Super Mario Odyssey Video Game Prize Pack! Find your code inside your cereal box and enter at: http://postsweepstakes.com/NintendoSwitch.. Promotion ends 3/31/2018. (Open only to legal residents of the 50 US/DC, 18 years of age or older.)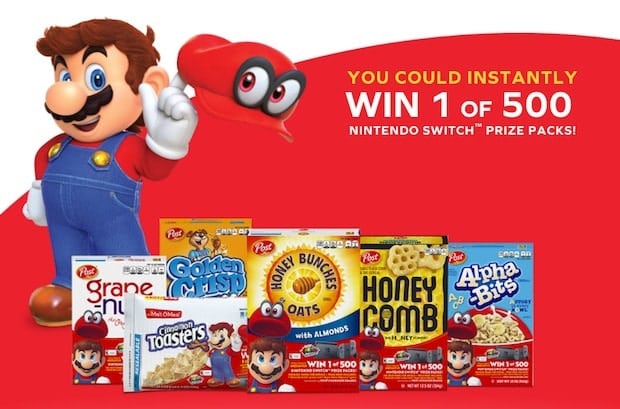 We love playing on our Nintendo Switch! When you get it, you can play within minutes of opening the box. The system comes packaged with the main unit, left and right Joy-Con with a Joy-Con wrist strap for each, making it a multi-player experience right off the bat! Currently, our favorite game is Mario Kart 8 Deluxe, but we're really excited about the new Super Mario Odyssey game that's available October 27th! In this game you get to join Mario on a massive, globe-trotting 3D adventure and use his incredible new abilities to collect Moons so you can power up your airship, the Odyssey, and rescue Princess Peach from Bowser's wedding plans!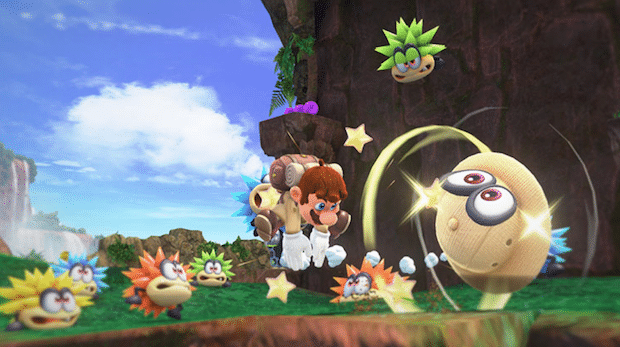 The new game is a sandbox-style 3D Mario adventure packed with secrets and surprises, and with Mario's new moves like cap throw, cap jump, and capture. With Mario's new hat-shaped friend, Cappy, we can experience brand-new moves. With capture, Mario can take control of all sorts of things, including objects and enemies! It looks like this will mean new and exciting gameplay experiences that aren't like anything we have seen before. I think it will be so much fun!
Don't forget to look for specially marked boxes of Post cereals for your chance to win 1 of 500 Nintendo Switch Consoles plus a New Super Mario Odyssey Video Game Prize Pack! Get more details here: https://www.postconsumerbrands.com/nintendo.