Follow this easy recipe to make heart-shaped Valentine dog treats your dog will LOVE! Only 4 ingredients are needed: bacon, cheddar cheese, oatmeal and egg. There's an optional icing recipe too!!
Our dog is an important part of our family and, just like I love making treats for my human family members, I also love making homemade dog treats for my dog, Toby.
I like that I know exactly what ingredients are in them and I can make them with my dog's favorite flavors in mind.
Two of my favorite homemade dog treats come from this sweet potato dog treats recipe that is super easy to make in the microwave and this yummy pumpkin dog treats with peanut butter and oats recipe.
Keep reading to get the recipe for the latest addition to our dog treat staples.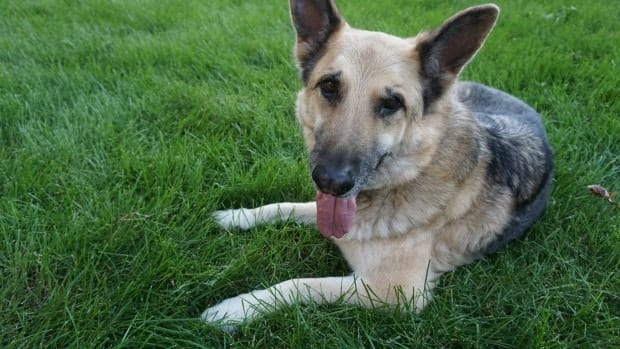 This year my Toby will be having something new with this Homemade Dog Treats Recipe Perfect for Valentine's Day that were provided to us by Coupons.com and Lori Pace, along with some ideas for Valentine's Day Gift Ideas for your dog! (Keep reading below.)
These heart-shaped dog treats are easy to store, nice and chewy, and full of flavor for even the most discerning dog.
Check out these great gift ideas for your dog and then keep on reading for the homemade dog treat recipe!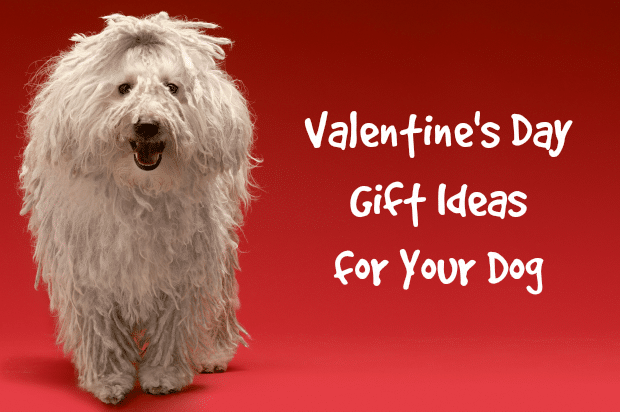 Valentine's Day Gift Ideas for Your Dog
Valentine's Day is a time for giving gifts to those we love. You love your dog, right?!?! Here are some fun ideas that will make your favorite pooch's tail wag! (Note: All prices listed are those at the time of writing. Be sure to confirm the current price before adding to your cart.)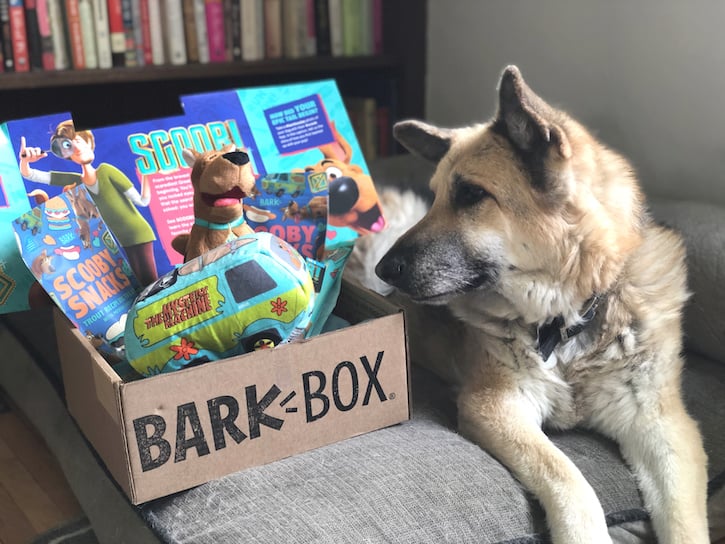 I love checking out dog subscription boxes for our dog, Toby. These dog subscriptions have gotten a lot more popular recently, but the most recent box we have tried, the BarkBox is definitely the mot fun. Toby LOVES the toys from the WagWell boxes and they have great treats too!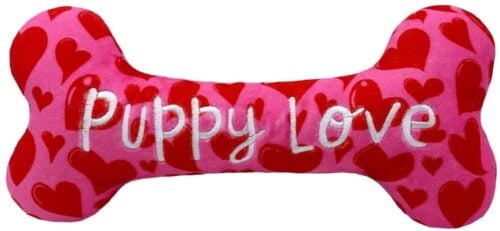 1. Lulubelles Power Plush My Puppy Love Bone
This Valentine's Day plush toy is the perfect gift to show your pup how much you love your best fur-friend. The plush material makes this toy perfect for cuddles as well as play.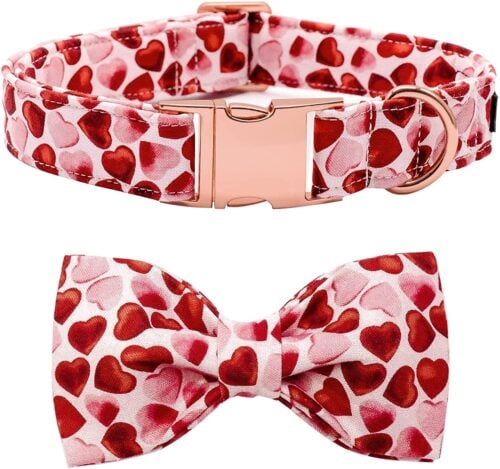 2. Maca Bates Dog Collar with Bow
It's fun to dress up our pets, but I know my German Shepherd is NOT a fan of cutesy sweaters or any other pet clothing. A new collar is a fun gift they can wear all year round, plus they're inexpensive and help keep your pup's identification readily available should he or she wander off.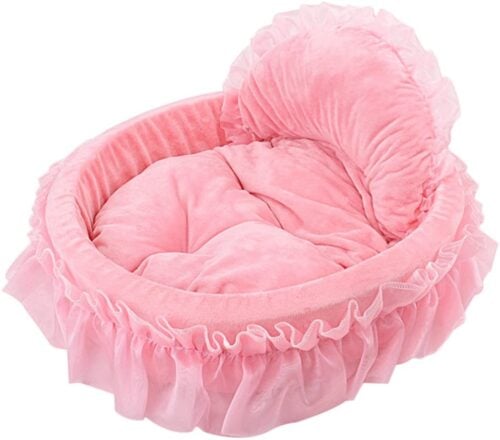 Is your pet a princess? My oldest girl cat has claimed the princess spot in our house, but I think I treat all of our pets like royalty. You can shower your furry friends with love and the proper pet bed for royalty with this frilly and pink fancy bed. They might just let you snap some photos while they enjoy it!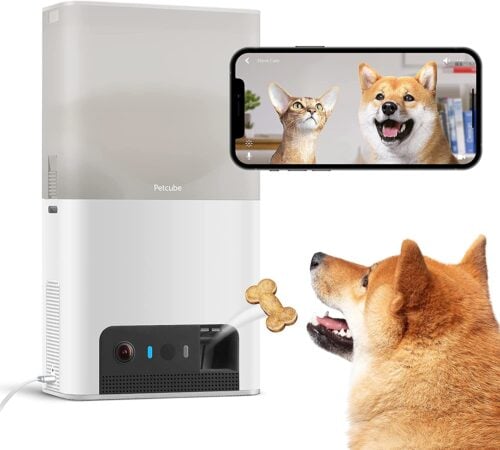 Petcube Bites is an all-in-one Wi-Fi pet camera with built-in treat dispenser that lets you train and reward your pet remotely. You can see, talk, treat, and train from your phone. You can also get PetCube Play, which is an interactive pet camera that lets you see, talk to, and play with your pet.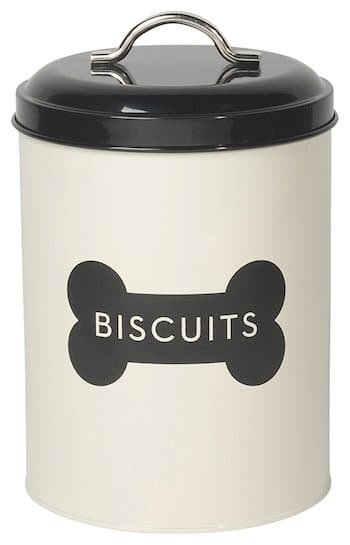 5. Now Designs Dog Biscuit Tin
Whether you decide to make our heart-shaped Homemade Dog Treats Recipe above or you plan to buy some biscuits for your pup, you can store them in this pretty dog biscuit tin that will look great on your kitchen counter.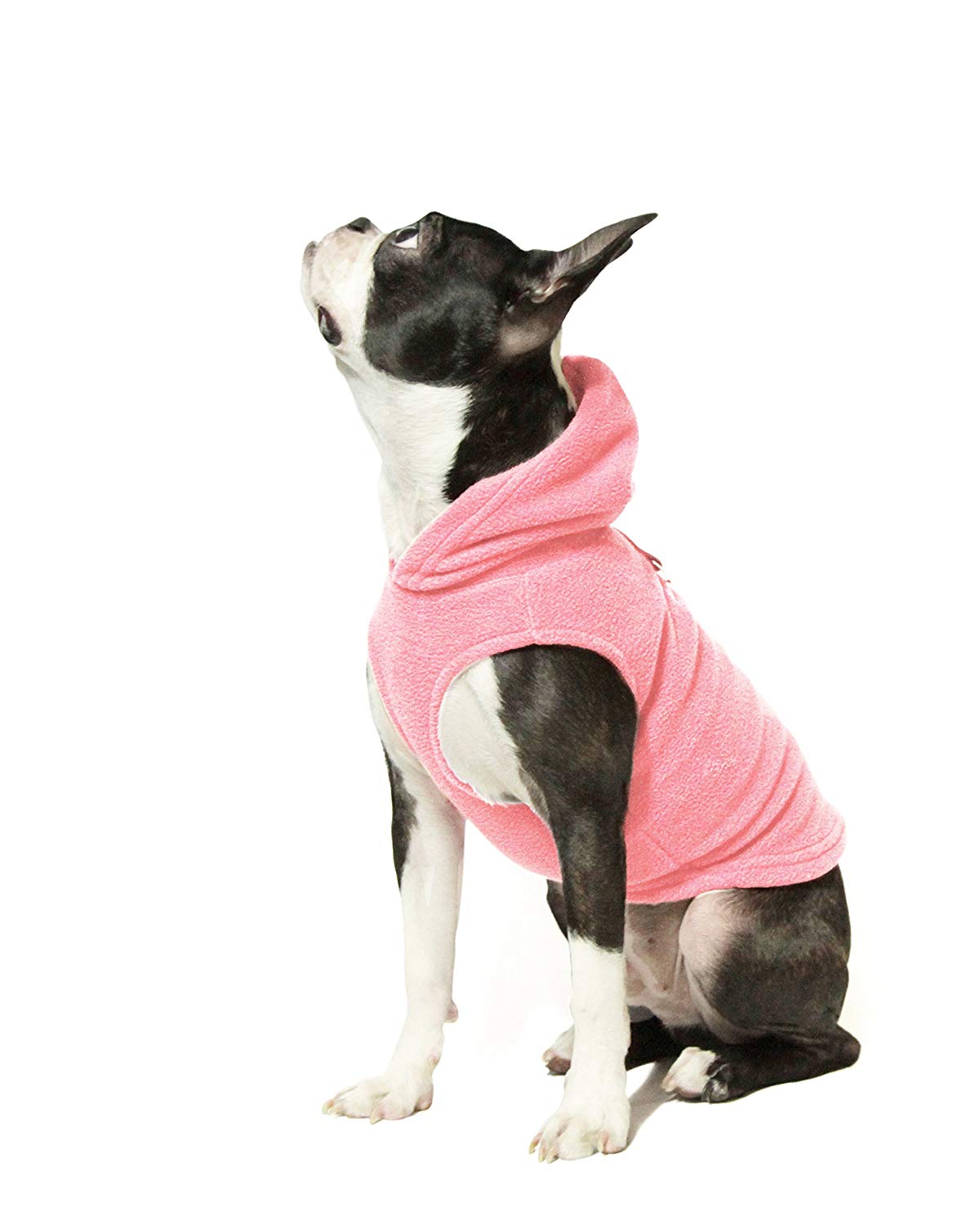 6. Pink Dog Pull Over Hooded Fleece Jacket
If your dog IS one who likes to dress up and stay a bit warm during the chilly days of February, having a Valentine's Day sweater or coat on hand can make that brisk morning walk more comfortable and fun for you and your pup.
Valentine's Day Heart Dog Collar

ucho Dog Chew Toys, Durable Dog Toys for Aggressive Chewers, Enchanted Rose Tough Toys for Large/Medium Dogs, Interactive Dog Toys Natural Rubber Puppy Toy for Training and Cleaning Teeth

2 Pieces Valentine's Day Dog Bandana Triangle Bib Scarf with Heart and Love Patterns Reversible Pet Neckerchief Accessories for Dogs Pets Cats

Milk-Bone Mini's Valentine's Day Dog Treats Imprinted with Words of Love, 36 Ounce Canister

Peanuts for Pets Dog Toys Snoopy 2pc Plush Squeakers| 6" Snoopy & Woodstock Love Plush Squeakers Collection Pet Toys | Peanuts Toy for Dogs Snoopy & Woodstock Stuffed Animal 6 inch, (FF19757)

Fringe Studio Plush Dog Toy Set, Champagne Strawberry, 3 Piece Set, for Small Dogs (289482)

Elegant little tail Valentine's Day Dog Collar with Bow, American Flag Bow Tie Dog Collar, Cute Heart Dog Bowtie Pet Gift Dog Collar for Small Dogs

Pearhead Pawprints Ornament, Dog or Cat Valentine's Day Décor, Pet Home Décor Accessory, Paw Imprint Keepsake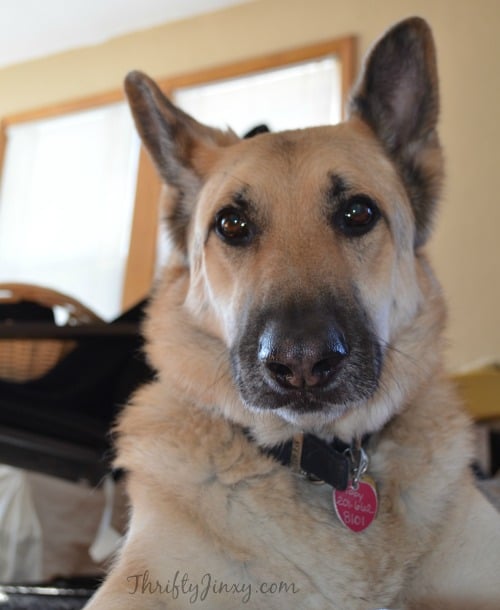 Homemade Dog Treats Recipe
Ingredients:
4 strips crispy bacon, crumbled
1/2 cup shredded cheddar cheese
1 1/2 cups oatmeal
2 large eggs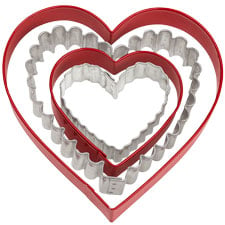 How to make homemade Valentine dog treats:
Pre-heat oven to 350 degrees.
Mix the bacon, cheese and oatmeal. You can use a mixer with a paddle or a chopper to make the pieces small.
Add eggs and blend until sticky.
Lay out on a layer of oats on a cutting board to prevent sticking and top with treat mixture. Use a heart-shaped cookie cutter to form as desired.
Bake approximately 20 minutes or until slightly golden. Let cool.
Optional Dog Treat Icing Recipe
Ingredients:
2 Tablespoons cornstarch
2 teaspoons water
1 teaspoon honey
3-5 drops of food coloring, if desired (or you can naturally color with beet juice)
Directions:
Mix all ingredients together in a bowl.
Paint onto the treats and refrigerate to set!